Sasha Calle is an American actress who has a net worth of $5 Million. She rose to prominence after appearing as Virginia in the 2017 TV mini-series "Socially Awkward". Since then, she has receiving major gigs for television and hit film roles.
Sasha came to mainstream success in 2018 when she became cast in the CBS soap opera titled "The Young and the Restless". She played the main role of  Lola Rosales from 2018 to 2021. Her outstanding performance led her to earn a 2020 Daytime Emmy Award nomination.
What is Sasha Calle's Net Worth?
[table id=417 /]
Early Life
Sasha Calle was born on June 17, 1998, in Boston, Massachusetts. She has Colombian ancestry. Sasha was raised by her mother Samira Calle. She also has a younger brother Jacob and stepfather Kevin.
In terms of education, she attended high school in Hollywood Florida. When Sasha was just 10 years old she moved to Colombia with her mother. After spending about two years there, the family returned to the United States.
Upon her high school graduation, Sasha flew to LA where she enrolled at American Musical and Dramatic Academy. From college, she wound up getting a degree in BFA in Performing Arts.
Career
According to Sasha, she didn't think about pursuing an acting career while growing up. She was passionate about becoming a singer and wanted to perform on the live stage.
However, she soon realized that music wouldn't be her career. Sasha decided to pursue her acting career in the entertainment industry after her dream of singing turned into acting.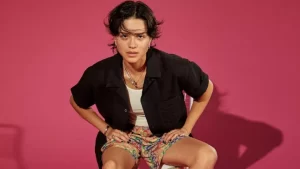 Breakthrough
The actress began her professional career by appearing as Virginia in the miniseries "Socially Awkward" in 2017. Sasha had a big break when she starred as chef Lola Rosales in the soap opera "The Young and the Restless" which began in September 2018.
Her performance became the turning point of her career. She ended up receiving a Daytime Emmy Award nomination in the category of "Outstanding Younger Performer in a Drama Series" in 2020. She landed the main role and the series ran from September 2018 to June 2021.
In February 2021 Sasha was selected to portray the superheroine Supergirl in the  DC Extended Universe starting with the film The Flash. It became her first film role and the movie is set to release in June 2023. Sasha is currently working in the upcoming drama film "On Swift Horses" where she will play the role of Sandra.
Other Ventures
Before launching her acting career, Sasha already had a strong following on social media. In May 2014, she created an Instagram account and began posting photos of herself. As of now, she has nearly half a million followers on her Instagram alone.
Career Highlights
Socially Awkward (Miniseries, 2017)
The Young and the Restless (Soap opera, 2018-2021)
The Flash (Superhero film, 2023)
2020 Daytime Emmy Award, Outstanding Younger Performer in a Drama Series _ Nomination
Sasha Calle Net Worth
Sasha Calle came to the spotlight after being cast member in the hit television series "The Young and the Restless". At first, she was in the limelight for her appearance in "Socially Awkward".
Sasha mainly earns from her television appearances, film roles, brand endorsements, as well as business ventures. Her fame and worth are growing regularly.
She is one of the rising stars in showbiz, and working on a couple of upcoming projects. Sasha established herself as a lead actress in American TV at an early age. As of 2023, Sasha Calle's net worth is estimated to be $5 Million.
You May Like