Roy Woods is a Canadian rapper, singer, and songwriter who has a net worth of $2 Million. He rose to fame after catching the attention of high-profile rapper Drake. Roy signed a deal with Drake's co-founded label "OVO Sound" and began producing songs.
Woods is best known for his hit songs including Say Less, Instinct, Love You, Gwan Big Up Urself, Jealousy, and Get You Good. Despite this, he also formed the musical collective Unlock The Underground with fellow Toronto artists. After making a contract with OVO Roy featured in a number of Drake's hit singles.
What is Roy Woods' Net Worth?
[table id=577 /]
Early Life
Denzel Spencer aka Roy Woods was born on April 18th, 1996, in Brampton, Ontario, Canada. Roy is the second oldest of five children, he has two sisters on his father's side and two on his mother's side.
His dad came in and out of his life throughout his childhood. Roy grew up with his mom and younger sister, with whom he shares a close bond. From a young age, he showed a talent for the arts, but his primary focus was football until he began to take his music career seriously.
Roy's father introduced him to sports when he was two years old. he played wide receiver while attending Turner Fenton High School. After three years, he transferred to St. Augustine Secondary School for his final year. Roy was good in football but his sports career would come to an end after he suffered from multiple concussions. 
Career
Roy Woods had already developed a passion for music at an early age. Some of his biggest musical influences are including Michael Jackson, Drake, Nelly, PartyNextDoor, Usher, Wiz Khalifa, and The Weeknd. Roy began singing at the age of 12 and by 14 he was freestyling.
When Roy was 16 years old, he decided to focus on his music and started recording. From there, he began making regular appearances at a talent night held at the local YMCA. Roy put his music online and began developing a following.
Following Roy uploaded his music online it wouldn't take long for some big names to find it. At the end of 2014, OVO c–founder "Oliver El-Khatib" contacted Roy. Oliver signed him to the label when he was 19 years old. Before long, Roy made an appearance on Drake's track "Energy".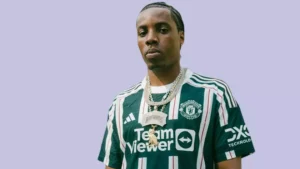 Breakthrough
In July 2015, rapper Drake premiered Roy's song "Drama" during the OVO Sound radio show on Apple Beats One radio. That song became the first track on Roy's first major project "Exis", an EP which was released later that month through OVO and Warner Brothers.
Roys' debut EP hit number 27 on the Billboard R&B Hip Hop chart and number 10 on the US R&B chart. It featured guest appearances by Drake and included songs like Jealousy, Go Go Go, and Get You Good.
Roy released his mixtape "Waking at Dawn" in the summer of 2016. The project hit number 11 on the US R&B and hip hop chart and number 6 on the R&B chart. It was also his first project to crack the Billboard 200, peaking at number 122.
Other Ventures
In 2016 Roy headlined his Unlocked Tour and the tour with Drake and Future on their Summer 16 Tour. His next EP Nocturnal was released on December 23rd, 2016, and included features from Magic Jordan and MadeinTYO.
Roy's song What Are You On? dropped in July 2017 and became the lead song on his debut studio album Say Less. The title song of that album gained some momentum on the internet.
That album became his most successful project by reaching 92 on the Billboard 200 and 38 on the R&B and Hip Hop charts. The project includes features from the likes of PartyNextDoor, DVSN, 24Hours, and Pnb Rock.
Roy's second album Mixed Emotions came out in July 2023 and boasted features from the likes of Coi Leray, Jada Kingdom, and Vory. It featured singles including Touch You, Insecure, Don't Love Me, Don't Mind Me, and more.
Career Highlights
Exis (EP, 2015)
Waking at Dawn (First album, 2016)
Say Less (Album, 2017)
Get You Good (Song, 2015)
Roy Woods Net Worth
Roy Woods is one of Canada's most recognized music artists who released his music under "OVO Sounds". His popularity grew in 2015 when his debut EP Exis went viral. From that point forward, he continued to collaborate with big names including Drake, Future, and many more.
Roy makes money from releasing his albums, performing at live concerts, headlining tours, and collaborating with other artists. As of 2023, Roy Woods' net worth is estimated to be $2 Million.
You May Like