Gabi Butler is an American cheerleader, social media star, and TV personality with a net worth of $1 Million. She rose to fame after appearing in the hit  Netflix docu-series titled "Cheer". Her performance in the series earned her national recognition as well as wider fame.
Butler gained further prominence for her performance in several teams including California All Stars Smoed, Cheer Athletics Wildcats, Top Gun TGLC, and Gymtyme Blink. Not to mention, she has also been seen in the popular Awesomeness YouTube series "Cheerleaders".
Gabi showed her impressive abilities and flexibility in the game which led her to become one of the top cheerleaders in the country. She tried her hand at professional wrestling and is signed to WWE.  Butler is now a part of the Weber State University cheer team.
What is Gabi Butler's Net Worth?
[table id=282 /]
Early Life
Gabriella Butler was born on January 16th, 1998, in Boca Raton, Palm Beach County, Florida, to parents John and Debbie. She grew up with two sisters Ashley and Amanda, and a brother named John Michael.
Butler wanted to become a cheerleader from an early age and even started training at the age of just 8. After spending a handful of years in her hometown in Boca Raton, the family moved to California due to Gabi's career as a cheerleader. 
In terms of education, she attended a public community college in Texas called Navarro College. Upon her graduation, she went to Ogden, Utah where she's currently studying at Weber State University. Despite this, Gabi gained popularity from a young age, all thanks to her incredible flexibility and talent for flying.
Career
Gabi started her professional career as a cheerleader, becoming a member of the "Cali SMOED" (California All-Star team). In 2013 and 2014 Gabi managed to win the title of cheerleading world championships, twice.
Meanwhile, she made her TV debut, appearing as a regular on AwesomenessTV's YouTube series "Cheerleaders". Along with the California All-Star team, she continued to appear in the series for the following two years. Later, Gabi often guest appeared in a few episodes in later seasons.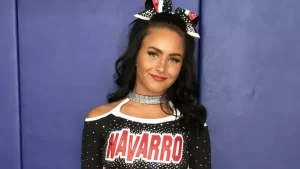 Breakthrough
The biggest breakout moment of Gabi's career came in January 2020 when she began starring in the first season of the Netflix docuseries "Cheer". That time she was part of the cheerleading team at Navarro College.
Butler gained further stardom when she got a chance to appear in the second season of the Netflix series "Cheer" in January 2022. The series is originally based on 40 members of the Cheer Team of Navarro College Bulldogs. Additionally, this series made her one of the most popular celebrities on the internet.
Other Ventures
Following her success on the internet, Gabi was invited to the popular comedy talk show "The Ellen DeGeneres Show". After meeting with Ellen in early 2020, Butler continued to appear in other television shows including "Nightline", "Make Me Over", and "IMO".
She also appeared on teams like "Top Gun TGLC", "Gymtyme Blink", and "Cheer Athletics Wildcats", among others. Apart from that, Butler created her eponymous YouTube channel in September 2009.
There, she began uploading videos that include behind-the-scenes looks into her life as a cheerleader, as well as vlogs. Gabi posted her first video titled "Cheer Stretching with Gabi Butler" in December 2011 which garnered over 1 million views. As of now, she has over 189k subscribers on her channel.
Personal Life
According to some reports, she was dating football player, Jordan Brooks-Wess, previously. Jordan is a famous American Soccer player who plays for Abilene Christian University.
Career Highlights
Cheer (Netflix Series, 2020)
California All Stars Smoed (Serving as a Cheerleader)
Cheerleaders (AwesomenessTV's YouTube series, 2014)
Gabi Butler Net Worth
Gabi Butler has established herself as one of the most well-known cheerleaders in the country. She accumulated a lot of fortune throughout her successful career.
Gabi reportedly earns a salary between $47,000 to $69,000, as a cheerleader. Following her appearance on the hit Netflix docuseries Cheer, she started getting offers from brands. She has done endorsement work for labels: FabFitFun, Shein, and Murad Skincare.
Outside of TV shows, commercials, and brands deals are big contributors to her net worth. She also makes money from her YouTube channel and her videos amass thousands of views. As of 2023, Gabi Butler's net worth is estimated to be $1 Million.
You May Like: