Real Boston Richey is an American rapper who has a net worth of $4 Million. He is one of the up-and-coming rappers from Tallahassee, Florida. He already found his way onto the 2023 XXL Freshman Class with the help of some street-centric bars.
Boston came to the spotlight after signing a deal with popular rapper Future's record label Freebandz without having a single song released under his name. This rising star has only been rapping for a couple of years now.
He is determined to become one of the most famous musical artists to ever emerge from his hometown of Tallahassee. Richey might very well be on the rise with an amazing skill set to do so.
What is Real Boston Richey's Net Worth?
[table id=646 /]
Early Life
Jalen Taheen Foster was born on February 4, 1997, in Tallahassee, Florida. He was raised by his parents alongside four brothers and sisters. Richey says his father and mother prepared him so he could face the difficulties of life by teaching him how to turn nothing into something.
In high school he was good in mathematics and was quite interested in tennis, winning championships alongside his brother. By the time, Richey entered the 9th grade, he was already finding himself in and out of the prison system.
At the age of 13, he was charged with armed robbery, grand theft auto, and possession of a weapon. Despite getting into trouble in his youth, Richey maintained a passion for music, which ultimately led him to the studio.
Career
Real Boston Richey never considered becoming a rapper until the passing of his cousin named "Slug" in 2021. His cousin wanted to be a rapper himself and recorded a ton of unreleased songs throughout his life.
He began his music career by teaming up with some of his friends and recording a few tracks at the studio. The first-ever Real Boston Richey's recorded song was called "Big YIC" which was released in October 2021. His first song gained immediate acclaim from his friends. From there, he continued to record one song after another including his single "Keep Dissing" in March 2022.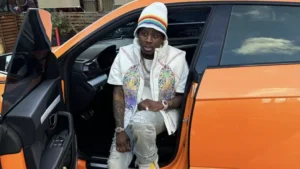 Breakthrough
Richey's breakthrough came with his song "Bullseye," a track that caught the attention of Atlanta rapper, Future, resulting in Richey's signing to Freebandz. His career skyrocketed with hit songs including "Keep Dissing" and "Certified Dripper," along with collaborations with high-profile names like Lil Durk and Moneybagg Yo.
In August 2022, Richey released his debut mixtape Public Housing which debuted at the number 60 spot on the Billboard 200. Months later, he dropped a sequel Public Housing 2 in January of 2023.
Richey dropped successful mixtapes and even prepared for his debut studio album, "Welcome to Bubba Land." His debut studio album came out in September 2023. Before this, the rapper released his first EP titled Trappin & Finessin on February 27, 2023. Real Boston Richey has a net worth of $4 Million.
Other Ventures
The controversy arose after Richey was accused of snitching, which led to his removal from Future's tour. Richey denied the accusations and explained that they were just misunderstandings.
Richey caused controversy by releasing an unauthorized music video filmed in the Florida A&M football team's locker room, leading to the suspension of team activities. Richey's star continues to rise, leaving us wondering what's next for this talented artist despite the challenges.
Career Highlights
Signing a record deal with Future's label Freebandz
Public Housing (Mixtape, 2022)
Bullseye 2 (Song, 2022)
Car Collection
Cadilac Escalade
Mercedes Maybach
Lamborghini Urus
Real Boston Richey Net Worth
Richey is a rapper and musical artist from Florida who is currently at the peak of his career. He rose to fame after releasing his 2022 song "Keep Dissing" which grabbed the attention of rapper Future. Richey quickly signed a deal with Future's label and started making thousands of dollars every month.
He mainly earns from releasing his EPs, mixtapes, and music videos, as well as collaborations with other artists. Richey dropped his first album which became successful. As of 2023, Real Boston Richey's net worth is estimated to be $4 Million.
You May Like