Tanner Fox is an American professional scooter rider, YouTuber, and social media star who has a net worth of $6 Million. Tanner is known for amassing over 10 million subscribers on his eponymous YouTube channel.
He has been making videos on his channel since the age of 11. Fox came to the spotlight on the internet after his video, "Insane 7-Year-Old Hoverboard Tricks at the Skatepark!" went viral.
Besides his YouTube career, Tanner Fox established himself as one of the country's most popular professional stunt scooter riders. He was ranked 40th in the 2016 World Scooter Finals. Tanner tried his hand at business and introduced his clothing line called TFox.
What is Tanner Fox's Net Worth?
[table id=647 /]
Early Life
Tanner Fox was born on December 22, 1999, in San Diego, California. He was raised by his mother Ronda Fox alongside his older sister Lindsay Fox who is a YouTuber and Instagram personality.
Growing up, he was interested in heading to his local skate park to try tricks with his bike. While he was there, a group of kids on scooters caught his attention and he found it quite difficult.
At the same time, Tanner and his friend Maverick wanted to start a YouTube channel. They created an account that was supposed to be "MT Films". However, when Tanner was typing in the name, he made an error and put "Flims" instead of Films.
Career
When Tanner was 12 years old, his scooter skills had grown and he began competing with the help of pro scooter Dakota Shoots. He got a sponsorship with "Lucky Scooters". Tanner's deal with Lucky allowed him to compete around the world and by the age of 15 he's been to Australia, Spain, and the United Kingdom.
2015 was a big year for Tanner's scooter and his YouTube career. His friend Maverick had dropped out and started his own after a few arguments about content. That year, Tanner began to switch things up by posting videos from their lives outside of the skatepark.
On Instagram, he made call-the-shots videos where his fans could comment on the tricks that they wanted him to do. His hoverboard videos became so popular, earning thousands of new followers on the platform.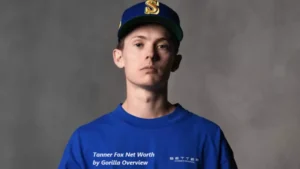 Breakthrough
In October 2015, Tanner uploaded a video on YouTube titled "Insane 7-Year-Old Hoverboard Tricks at the Skatepark!" which went viral on his channel and has gotten over 27 million views since. In December 2015, Tanner's channel reached 100,000 subscribers.
The following year, Fox stepped up his YouTube game and began posting daily. He attended Vincon and his content was evolving even further including the beginning of his very popular exploration videos.
Further Success
In April 2016, Tanner's channel hit 500,000 subs and just three months later he hit 1 million. After that, there were some rumors with all the success of Tanner's YouTube channel he was going to quit the scooter game. However, it wasn't true. In 2016 he qualified for the second time to go to the "World Championships" in Spain.
2016 has been another huge year for Tanner, he was internationally ranked in this sport. Additionally, Fox became a YouTube sensation and was able to buy his dream car (Nissan GT-R) before he even turned 17. At this age, Tanner Fox became a millionaire and now has a net worth of $6 million.
Other Ventures
Unfortunately, there have been some lows during his brief hospitalization after he and two friends got into a car crash during a Canyon run in November 2016. Tanner broke his leg in the accident but has since recovered. He reached 3 million subscribers on his last day in the hospital.
Following his popularity, Tanner began collaborating with famous content creators including Jake Angeles, Roman Atwood and Harry Main, Justin Stuart, Casey Neistat, and Carson Lueders. He started YouTube in September 2011 and now has over 10 million subs. Tanner is known for making vlogs that include daily activities, tours, failures, and challenges.
Career Highlights
Here are some of the most popular videos of Tanner Fox:
We Do It Best (Music Video) featuring Dylan Matthew & Taylor Alesia (2017)
INSANE 7 YEAR OLD HOVERBOARD TRICKS AT THE SKATEPARK! (2015)
GIRLFRIEND REACTS TO LAMBORGHINI LAUNCH! (2017)
Picking Up Little Sister from High School in LAMBORGHINI! (2019)
Last To Leave Pool Wins $5,000 – Challenge (2018)
TRAMPOLINE VS 10,000 CHEESE BALLS! (2016)
Car Collection
Nissan GT-R
Lamborghini Huracan
Porsche 911 GT3 RS
Special Mention: Scion FR-S
Mercedes AMG G63
Mercedes-Benz Sprinter Van
Tanner Fox Net Worth
Tanner Fox is one of the most successful YouTubers among youngsters. He gained over 72,000 subscribers on his channel in one day after appearing in Roman Atwood's vlog. Tanner is from California and has a passion for scooter stunts and movie-making.
He began his YouTube journey just before he turned 11 years old. For the first four years, he posted stunt and trick videos of himself and his friends. By mid 2015 he became a world competitor in scooter events and his YouTube channel began to gain some serious traction.
He has been making a vast chunk of money from the past several years and by 2016 he already became a millionaire. As of 2023, Tanner Fox's net worth is estimated to be $6 Million. 
You May Like