Pouya is an American rapper and musical artist with a net worth of $3 Million. He rose to fame after teaming up with Fat Nick, creating the "Fat Nick & Pouya Show" and eventually, "The Buffet Boys". Pouya is one of the most popular young artists to emerge from 305 in the past few years.
The rapper began uploading music on SoundCloud in 2012 and is acknowledged as a pioneer of the early underground rap game. Over the years, he collaborated with the likes of Rich Chigga, Robb Bank$, and Ghostemane.
What is Pouya's Net Worth?
[table id=322 /]
Early Life
Kevin Pouya was born on December 20th, 1994, in Miami, Florida. His father is from Iran and his mother is of Cuban descent. Kevin grew up with three siblings including two sisters named Ashley and Christina as well as a brother.
After attending Devon Aire Elementary School, he went on to Arvida middle school where he met his future friend Fat Nick. The two met in the seventh grade when Fat approached Kevin to learn the skateboard.
By the time they were both in tenth grade and attending Miami Killian high school, they decided to drop out of school. Apart from that, Pouya got a job as a busboy in a restaurant and it lasted one year before he quit to focus on music full-time.
Career
Pouya and his friend Fat Nick decided to start their YouTube show called "NICK AND POUYA SHOW". They started music by posting skits but both guys loved to rap. It wasn't long before they began posting tracks on their channel.
Shortly thereafter, the two met their future DJ named Don Krez, who heard some of their music online and hooked up with them. Pouya and Fat formed the "Buffet Boys" to release their music. They created a new YouTube channel with the same name and began uploading song after song.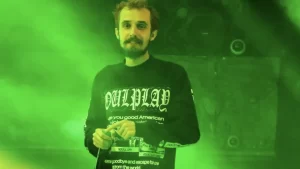 Breakthrough
By 2012, Pouya had enough experience under his belt to release his first solo mixtape. He gained some notoriety after the release of the single "Get Buck" in 2013.
Pouya eventually dropped his debut studio album "Underground Underdog" in 2016. The album was released under the Buffet Boys label and it peaked at number 156 on the Billboard 200.
In the following year, he and Fat Nick released a collaborative album titled "Drop Out of School" which was quickly followed by his second studio album "Five Five" in 2018. His third project "The South Got Something to Say" came out a year later.
For this album, the guest appearances came from the likes of Juicy J, Ghostemane, and City Morgue. Kevin Pouya accumulated a net worth of $3 million.
Other Ventures
As a youngster, Pouya was a huge fan of the animated series "SpongeBob SquarePants". Growing up he played video games like Call of Duty, GTA, San Andreas, and Super Smash Bros. As for music, he was influenced by the acts like Bone Thugs-N-Harmony, OutKast, and Wu-Tang Clan.
In March 2023, Pouya and his friend Nick announced that they are about to disband their label Buffet Boys. After that, they revealed they are working onto build a new label named "All But 6 Records".
Personal Life
Despite the success he was experiencing with music, Kevin Pouya always had issues with anxiety. He had been diagnosed with an anxiety disorder when he was still in school.
In 2013, Pouya met Instagram model and influencer Young Baby Coco. When the two first met, Pouya was performing in front of a small crowd. The two have been in a good relationship since 2017. According to reports, Coco is battling stage III sarcoma cancer.
Career Highlights
Get Buck (Song, 2013)
Underground Underdog (Debut album, 2016)
Five Five (Second album, 2018)
Pouya Net Worth
Kevin Pouya has been putting music for South Florida ever since he arrived. He came to the spotlight after releasing his song "Get Buck" in 2013. The track went viral and led him to collab with several other high-profile artists.
In terms of earnings, Kevin makes money from performing on shows, releasing hit music, as well as his YouTube channel. Additionally, he earns from his collaborations with Fat Nick and many other artists. As of 2023, Pouya's net worth is estimated to be $3 Million.
You May Like: