Ozge Torer is a Turkish actress who has a net worth of $3 Million. She rose to fame for her appearance in the hit Turkish television series "Kuruluş Osman." Ozge has a starring role as Bala Hatun in the series alongside Burak Özçivit.
After appearing in the series her popularity grew all around the world and it established her career in the industry. She is one of the rising actresses and it seems that in the upcoming years, Ozge will be on the list of top celebrities in showbiz.
The actress is also popular on social media and amassed over a million followers on Instagram in a short period. Before having a lead role in "Kuruluş Osman" she hosted a small TV show.
What is Ozge Torer's Net Worth?
[table id=160 /]
Early Life
Özge Törer was born on August 16th, 1998, in a Muslim family in Istanbul, Turkey. There is no information available about her parents because the actress is quite private.
However, we do know that Ozge grew up along with her sister Nilay, in Silivri (a city in Istanbul). She spent her entire childhood in Silivri until her high school graduation.
After completing high school, Ozge went to Muğla to study Arts at Mugla Sitki Kocman University. At that time she developed an interest in acting and began participating in theater shows.
Career
Ozge began her acting career by appearing in a number of local stage plays. Her performance in a show led her to win an award. Later she hosted one of the small television shows.
The turning point of her career came in 2019 when she got the leading role of Bala Hatun in the first season of the historical drama TV series "Kuruluş: Osman." Ozge started portraying Bala alongside Turkish actor Burak Özçivit.
Her outstanding performance in the first season earned her a lot of fame. The first season of "Kuruluş: Osman" ran from November 2019 to June 2020. Apart from Ozge's success, the series became a massive success, amassing over 50 million views on almost every episode.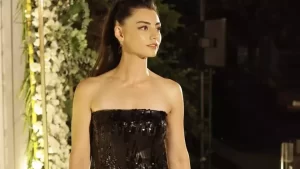 Breakthrough
In October 2020 the second season of "Kuruluş: Osman" began airing in which Ozge reprised her role as Bala Hatun. The season completed in June 2021. The show caught the attention of Pakistani viewers and broke viewership records in the country. Following its success, Asad Qaiser (Pakistan National Assembly Speaker) visited the set of "Kuruluş: Osman."
From October 2021 to June 2022 Kuruluş: Osmans' third season was aired and all seasons are available in the Urdu language. Ozge's performance as Bala Hatun earned her Best Actress of the Year 2021 award and the Crystal Globe Award.
Personal Life
Ozge Torer hasn't disclosed any information about her relationship. So it is difficult to say anything about her boyfriend, but we will update you soon. The actress is currently focussing on pursuing her career in the entertainment industry. She has already garnered a lot of recognition.
Career Highlights
Kuruluş Osman (Turkist Historical series, 2019–present)
Best Actress of the Year 2021
Crystal Globe Award
Ozge Torer Net Worth
Ozge Torer is one of the most beautiful Turkish actresses in the entertainment business. She made a name for herself in the industry at an early age. Her popularity and wealth are growing regularly. Torer earned mainstream success after appearing in "Kuruluş Osman."
The main source of her income comes from her acting work and the actress accumulates a good sum from the hit series. Currently, Ozge is the second highest-paid star in "Kurlus Osman."
She is also the lead choice for brands and many labels want her to become their ambassador. As of 2023, Ozge Torer's net worth is estimated to be $3 Million.
You May Like: