Chloe Ting is an Australian YouTuber, fitness personality, and social media star who has a net worth of $5 Million. She is best known for being active on her self-titled YouTube channel. Ting mainly focuses on uploading fitness, fashion, and travel content.
Chloe rose to fame during the Pandemic when her workout program "Two Week Shred Challenge" went viral on TikTok. Around that time she managed to accumulate millions of more followers on Instagram and YouTube. In 2020 she was featured in the US "Top 10 Breakout Creators" list.
She garnered almost 25 million subscribers on her eponymous channel. On top of that, Chloe has nearly 3 million followers on Instagram. She established herself as one of the top five fitness models in the country, all thanks to her viral workout videos.
What is Chloe Ting's Net Worth?
[table id=172 /]
Early Life
Chloe Ting was born on April 9th, 1986, in Brunei, Southeast Asia. She was raised in a Christian household. After completing early education, she moved to Melbourne, Victoria, Australia, at the age of 16 to pursue further studies.
In Australia, she attended Monash University where she studied business, majoring in econometrics, finance, and statistics. Additionally, she obtained a master's degree in financial marketing and philosophy from the same university.
Chloe is quite private about her life and hasn't revealed any information about her family. However, we do know that she grew up with two brothers. Upon her graduation, she began working as an actuarial analyst. Before launching her career as a fitness model, Chloe was a blogger.
Career
In August 2011 Chloe created her YouTube channel but didn't upload her first video until the age of 29. Her first video titled "Back To School" was uploaded in March 2016. That was the same time when she started working out for the first time.
She continued to upload fashion and travel-related content on her channel. But she says that the first 20 videos on her channel were horrible. It was the year 2017 when Chloe entirely focused on making fitness content.
She uploaded workout videos as well as lifestyle vlogs which helped her to gain thousands of subscribers. She often reminds her followers in her videos that she is not a certified personal trainer.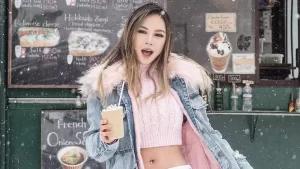 Breakthrough
The biggest breakthrough moment of her career came in August 2019 when she uploaded a video titled "Get Abs in Two Weeks." Many vloggers and bloggers tried the workout and the video eventually went viral. Today this workout video has over 500 million views on YouTube.
Following her success, she began focussing on sharing nutrition tips, recipes, fashion, and makeup tutorials. Chloe came to the spotlight once again during the pandemic in the summer of 2020. She caught the attention of millions of audiences on TikTok after her workout program  "Two Week Shred Challenge" went viral on the platform.
From that point on Chloe began uploading more fitness videos regularly. She garnered over 24 million subscribers on her channel, becoming one of the biggest YouTubers in the world. At the end of 2020, her videos were on the top trend according to YouTube's official report.
Other Ventures
Outside of YouTube, Chloe is also a model for a number of brands. She is the brand ambassador of the British fitness company "Gym Shark."
She has endorsement deals from brands including Super Dry AUS, Cartel Flowers, La Belle Miette, Panasonic, Next AUS, Shopbop, ASOS, Chloé Paris, ZARA, Burton, SOREL, Sambag, The Fifth Label, and more.
Personal Life
Chloe Ting was in a relationship with Adrian. The couple first met in middle school and later reconnected and began dating. Adrian helped Ting to film her workout videos and was also a production partner. But their relationship didn't last long and they broke up. In 2021 Ting moved from Melbourne to Singapore where she currently lives.
Career Highlights
2020 Streamy Award, Health & Wellness _ Won
2020 AACTA Awards, Best Online Entertainment _ Finalist
2021 Streamy Awards, Health and Wellness _ Nomination
2020 USA, UK, Europe, and Asia, Top Creators, and Breakout Creators _ Listed
 "Two Week Shred Challenge" (Workout program, 2020)
 "Get Abs in Two Weeks" (Video, 2019)
Chloe Ting Net Worth
Chloe Ting is a Singapore-based YouTuber who gained immense fame throughout her successful career. She rose to fame after her video Get Abs in Two Weeks went viral on YouTube. Ting is one of the most recognized celebrities on the internet like Pamela Reif and others.
She has an amazing fan following from all across the world. The fitness personality makes money from her YouTube channel as well as brand endorsements and business ventures. Her popularity and wealth are growing rapidly.
Most of her videos have crossed over 100 million views and some of them have accumulated even 400 million views. As of 2023, Chloe Ting's Net Worth is estimated to be $5 Million.