Pamela Reif is a German fitness model, YouTuber, and social media personality who has a net worth of $4 Million. She is best recognized for uploading fitness-related content on YouTube. She has an eponymous channel which she created in September 2013.
Over the years, Pamela earned a massive fan base worldwide. Some of her workout videos even crossed the 50 million views mark on YouTube. She mostly uploads her workout videos including 15-minute abs or 20-minute full-body workouts.
Apart from that, Pamela has an impressive following on other social media platforms such as over 9 million fans on Instagram. In 2020 she was featured in the "30 Under 30 DACH" list of Forbes. This popular magazine announced that Pamela is one of "Germany's most famous influencers."
What is Pamela Reif's Net Worth?
[table id=154 /]
Early Life
Pamela Reif was born on July 9th, 1996, in Karlsruhe, Germany. She is the daughter of Bernd and Manuela Reif. Pamela grew up with her brother Dennis. As a child, she developed an interest in sports and experienced several fitness and outdoor activities as well as dance.
Pamela graduated from high school in 2014. She wanted to become a professional dancer and model until 16. Her interest in fitness started back in the day when she and some of her friends went to the gym. At first, she had no plans of starting her career in fitness.
Career
Reif continued to exercise in the gym for the following 12 months and in July 2012 she created her Instagram account. From that point on she began sharing lifestyle posts including, gym selfies, workout reels, routines, and nutrition guides. As a result, her content grabbed the attention of a major audience on social media.
After hitting one million followers on Instagram, Pamela began receiving gigs from brands such as fitness accessories and supplements. That was the time when she decided to turn her passion into a career. She didn't pursue her studies to complete her dream of becoming a fitness model.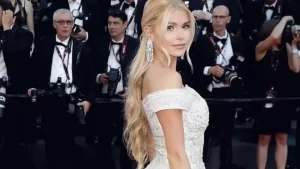 Breakthrough
Following her success on Instagram, Pamale expanded her outreach by creating a YouTube channel in September 2013. However, she uploaded her first video in April 2016 titled, "10 MIN INTENSE AB WORKOUT // No Equipment."
She saw a great response to that video and then continued to upload more workout videos regularly. In September 2019 Reif uploaded a video "20 MIN FULL BODY WORKOUT – Beginner Version" which amassed over 55 million views.
Her popularity grew when she teamed up with famous singer Jason Derulo and uploaded a workout video in January 2020. Later in February of that year her video "10 MIN BEGINNER AB WORKOUT" came out which wound up getting 77 million views.
As of now, Pamela is one of the top fitness models in the world, having millions of followers on many outlets. In addition, she runs a handful of websites featuring diets, fitness routines, and exercises.
Other Ventures
In March 2017 Pamela Reif launched her first book entitled "Strong & Beautiful" which is about fitness, nutrition, and fashion. Then in May 2019, she published another book "You Deserve This."
Her successful career caught the attention of the famous magazine Forbes which she was featured on the cover. In 2019 she was requested for the "Forbes Under 30 Summit Europe" interview. That same year she became a cover page of "Forbes DACH magazine."
The fitness model launched her healthy food brand in the name of "Naturally Pam" which is made with natural organic ingredients. Moreover, Pamela is the first choice for brands like the popular company "PUMA" which announced that Pamela Reif would be their new brand ambassador.
Along with that, she has been endorsing several other brands:
Shredz supplements
GHD (hair-straightener firm)
Calzedonia
Nak (Swedish fashion label)
Car Collection
BMW 5 Series
Jeep Grand Cherokee
Mercedes Benz S Class
Career highlights
Placetop award "Fitness Influencer of the Year" for her first book
10 MIN INTENSE AB WORKOUT // No Equipment (Video)
2 in 1 – FLAT BELLY & ROUND BOOTY WORKOUT
10 MIN SIXPACK WORKOUT
10 MIN BOOTY BURN // No Equipment
Pamela Reif Net Worth
Pamela Reif is one of the rising celebrities in the fitness world. She accumulated a lot of fortune and fame through her thriving career. Her workout videos led her to become a millionaire.
Reif first came to the limelight when her exercise video "20 MIN FULL BODY WORKOUT – Beginner Version" went viral in 2019. Since then she received a lot of love for her videos on YouTube.
Pamela's main source of income comes from the fitness industry, such as brand endorsements, business ventures, and a YouTube channel. As of 2023, Pamela Reif's net worth is estimated to be $4 million.
You May Like: