Hande Ercel is a Turkish actress and model who has a net worth of $8 Million. She is best known for her appearance in Turkish TV series and shows. She attained a lot of popularity in the entertainment industry throughout her career.
In 2011 Ercel began her modeling career and then established herself as one of the top actresses in the country. Hande rose to fame in 2016 after appearing in the lead role of Hayat Uzun in the hit TV drama series "Aşk Laftan Anlamaz." She played her role opposite the popular Turkish actor Burak Deniz.
Following her success in the series "Ask Laftan Anlamaz," Hande's popularity grew all around the world. She garnered almost 30 million followers on Instagram, becoming one of the most followed personalities in Turkey. She is also widespread on other social media platforms like Twitter, Facebook, etc.
What is Hande Ercel's Net Worth?
[table id=159 /]
Early Life
Hande Erçel was born on November 24th, 1993, in Bandırma, Balıkesir, Turkey. Her father Kaya Ercel is a businessman and her mother Aylin Ercel is a housewife. Hande was raised by a Muslim family and holds Turkish Nationality.
She grew up along with her sister Gamze Ercel who is pursuing a career as a model and actress. Hande spent a lot of her early time living with her grandma and granddad. She developed an interest in acting from an early age and now wants to work in the Hollywood industry.
After completing her high school graduation from a private school, she went to attend Mimar Sinan Fine Arts University, in Turkey. She obtained her degree in Fine Arts from the University.
Career
Hande began her career as a model, appearing in a number of TV commercials in 2011. She has managed to earn a name for herself in showbiz within one year. In 2012 she got the title of "Miss Turkey. From that point on she started getting acting gigs.
In 2013 Ercel made her acting debut in the television series "calikusu." In the following year, she had supporting roles in the TV series "The Wren," "Çılgın Dersane Üniversitede," and "Hayat Ağacı." From 2015 to 2016 Hande had her first lead role as Selin Yılmaz in the TV show "Güneşin Kızları."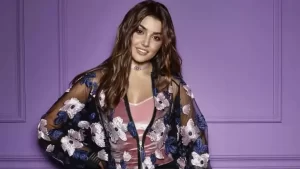 Breakthrough
Hande got her breakthrough in her career by starring in the Turkish daily soap "Ask Laftan Anlamaz" also known as (Love Doesn't Understand Words). The series was aired on Star TV from 2016 to 2017. Ercel played the main role of Hayat Uzun opposite Burak Deniz.
This series became a massive success gaining popularity in different countries including UAE, India, Uzbekistán, Pakistan, and more. The actress received wide appreciation for her immense performance and got several awards. Since then she had all lead roles in hit television series.
From 2017 to 2018 Ercel played Hazal on Star TV's "Siyah İnci." In 2019 she portrayed Müjde on TRT 1 series "Halka." That same year she had the character of Azize Günay in Kanal D's show "Azize."
Next year she landed the main role of Eda Yıldız in the Turkish TV series "Sen Çal Kapımı" co-starring Kerem Bürsin. The show became successful being sold in over a hundred countries. She has plans of working with American actors Ryan Gosling and Leonardo Dicaprio.
Other Ventures
In 2019 Hande Ercel was named the most beautiful woman of the year by the World magazine "Top Beauty." She is one of the lead choices for brands and commercials in the country. The actress appeared in numerous commercials in her career.
Popular fashion and beauty labels "L'Oreal Paris Turkey, and DeFacto" announced that Hande Ercel would be their brand ambassador. Along with this, she has done endorsements work for  Nocturne, Bobbi Brown Cosmetics, etc. In 2017 she was featured in Demir Yağmur's music video "Canın Sağ Olsun."
Personal Life
In 2015 Hande and actor Ekin Mert Daymaz began dating and were spotted together in many places. However, their relationship didn't last long and they broke up in 2017 when Hande was reportedly dating Ekin'd friend Mehmet.
As of now some reports revealed that Hande is dating singer and actor, Murat Dalkılıç.
Career Highlights
Aşk Laftan Anlamaz (TV series, 2016-2017)
Güneşin Kızları (2015-2016)
Siyah Inci (2017-2018)
2015 42nd Golden Butterfly Awards, Rising Star _ Won
2017 Yeditepe University 5.Dilek Award, Best Actor in Comedy _ Won
2017 Turkey's Children Award, Best Actress in Drama Series _ Nomination
2017 44th Golden Butterfly Award, Best Actress in Comedy _ Won
2012 and 2017 Best Turkey Actress Awards _ Won
2012 Miss Civilization of the World _ Won
Hande Ercel Net Worth
Hande Ercel is one of the most beautiful actresses in the entertainment industry. She has millions of followers on social media from all around the world. The actress earned mainstream success following her appearance in the hit series "Aşk Laftan Anlamaz."
Hande is known for her work in other television series including "Güneşin Kızları" and "Siyah Inci." She is named to play the lead role of Kimya Hatun in her first feature film "Intoxicated by Love."
Ercel makes money from her acting profession as well as brand endorsements and ventures. She accumulated a lot of fortune from her role in the hit show "Aşk Laftan Anlamaz." As of 2023, Hande Ercel's net worth is estimated to be $8 Million.
You May Like: