Lud Foe is an American drill rapper and songwriter who has a net worth of $1 Million. Lud Foe rose to fame after releasing his 2016 singles "Im Da Man" and "Cuttin Up". Both of these tracks earned him massive popularity in the rap community.
He received millions of plays on SoundCloud and YouTube with his hit singles including "My Ambitions As a Rider" and "In and Out" among more. His music quickly caught the attention of high-profile rapper Lil Durk with whom Lud co-signed.
What is Lud Foe's Net Worth?
[table id=289 /]
Early Life
Will James Akins aka Lud Foe was born on July 15th, 1996, and grew up on the West side of Chicago, Illinois. He was raised by his mother in Section 8 housing. His father was less involved in Lud's upbringing.
He was hustling on the streets from a young age and people started to refer to him as "Shorty Foe". That nickname stuck and over time it would evolve into "Lud Foe".
While attending high school Lud used to involve in several fights with other students. The first time he spent time behind bars happened after he got into a fight in school with another kid. Soon, he was rushed by other teachers and he even punched the principal as well.
At the age of 15, Lud got locked away in Juvenile detention for a year. During that time he developed an interest in music. Around that time he was writing 10 raps a day. After getting out, Lud Foe was on probation but he wasn't able to live with his mother anymore.
Career
Lud Foe began his rap career by releasing a song titled "187" with the help of producer Bxnkroll|DIR. The music video was uploaded in March 2015 on a YouTube channel called "Viral Scope". Then in January 2016, he dropped the track "Im Da Man" on Tracy Garner's YouTube channel.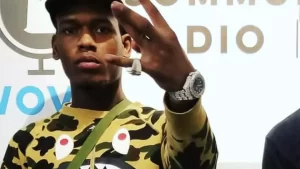 Breakthrough
Lud Foe went on to release three music videos with the channel Elevator including "Coolin With My Shooters" as well as "Cuttin Up". This was also the first video to credit his producer Kid Wond3r in the title and became a standout success for both artists.
The music video for "Cuttin Up" started hitting bit numbers and quickly amassed 2 million. The song has since climbed to over 39 million views on YouTube and also caught the attention of Lil Durk.
The rapper Lil's manager called Lud Foe to ask if he could collab on the remix. Lud agreed to have the legendary artist join him on the song. The video was featured on WorldStarHipHop.
Later, Lud Foe continued to release more music videos with WorldStarHipHop throughout the summer of 2016. His further music videos with the channel included "What's The Issue" and "Very Hard".
In October 2016, Lud released "My Ambitions As A Rider" which ranked in over 37 million views. New tracks continued to roll out on WorldStarHipHop throughout 2017.
Other Ventures
As a young boy, he began listening to artists like Ice Cube, N.W.A., Three 6 Mafia, Master P, and Gucci Mane. All of these artists became musical influences for him.
After school, Lud Foe's main focus was selling dope and he was making some handsome money. It was enough to shop regularly at the Gucci store. He was also getting ink, he got a neck tattoo with a large skull and dollar sign.
The tattoo artist then told him that he knew a producer that he should hook up with. Soon after, Lud met with a producer named Kid Wond3r who helped to encourage Lud to start taking his rap more seriously.
Personal Life
In March 2017, Lud Foe found himself in a severe car accident with a semi-trailer truck. He wasn't wearing a seatbelt and ended up flying out of his rear window. He lost consciousness and woke up in midair, before coming crashing down on the pavement.
After recovering he got back to the studio and recorded five tracks in Kanye West's style. The music videos for his songs were uploaded on the WorldStarHipHop channel and racked up millions of views.
Career Highlights
Here are some of the most popular songs of Lud Foe:
Cuttin Up (2016)
What's The Issue (2016)
Coolin With My Shooters (2016)
My Ambitions As A Rider (2016)
New (2017)
Lud Foe Net Worth
Lud Foe is one of the rising drill rappers in the country who gained a lot of popularity at an early age. He began his music career in 2015 and two years later he was at the peak of his career.
In 2017 his music videos were amassing millions of views and he was working with the likes of Lil Durk and G Herbo. Lud mainly earns from uploading music videos on the WorldStarHipHop's YouTube channel as well as collaborations, and tours.
In May 2016, he created his own YouTube channel where the rapper has over 260k subscribers. As of 2023, Lud Foe's net worth is estimated to be $1 Million.
You May Like: