Destroy Lonely is an American rapper who has a net worth of $2 Million. He rose to fame after releasing his first studio album If Looks Could Kill in 2023. The project landed him on the Destroy Lonely Net Worthhe radar after it peaked at number 18 on the US Billboard 200.
The rapper began his career back in 2015 and then caught the attention of rapper Playboi Carti. He signed him under his Opium label through Interscope Records and Ingrooves in 2021. Since then, Lonely has continued to release one hit single after another and collaborated with several artists.
What is Destroy Lonely's Net Worth?
[table id=604 /]
Early Life
Bobby Wardel Sandimanie III aka Destroy Lonely was born in Atlanta, Georgia on July 30th, 2001. He spent a lot of his childhood and early adolescents by himself.
Bobby had two younger sisters growing up as well as an older brother, but they were half-siblings. He was not interested in studies, in the grade sixth he had somehow convinced his grandmother (a former teacher) to instruct him at home.
His isolated experience eventually led to the emergence of his stage name "Lonely". The first part of his stage name "Destroy", emerged during his return to school in 9th and 10th grade. Growing up, he had a deep passion for freestyling and a genuine dedication to the art of rap.
Career
Destroy decided to become an artist from a young age and was influenced by his father who also just happened to be a rapper. In the late 1990s, his father made his mark in the music industry by signing with Ludacris' "Disturbing tha Peace" under the name I-20.
Lonely began teaching himself audio production during his free time. He made his first song at the age of 14 and before long he was uploading his music to SoundCloud. Soon enough he was skipping almost every class so that he could record music at the studio in Campus.
Around that same time, Lonely met two very important people in his life Texaco and Nezzus. These were two fellow rappers who became his best friends and his closest associates. From then on, Lonely continued recording music with Texaco and Nezzus.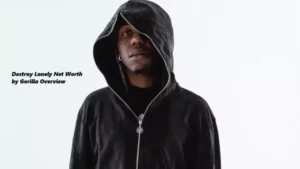 Breakthrough
Lonely released his earliest music in 2015 followed by mixtapes with the titles "Darkhorse" and "Underworld". He finally achieved his breakthrough moment after dropping "Alternatively Broken Hearts" in October 2020. That project contained one single that helped catapult him to the top, a song titled "Bane".
Following his success, Lonely released his new single "Oh Yeah". It became the turning point of his career because it was the music video to that track that found its way to Playboi Carti. Playboi reached out to the young artist and offered to help shape the next stage of his career.
In 2021. Destroy Lonely became the newest member of Carti's Opium Roaster under Interscope Records. Additionally, he became one of the first to join alongside his label mate and good friend Ken Carson. Apart from collaborating on many songs, these two artists have practically become brothers along the way.
Further Success
After getting signed to Opium, Lonely quickly set to work on his highly anticipated big label debut mixtape titled No Stylist. It was released in August 2022 and boosted Lonely's popularity even further.
Following that, Lonely took his show on the road and barking on a 21 City tour throughout the winter with his Opium label mates including Homixide Gang and DJ Black Boy.
Even though he was super busy on his North American tour, Lonely managed to record his debut studio album, If Looks Could Kil which dropped in May 2023.
Music isn't the only goal in his life, Lonely also is preparing to venture into fashion, designing his speakers, and creating some films. This is still just an early stage to Destroy Lonely's master plan.
Career Highlights
If Looks Could Kill (Debut studio album, 2023)
Having signed to Playboi Carti's Opium label
Destroy Lonely Net Worth
Destroy Lonely is one of the rising rappers in the music scene and gained a lot of fame at an early age. He came to the spotlight after dropping his 2023 album titled If Looks Could Kill. Before launching this project, the rapper already garnered success by signing a deal with Playboi Carti's label.
Lonely accumulated a vast chunk of money from his successful music career and is on his way to becoming the most prominent name in the industry. As of 2023, Destroy Lonely's net worth is estimated to be $2 Million.
You May Like