Lil Gotit is an American rapper and singer who has a net worth of $1 Million. He is best known for his collaborations with the likes of Lil Durk, Lil Uzi Vert, Gunna, Lil Baby, Lil Keed, and more.
Gotit's music caught the attention of big names and got co-signs from Young Thug and Future, and signed to Alamo Records. He's only been rapping for a few years now, but he already made a name for himself as the next up out of Atlanta.
Gotit comes from a big family and one of his siblings is also blowing up at the same time. The two of them are looking to take over the music. But before all of the fame and success, neither one of them was taking rap seriously.
What is Lil Gotit's Net Worth?
[table id=246 /]
Early Life
Semaja Zair Render aka Lil Gotit was born on August 6th, 1999, in Atlanta, Georgia. He is the youngest of 7 children, who all stayed under one roof. One of his brothers named Lil Keed is also a promising rapper and is one year older than Gotit.
Lil Gotit grew up in Forest Park on the Southside of Atlanta. He never played any sports growing up but was into video games. He played football once but didn't like it very much. Gotit wasn't the best student in school and has gotten suspended every single week.
During his freshman year, he dropped out of his school. Soon, he moved to Cleveland Avenue with Lil Keed which is also the same place where rapper Young Thug grew up. Thug was the biggest influence in his rap and later became a mentor.
Career
Gotit began his love of rap by writing poems and then started to rap for fun. He was creating songs but was never really thinking about rap. Shortly thereafter, he realized that he didn't want a real job, so he started taking rapping more seriously.
Initially, when his best friend and childhood collaborator Rudy was killed, both he and his brother Keed decided to take rapping seriously. Gotit teamed up with his brother Keed and they began releasing music together and posting their songs online.
In September 2017 Gotit released his mixtape "Super Squid" and shortly afterward he began to build up his buzz. At that time his rap name was "Maja Gotit" which was a nickname he had. But he decided to shorten it to Lil Gotit a few years ago.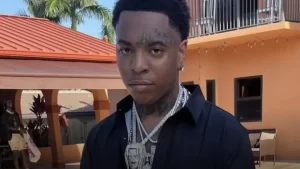 Breakthrough
Gotit kept releasing songs on SoundCloud and kept making a name for himself. He was also able to secure features from Gunna and Lil Uzi Vert. He signed to Alamo Records and released his debut studio album called "Hood Baby" which is also one of his nicknames.
In March 2019, Gotit released his second album "Crazy But It's True" which boasts collaborations with artists Lil Durk, Gunna, Lil Keed, and more. That same year he dropped a new 16 tracks mixtape "The Real Goat". In Feb 2020, the rapper dropped his single "Bet Up" and then "Drip Jacker" which was produced by Zaytoven.
In April of that year, Gotit began recording tracks for his third album "Hood Baby 2", releasing the album's first track "Bricks in the Attic". His album "Hood Baby 2" was released later that month and guest appearances came from the likes of Gunna, Lil Yachty, Future, and Lil Keed.
Gotit's fourth studio album "Top Chef Gotit" came out in April 2021. He followed this up by releasing another album "The Cheater" in May 2022.
Other Ventures
Despite releasing his own music, Lil Gotit grabbed the attention of Lil Yachty and was featured in his 2020 single "A'Team (You Ain't Safe)". In August of that year, he teamed with rapper Future to release their collaborative single "What It Was".
His newfound success allowed Gotit to spend thousands of dollars on his expenses. One day he took out 20 racks just to spend on shoes and belts at the shopping mall. According to some reports, he is ready to launch his fashion line in collaboration with "boohooMAN".
Career Highlights
Super Squid (Mixtape, 2017)
Hood Baby (Debut album, 2018)
Crazy But It's True (Album, 2019)
Hood Baby 2 (Album, 2020)
Lil Gotit Net Worth
Lil Gotit is an American rapper who rose to fame following the release of his debut project "Hood Baby". His music not only earned him a record deal but also led him to work with some high-profile artists. The rapper mainly earns from the music industry, such as releasing new songs, and albums, as well as collaborations with other rappers.
Live performances are also big contributors to his fortune as he performed at the Rolling Loud Festival in Miami, in 2019. He shared the stages with Lil Durk, Juice Wrld, Rich the Kid, and many others. As of 2023, Lil Gotit's net worth is estimated to be $1 million.
You May Like: