Cris Cawley is an experienced entrepreneur, corporate CEO, and award-winning coach who has a net worth of a whopping $70 Million. She created a unique career for herself as the mastermind behind "GameChanger Publishing."
Cris began her business career back in 1998 and earned a lot of success throughout her life. She extended her brand by offering her clients a suite of professional programs designed to help them become their best. Cawley offers her clients guaranteed ways to succeed in growing their brands.
Over the past two decades, Cris's devoted the majority of her time to starting her own company called "GameChanger Publishing." During that period she helped numerous people to accomplish the dream of publishing a successful selling book in 90 days or less.
What is Cris Cawley's Net Worth?
[table id=182 /]
Early Life
Cris Cawley was born in El Paso, Texas, at William Beaumont Army Hospital. She was raised by a military family and they moved all around the country throughout her childhood. She spent most of her youth in the Midwest.
Cris's father Paul was in the Army and was a contractor. Her mother Vicki was a homemaker for many years in addition to being a part-time nurse's assistant. Cris grew up in a poor home environment along with her siblings.
Her parents worked hard and they were not able to get ahead financially. When Cris was 12 years old her parents got divorced. As the oldest child in the family Cris was left to take care of her siblings on many an occasion. As a result, her mother worked multiple jobs to support them.
Career
At the age of just 15 years old Cris went to work and was introduced to the concept of hard work at an early age. As a teenager, she admired and looked up to successful people and worked several jobs.
Around that time she began attending seminars and committed herself that her life would be different. While in college Cris continued her working career with her first job which was selling pagers and cell phones to large corporations.
In 1998 she began her career by purchasing a $7 eBook online which sparked her interest in generating income from the internet. From that point on she began to spend weeks and months trying to navigate her way through the online marketing and content publishing business. That experience eventually led her to launch her own coaching business.
Breakthrough
Cris teamed up with Dean Graziosi and his studio team to create and sell a $25 book on infomercials. This is where she discovered that nothing beat the power of a best-selling book. The infomercials and TV book sales led to thousands of dollars in back-in-business sales.
Cris's accomplishment led her to share NewFound knowledge with her own clients to help them gain more revenue, impact, and influence for their businesses from the Best Selling Book. Following the success of her clients, Cris's Consulting and Game Changer Publishing was launched.
She now uses her extensive experience and unrivaled expertise to help her clients leverage their knowledge by helping them create and publish a book. That her company markets to best-seller status, allowing clients to drive readers to their book to their back-end High Ticket offers for more income, impact, and influence.
This process helped Cris to expand her business as well as popularity all around the world. From that point forward she was invited for podcast interviews, coaching sales, new consulting gigs, and a lot more.
Other Ventures
Cris's company GameChanger Publishing's approach has come to resonate with their ever-increasing stable of clients. All of whom keep so much praise on what Cris Cawley and her team have accomplished for them by using phrases repeatedly like "Results," "Technically-Oriented," and "Life Changing."
On top of her unrivaled book, publishing skills, and consulting services to some of the brightest minds in the marketplace today. Cris has launched a new adventure to help entrepreneurs maximize their success by offering an entrepreneur's Mastermind.
This is the most elite program she has ever made to the public that gives clients access to her network and resources to help them get to that next level in life and business. She's helped thousands of reputable entrepreneurs, influencers, and authority figures, including industry leaders, CEOs, speakers, coaches, and consultants.
Cris has graced many of the biggest stages over the past 20 years. She has certainly earned and solidified her reputation as an authority by helping more than 155,000 people with book publishing services and consulting programs.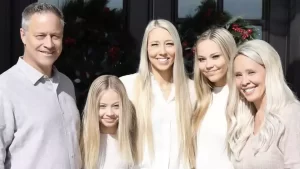 Personal Life
Cris Cawley has a net worth of $70 million and she resides in Texas. She is a happily married mother of three young daughters who she considers her primary source of inspiration.
She works hard daily to provide them with a positive example. Cris loves to spend her free time with her family like vacationing in Maui, Hawaii as well as on the Emerald Coast in Florida.
Career Highlights
CEO of Game Changer Publishing
Has impacted more than 155k entrepreneurs through her book publishing programs
Cris is the award-winning coach and a Two Comma Club Winner
Being one of the most sought-after book publishing consultants in the marketplace
Cris Cawley Net Worth
Cris has achieved the highest level of success in the business industry. She's decided to leverage her 20-plus years of experience and her relationships to help even more entrepreneurs grow their businesses.
In the coming months, Cris is launching her podcast with her daughter Madison. Her daughter is the CEO of Young Entrepreneur School. On the podcast, Cris, Madison, and their entrepreneur guests will discuss business growth and success strategies.
Cris is looking forward to playing a big role and continuing to change as many lives as possible through the company and her mission. She mainly earns money from her company and leadership coaching services. As of 2023, Cris Cawley's net worth is estimated to be $70 million.
You May Like: