Lil Gnar is an American rapper with a net worth of $2 Million. He rose to fame after releasing his 2017 breakthrough single "Ride Wit Da Fye". The track went viral and wound up receiving wider recognition in the music industry.
Lil Gnar is one of those artists who knows how to get attention. He first began his music career in 2017 and within a year he was able to grab the attention of record labels. In 2018, the rapper dropped his debut mixtape "Gnar Lif3".
What is Lil Gnar's Net Worth?
[table id=296 /]
Early Life
Caleb Sheppard aka Gnar was born on February 24th, 1996, in Oakland, California. From a very young age, he moved around several in the Bay area including Richmond and El Cerrito.
At the age of 11 years old, he relocated to Atlanta where Gnar lived with his mother and grandma. He mentioned that he had several siblings who lived with his father.
Career
Gnar first tried his hand at business, launching his clothing line which became very successful. Later, he began focusing on music. Lil had been rapping as a pastime ever since he was younger and took inspiration from artists in the Atlantic hip-hop scene.
Gnar began releasing his own music online and soon signed a deal with a distribution company in California. His first big single was "Drop Top Benz" featuring Lil Skies.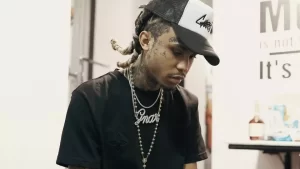 Breakthrough
Lil dropped his second song "Ride Wit Da Fye" which surpassed over 1.6 million views on the WORLDSTARHIPHOP YouTube channel. The track was released in 2017 and it earned him massive popularity in the rap community.
In September 2018, Gnar's debut mixtape "GNAR Lif3" with featuring artists like Travis Barker, IDK, Lil Skies, and ZillaKami. He followed that up by releasing another tape titled "FIRE HAZARD" in Sep 2019. This time he collaborated with the likes of Lil Yachty, Craig Xen, YBN Nahmir, and more.
In May 2022, Gnar eventually dropped his debut album "Die Bout It" featuring Tory Lanez, Trippie Redd, Lil Uzi Vert, and Chief Keef among others.
Other Ventures
While growing up, Gnar developed an interest in skateboarding. He began teaching himself the art of skateboarding while skipping school classes. As a result of this game, he had several injuries and he spent two months in a wheelchair and another three months in crutches.
Lil Gnar began his own clothing line "Gnarcotic", first putting together tie-dye shirts and the trademark colors and styles of some of his favorite rappers. He made contact with several Atlanta rap artists who helped spread the clothing line publically.
Gnar shot Lil Yachty in a photo spread modeling his merch line. Soon enough, he began getting orders online from all over the country. Around that time he was heavily influenced by the music of Tupac Sukar, Pharrell Williams, Tyler, The Creator, B.I.G., Bil L, Boosie, and Soulja Slim.
Personal Life
Lil Gnar has been romantically linked with a lady named Jazmyn, since 2018. Other than that, he hasn't disclosed any information about his dating life.
Career Highlights
Ride Wit Da Fye (Song, 2017)
GNAR Lif3 (Debut mixtape, 2018)
Gnarcotic (Clothing line)
Lil Gnar Net Worth
Lil Gnar is one of the rising stars in the industry. The rapper has been making waves with his extremely popular clothing brand Gnarcotic which has its own Instagram account boasting over 220k followers.
He has an impressive social media following that included Twitter and Instagram as well. Not to mention, Gnar makes money from his brand as well as music. The rapper has already released mixtapes, EPs, and a studio album.
Outside of releasing his solo music, he appears in music videos for other artists. As of 2023, Lil Gnar's net worth is estimated to be $2 Million.
You May Like: