Beatrice Egli is a Swiss pop and Schlager singer who has a net worth of $3 Million. She rose to fame after becoming the winner of the German reality talent show Deutschland sucht den Superstar. Beatrice participated in season 10h of the show and it earned her massive popularity across the country.
She gained further popularity for her music, releasing numerous hit projects including Pure Lebensfreude, Wo sind all die Romeos, and many more. Beatrice is known for having sold over 1 million records in Switzerland, Austria, and of course in Germany.
What is Beatrice Egli's Net Worth?
[table id=479 /]
Early Life
Beatrice Egli was born on June 21st, 1988 in Pfäffikon, Switzerland to father Bruno and mother Ida Elgi-Keller. She has Austrian-Swiss roots. Music was always in her blood as she grew up in a musical family. Beatrice began singing when she was just 9 years old.
A couple of years later she started taking singing lessons at folk festivals around the age of 14. In 2011, she went on to take the hairdresser training. Her interest in music and acting led her to enroll at the Schule für Schauspiel Hamburg where she learned singing as well as acting.
Career
Beatrice began her music career in 2007 by teaming up with fellow singer Lys Assia to release an album titled Sag mir wo wohnen die Engel. In April of that year, the duo participated in the annual regional song contest Grand Prix der Volksmusik where the two finished in 12th place.
In 2009 Beatrice got a chance to perform at the live TV program called Musikantenstadl. The show broadcast in Austria, Switzerland, and Germany, and boasted famous folk and music Lippenstift.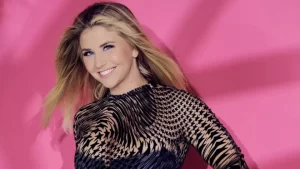 Breakthrough
In 2013, Beatrice Egli dropped her single titled Mein Herz which wound up peaking in different country's Singles Charts including Germany, Swiss, and Austria. In May of that year, her fourth album Glücksgefühle came out.
The album boasted tracks including Mein Herz, Jetzt und hier für immer, Tausend Ma, and many others. The project became a commercial success, topping the Austrian Albums chart as well as the Swiss and German charts. Additionally, the album Glücksgefühle was certified "Gold" by (BVMI) and (IFPI Switzerland).
Following her massive fame, Beatrice immediately announced the Glücksgefühle Tour to promote the project. She followed that up by releasing her studio album titled Bis hierher und viel weiter. The album became another success for the singer by reaching #1 in Switzerland.
Other Ventures
Aside from music, Beatrice also tried her hand at acting, starting her own show Die große Show der Träume in 2015 and 2016. However, the show didn't last long due to the fewer ratings.
In April 2016 she dropped 19 tracks album titled Kick im Augenblick. Around that time, popular TV networks like ZDF, MDR, and SRF, got her the opportunity to host and appeared on a number of their shows.
In March 2021, Beatrice unleash her 21 tracks album Wohlfühlgarantie along with a promoting tour that began in October of that year. Despite this, she came to the big spotlight after becoming the second Swiss contestant to win Deutschland sucht den Superstar in 2013.
Career Highlights
Glücksgefühle (Album, 2013)
Bis hierher und viel weiter (Album, 2014)
Mini Schwiiz, mini Heimat (10th Album, 2020)
Deutschland sucht den Superstar (German music competition, 2013)
Beatrice Egli Net Worth
Beatrice Egli is a singer, musician, pop, and television personality from Pfäffikon, Switzerland. She established herself as one of the lead names in the music industry in Germany, Swiss, and Austria. In these countries, she has millions of fans who love to listen to her voice.
Beatrice makes money from releasing albums, live performances, and television appearances. She has been making music since the age of 14. However, her breakout project Glücksgefühle came out when she was 25 years old. As of 2023, Beatrice Egli's net worth is estimated to be $3 Million.
You May Like