Rebecca Black is an American singer, actor, and YouTuber star who has a net worth of $1 Million. She rose to fame in 2011 with the digital release of her single "Friday", which clocked in with a whopping 166 Million views on YouTube.
Following this track, Rebecca Black found herself on 2011's number one most-searched entry, outdoing all other stars, even the likes of Lady Gaga and Adele. The singer faced a lot of criticism in her life but she has still managed to achieve her goals.
What is Rebecca Black's Net Worth?
[table id=428 /]
Early Life
Rebecca Renee Black was born on June 21st, 1997, in Irvine, California, USA. She is the daughter of two Veterinarians John Jeffery Black and Georgina Marquez Kelly. Her mother is of Mexican descent and immigrated to the US before Rebecca was born.
Her father was from Iowa and her parents met in California, they soon had Rebecca and her younger brother Chase Black. Later, the family split when her parents got divorced.
Rebecca enrolled at a private school from kindergarten to 6th grade and then went to a public school due to bullying. There she joined the school's musical theater program and fell in love with music. She eventually dropped out of high school to avoid bullying and was homeschooled.
Career
It was in late 2010 when Rebecca's life changed forever. A classmate of Rebecca's was a music video client of the LA record label ARK Music Factory run by the internet legend Patrice Wilson.
Rebecca's mother paid $4,000 for ARK to produce the music video while Patrice retained ownership of both the master and the video. The song was written by Patrice Wilson and Rebecca recorded the song in the studio.
The music video was filmed at her actual home and her co-stars were her real-life friends. That single turned into a notorious video titled "Friday" which was released on YouTube and iTunes in February 2011.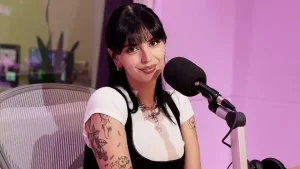 Breakthrough
The song Friday received about 1,000 views in its first month but after being featured on one of the famous blogs. From there, the track went viral acquiring millions of views on YouTube within a few days. From there, the track blew up on Twitter.
Following her massive success, Rebecca's plans were put into play to release the audio as a single on March 14th. The first week's sales were approximately to be around 40,000 by Billboard.
Later that month, she appeared on "The Tonight Show with Jay Leno" to perform a song and discuss the backlash. Additionally, the song went on to peak on the Billboard Hot 100 at number 58th. Thanks to the success, Rebecca Black accumulated a net worth of $1 Million.
Further Success
After her fallout with ARK Music Factory Rebecca then launched her independent record label called " RB Records". Since then, Rebecca has continued to pursue her dream.
In 2013 the singer dropped a sequel of sorts for a hit song titled "Saturday" for which she collaborated with musician Dave Days. It became her second single to chart on Billboard and peaked at number 55, reaching higher than her previous single.
In January 2016 Rebecca created a web video known as "Life After Friday" which showed her graduating from high school and telling her parents that she wouldn't be attending college. In 2018 she got a chance to appear on BBC Radio 5 to talk about cyberbullying.
Rebecca also appeared as a contestant on the Fox Musical competition show "The Four: Battle for Stardom" for its second season. In her audition, she sang "Bye Bye Bye" and made it onto the following round. However, she was voted out by the audience in the next round when she went against James Graham. The singer returned on the 10th anniversary with the remix version of her mega-hit Friday.
Other Ventures
In April 2011, Rebecca teamed up with a website called "Funny or Die" to rename the site "Friday or Die" on April Fool's Day of that year. That collaboration also included a series of videos.
Soon after, Rebecca signed with Debra Baum's DB Entertainment with the help of media personality Ryan Seacrest. MTV then named her to host their first online award show the "O Music Awards Fan Army Party" in 2011.
Rebecca next appeared in Katy Perry's music video "Last Friday Night (T.G.I.F.)." A cover of the song "Friday" was even performed on the hit Fox show "Glee" during its second season.
At the end of 2022, Rebecca announced that she would be releasing her debut studio album "Let Her Burn" which came out in February 2023. The album contains its lead single "Crumbs" along with its music video. She found success with its third single "Sick to My Stomach" which debuted.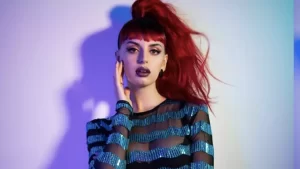 Personal Life
After the release of her single "Friday", she quickly became familiar with the dark side of fame when she began to receive phone and emails which were investigated by the police department.
Not long after "Friday" went viral Rebecca and her mother found themselves in a legal issue with ARK Music over the rise of the song. The family alleged that ARK Music failed to fulfill the terms of their agreement by not giving the family the song and video master recordings.
Rebecca also claimed that ARK was misrepresenting her exclusivity to their label and exploited her song without her permission by selling Friday as a ringtone. In July 2011 the music video for "Friday" was taken down as a result of the legal dispute.
The video was finally restored to YouTube in September 2011 on Rebecca's official channel. The video was selected as YouTube's number one video of 2011 with Rebecca hosting a YouTube Rewind at the year's end.
In April 2020 Rebecca Black publicly came out as queer that she revealed during an interview on the podcast "Dating Straight".
Career Highlights
Friday (Single via ARK Music Factory, 2011)
Friday (Remix) (Single, 2021)
2011 Teen Choice Award, Choice Web Star _ Won
Rebecca Black Net Worth
Rebecca Black is one of the most popular stars in the music world who took a long break and then returned with her first album. She came to the spotlight with her breakout single "Friday" in 2011 and it earned her immense popularity across the world.
Rebecca has been making money from music since the age of 14. Aside from releasing music and performing on live shows, her single "Friday" led her to make a good sum of cash after it was used in a Kohl's ad. As of 2023, Rebecca Black's net worth is estimated to be $1 Million.
You May Like