Chloe x Halle are American R&B duo with a net worth of $5 Million. The sisters Chloe and Halle are best known for forming the R&B duo Chloe x Halle. As a child, they began their acting career by appearing in TV shows with minor roles.
After appearing in a handful of small shows, they launched their music career in 2012. Soon they caught the attention of larger audiences through their hit singles.
Bailey sisters also got to perform at the 2016 BET Awards and picked up a Best New Artist nomination for the 2019 Grammys. They uploaded several covers of popular artists like Beyoncé, Rihanna, and John Legend.
What is Chloe x Halle's Net Worth?
[table id=177 /]
Early Life
Chloe Bailey was born on July 1st, 1998, and Halle Bailey was born on March 27th, 2000, both in Atlanta, Georgia, USA. Their father Doug Bailey is a talent manager and former stockbroker. Her mother Courtney worked as an HR recruiter for Twitter.
The girls also have an older sister Sky who filmed their earliest YouTube videos and a younger brother named Branson Bailey. Chloe booked her first audition to play the role of baby Beyoncé in the comedy film "The Fighting Temptations" in 2003. For this acting gig, she beat out 500 other girls.
Halle was next to land an acting gig in the feature film "Last Holiday" when she was 6. Later in 2012, Chloe appeared in the Disney TV movie "Let It Shine." Around that time Chloe and Halle began learning how to write songs under the guidance of their father.
Both sisters moved to Lose Angeles with their family to pursue a career. There Chloe was homeschooled as well as earned her General Educational Development diploma.
Career
When Chloe was 13 and Halle was 11, they created their YouTube channel. The sisters began uploading covers of songs and eventually a cover of Beyoncé's "Best Thing I Never Had" went viral. Soon they were asked to appear on "The Ellen Show" but Chloe and Halle never ended up on the show.
However, they did get the attention of Radio Disney's N.B.T. which they went on to win and also toured the country. Their early videos garnered just 400 views, but their undeniable talent soon drew millions of views.
In addition, the sisters taught themselves to play piano and guitar by watching YouTube videos. Chloe has the more classic R&B voice with heavy vibrato, and Halle's voice is trembling with jazz inflections. The girls started covering all sorts of artists including Adele, Kendrick Lamar, and Cardi B, among others.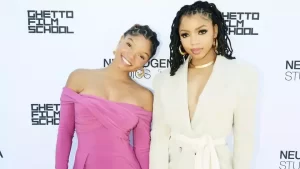 Breakthrough
In 2013 Chloe and Halle formed an R&B duo called "Chloe x Halle." From that point on they continued to upload covers of pop songs on their YouTube channel. It was their cover of Beyonce's "Pretty Hurts" which caught the attention of Beyonce herself.
They made appearances in Beyoncé's "Lemonade Visual" album. In the year 2016, Chloe x Halle released an EP titled "Sugar Symphony." The EP spawned the two singles "Drop" and "Fall" which became a massive success.
"Drop" has more than 6 million views on YouTube and "Fall" racked up over 2 million views. In the following year, they released the second EP titled "The Two of Us" which Rolling Stone named the Best R&B Album of 2017.
Further Success
Chloe and Halle wound up earning 5 Grammy Award nominations, all thanks to their heat-touching voice and hit music. Later Chloe dropped on-demand songs including Drop (2015), Fall (2016), I Say So (2017), and many more. Apart from Chloe's collaboration with her sister Halle, as a solo artist she released her debut single "Have Mercy" in 2021.
Other Ventures
Beyonce signed the Bailye sisters to her label, "Parkwood Entertainment" in 2013. Soon enough the girls found themselves on the European leg of her Formation World Tour in 2016 as an opening act. Later in 2018 Chloe and Halle went on to a "Jay-Z and Beyoncé – On the Run II Tour."
In 2018 Chloe x Halle released their debut album "The Kids Are Alright" which they wrote and executive produced themselves. The project went on to number 19 on the US R&B chart. In 2020 the sisters released their second studio album "Ungodly Hour" which earned them Grammy Awards nominations. The lead single from the album "Do It" went viral, becoming their first track to chart on the Billboard Hot 100.
Outside of music, the girls continued to book acting roles. Chloe and Halle landed recurring roles on the hit sitcom "Grown-ish." They also sang the song "Unstoppable" as well as making cameo appearances on the Disney series "Austin & Ally."
As for TV shows, Chloe and Halle made guest appearances in "Wild 'n Out" in 2018," and "The Disney Family Singalong: Volume II," "The Kelly Clarkson Show," as well as "The Disney Holiday Singalong" in 2020.
Real Estate
Chloe x Halle has a net worth of a whopping $5 Million and the sisters are living a lavish lifestyle in their mansion. Chloe spent a whopping $3.2 million on a luxury house which is located in Sherman Oaks, California.
It features 5 bedrooms, and 5 bathrooms, and is spread over 4,238 square feet of space, as well as a tennis court, and much more. While Halle Bailey is reportedly residing in another beautiful house in LA.
Career Highlights
Sugar Symphony (Debut ep, 2016)
The Two of Us (Debut mixtape, 2017)
Grown-ish (TV series, 2018–2022)
The Kids Are Alright (Debut album, 2018)
Ungodly Hour (Second album, 2020)
Do It (A lead single from the 2nd album, 2020)
2012 Radio Disney Music Award, The Next Big Thing _ Won
8 BET Awards _ Nominations
4 MTV Video Music Awards _ Nominations
7 Soul Train Music Awards _ Nominations
5 Grammy Award_ Nominations
2020 Billboard Women in Music, Rising Star Award _ Won
2021 NAACP Image Awards, Outstanding Duo, Group or Collaboration _ Won
Chloe Bailey's net worth is $3 million while Halle Bailey has a worth of $2 Million.
Chloe x Halle Net Worth
Chloe x Halle are one of the most recognized artists in the music industry. The sisters have managed to earn massive success in a short period. The two rose to fame following the creation of the R&B duo Chloe x Halle in 2013.
The two primarily make money from record labels, live concerts, music sales, and their YouTube channel. The sisters racked up over 1.8 million subscribers on YouTube and millions of followers on other social media outlets.
Chloe and Halle also have endorsement deals with brands including Ivy Park, Beauty Bakerie, Mac, Urban Outfitters, Nike, Skincare brand Neutrogena, Geejam Collection, The Americana at Brand, Google Pixel, and Tiffany & Co. As of 2013, Chloe x Halle's net worth is estimated to be $5 Million.
You May Like: