Keyontae Johnson is an American college basketball player with a net worth of $1 Million. He is best known for being a player for the Kansas State Wildcats of the Big 12 Conference.
Keyontae came to the spotlight after leading his Kansas State collegiate team to the Sweet 16 of the 2023 March Madness tournament. He established himself as one of the top players on the team and is known for playing in the shooting guard and small forward positions.
Before joining Kansas State, Johnson was playing for the Florida Gators. The basketball player is at the beginning of his career, already has numerous brand deals, and has much more to do in the future.
What is Keyontae Johnson's Net Worth?
[table id=257 /]
Early Life
Keyontae Johnson was born on May 24th, 2000, in the town of Hampton Roads, Virginia. He spent his childhood growing up with his parents, Nika and Marrecus in the nearby city of Norfolk.
Johnson attended Norview High School. There, he became a star on the school's basketball team for two years before transferring to the prestigious IMG Academy in Bradenton, Florida during his junior year.
Around that time, he was already a 6-foot-5, four-star prospect. He traveled from Virginia to Florida to improve his overall skill set and jumping ability. After making the transfer, Johnson quickly found himself a new home where he became close to a head coach named Vince Walden.
Career
Once Johnson's coach left to pursue an option elsewhere, most of the team at IMG departed with him. That left Johnson with a selection of his own to make, stay in Florida, or return home and play for Oak Hill Academy, in Virginia.
Keyontae chose to go with the Oak Hill Academy. Soon, he saw his stock blow sky High. He was averaging 12.9 points on nearly 70 % shooting and grabbing 7.6 rebounds per game during the Nike EYBL finals at Peach Jam.
He did everything and earned himself offers from college basketball programs like Texas Tech, Providence, Minnesota, Virginia Tech, Wake Forest, and Georgia Tech. However, he ultimately decided to return to Florida.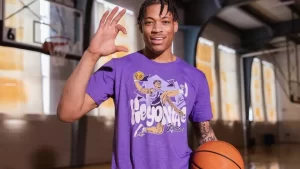 Breakthrough
As a four-star prospect emerging basketball player, Keyontae arrived at the University of Florida. Then he went ahead and silenced all of his doubters with a strong freshman year. This time, he averaged 8.1 points and 6.4 rebounds while starting 20 of the Gators 36 games.
After a full off-season of training, Johnson entered his sophomore year with even more to prove. Now he was bigger, faster, and stronger which led him to the most productive season of his career. He took an additional 6 points per game to his average and turned himself into one of the best players in one of the Country's strongest conferences.
On a senior day, the team honored Johnson by announcing him as a starter letting him jump for the tip, and then dribbling the ball a few times. Following that Keyontae's time at the University of Florida was over.
In May 2022, he decided to enter the transfer portal. There he chose between USC Nebraska Memphis Western Kentucky and Eastern Michigan before finally deciding to select the Kansas State Wildcats as his new team. Keyontae Johnson accumulated a net worth of $1 million.
Other Ventures
Before the start of that season though Johnson had yet another difficult decision to make. Five months before his collapse, a $5 million insurance policy went into effect.
It was because college basketball players are entitled to the NCAA disability insurance program if they have eligibility remaining and have the potential to be selected in the first round of the NBA Draft. In regards to Johnson's policy, he could return to playing college basketball for 9 games and still collect that money.
But if he cashed in on all those billions then he wouldn't be able to pursue a professional career after his college season. Keyontae decided to not collect that money and continue to work hard towards an NBA career. He never gave up on his dreams of going professional.
Further Success
By mid-August 2022, Johnson was undergoing a rigorous pre-season workout with his new teammates. Johnson scored 13 points in his first game back then 16 in the second and 19 in his third. Two games later, he was a walking bucket, dropping 28 points in an overtime win over Nevada.
He scored in double digits in all but one of Kansas State's 32 regular season games while averaging 17.2 points 7 rebounds, and 2.2 assists in 34 games. At the end of the season, Johnson was named the Big 12 Newcomer of the Year. He was also selected to the All-Big 12 First Team.
His team finished third in the conference with a 23-9 record, leading up to the biggest events of the year, the NCAA March Madness Tournament. After the first week's wave of games was completed Johnson had helped lead Kansas State to the Sweet 16 by hitting a clutch step-back three-point dagger to seal the game against the PowerHouse Kentucky team. He finished that game with 13 points, 4 rebounds, and 3 assists.
Personal Life
On December 12th, 2020, Johnson was playing a game against Florida State. After completing an Alley-oop in transition when a Timeout was called, Johnson was walking back onto the court and he suddenly collapsed face-first to the ground.
He was immediately rushed to the hospital where he was placed in a medically induced coma for three days. Johnson remained in the hospital for another week and at that time he had granted permission to speak with his teammates.
He hopped onto a Facetime call with Florida Coach Mike White and he says that he'll never forget his team's reaction to that moment. Johnson was cleared by a doctor from the NBA Players Association and ultimately diagnosed with an "athlete's heart".
When Johnson arrived back in Florida the team wouldn't clear him to play for the upcoming season based on insurance and liability reasons. He was surely not happy about that, but he continued to try and support his teammates as best he could.
Career Highlights
2020 1st-team All-SEC
2023s 3rd team All-American – AP, NABC
2023s Big 12 Newcomer of the Year
2023s All-Big 12 First Team
Keyontae Johnson Net Worth
Keyontae is one of the up-and-coming basketball players in the game. He rose to fame after entering the Kansas State team. The man made a name for himself in the country through his hard work and dedication.
Keyontae mainly earns from his professional career as well as brand endorsements and business ventures. As he is creating new records in the game, his wealth and popularity are growing regularly. As of 2023, Keyontae Johnson's net worth is estimated to be $1 million.
You May Like: