Thomas Sanders is an American YouTuber, actor, singer, and scriptwriter who has a net worth of $4 Million. His story time Vines made him a celebrity within months, winning him a Shorty Award for Viner of the Year.
Sanders has managed to amass an impressive following by uploading amazing content on YouTube that includes pranks, challenges, comedy sketches, and stories.
Thomas had over 8 million followers on Vine and toured the country with his Ultimate Story Time Show. He has more than 4.15 million subscribers on his self-titled YouTube channel and over 3.7 million fans on Instagram.
What is Thomas Sanders' Net Worth?
[table id=633 /]
Early Life
Thomas Sanders was born on April 24, 1989, in Gainesville, Florida. He has Irish ancestry with three brothers Patrick, Christian, and Shea. Sanders was a very adventurous kid and he had been singing for as long as he can remember.
Growing up, Thomas loved to perform and took his dad's camcorder and made skits in his room with his younger brother Shea. Soon, he realized that not everyone shared his sense of humor so he became a bit more reserved and shy in everyday interaction.
Education
Through Elementary and High School, Thomas enrolled in choruses and it became a huge part of his childhood. In class, he learned how to find his vocal range and also made friends who were just as strange as him.
While attending a middle school in Gainesville, he participated in a number of theater plays and singing competitions. He graduated from Buchholz High School before enrolling at Gainesville's  University of Florida.
From University, Thomas eventually obtained a degree n Bachelor of Science in chemical engineering. During his time in college, he polished his art skills by participating in community theatre.
Career Beginnings
Thomas began performing in musicals and plays at school and his local community theater. He got to take on his dream role of Leo Bloom from the producers but being on stage came with its trials and tribulations.
During a musical, he was getting down with the main girl on stage and had to take off his shirt and pants. As he pursued his career on stage, a friend of his introduced him to a new kind of social media platform that looped 6-second videos.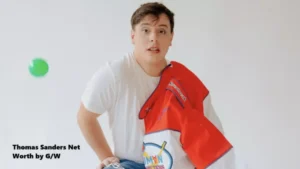 Breakthrough
Thomas made his own Vine account in 2013 and began posting shorts that highlighted his impressive voice and humor. He had a big break when Thomas launched his series called Story Time which became a massive success.
In his "Story Time" series, he would approach strangers and narrate their lives, sensationalizing otherwise boring moments, like waiting for a bus or going grocery shopping.
His clever promise got him featured on mainstream media platforms and saw his follower account climb to 1 million by October 2013. Thomas continued to produce hilarious Vines along with the help of friends and his teachers.
Sanders started posting his Vine compilations on his YouTube channel the next year along with Q&A's and the occasional challenge videos with  Leo Anderson aka Leo the Giant. Thomas Sanders has a net worth of $4 Million.
Other Ventures
Sanders is also a singer and released his first EP titled Merry Christmas in 2013. About three years later, his debut album Ultimate Storytime came out. In addition to this, Thomas dropped covers of several popular songs including A Lovely Night, and Disappear with the likes of Dodie, Deedee Magno Hall, Jon Cozart, Ben J. Pierce, Adam Pascal, and AJ Rafael.
Thomas launched two YouTube channels including "Thomas Sanders" and "Thomas Sanders and Friends". He is currently focusing on his main channel and hasn't posted any video on his second channel since November 2021.
Career Highlights
Creating Storytime series
Sanders Sides (YouTube series)
2015-2017 Shorty Awards, Vine Star of the Year, and YouTube Comedian _ Won
2016 Teen Choice Award, Choice Viner _ Nomination
2017 Streamy Award, Viner of the Year _ Won
Thomas Sanders Net Worth
Thomas Sanders established himself as one of the most recognized internet personalities in the United States. He not only became an internet star but also tried his hand at music and showbiz.
Sanders sang constantly as a kid and had a love for theater and performance. He was never shy about displaying his offbeat humor and film sketches with his brother on his parent's camcorder.
Thomas mainly earns from making content on social media, particularly on YouTube. He initially gained popularity on Vine but the app was shut down in 2017. Later, he created his YouTube channel and earned a massive following. As of 2023, Thomas Sanders' net worth is estimated to be $4 Million.
You May Like