James Wiseman is an American professional basketball player who has a net worth of $5 Million. He is best known for becoming ESPN's Number 1 Basketball recruit in 2019. James had his collegiate career at the University of Memphis interrupted by a scandal with the NCAA.
He is best recognized playing for the Detroit Pistons of the NBA. The turning point of his career came when he was drafted as the number 2 overall pick in the 2020 NBA Draft by the Golden State Warriors. With a 7'1″ height, he was picked to play center for the "Golden State Warriors."
Wiseman earned numerous accolades throughout his career and became one of the most prominent NBA Stars. There was a three-ring circus that his college career turned into with his once-promising position as the starting center at the University of Memphis.
What is James Wiseman's Net Worth?
[table id=190 /]
Early Life
James Monteinez Wiseman was born on Marth 31st, 2001, in Nashville, Tennessee. While growing up on the streets of the inner city, he developed an interest in basketball from a very young age. He grew tall enough to support his dreams and ambitions.
James's sister Jaquarius Greer is 7 years older than him. He also spent his childhood growing up with many of his cousins. His parents Donzaleigh Artis and Stefan Wiseman were separated when he was young.
However, his dad did stick around and worked two jobs to support his family. His mother Artist got a job as a bus driver. When James was only 4 years old he was playing with 4th graders because he was tall as they were. But at first, he shied away from contact.
His mother signed James up for football classes in elementary school and that got him used to contact quickly. By the 8th grade, his height was a whopping 6 foot 8 inches. From that point on basketball became his future.
High School Career
As a freshman James enrolled at the private Ensworth School in Nashville. He scored 10 points a game that year and he began getting scholarship offers already. Two years later he and his mother moved across the state so he could transfer to Memphis East High School where his basketball coach would be Penny Hardaway.
James has chosen to transfer to Penny's school to learn under his guidance. His decision to transfer attracted the attention of the Tennessee Secondary School Athletic Association.
James hit ht board with a temporary restraining order that allowed him to still suit up a play. He averaged 18.5 points and led East High School to the Class AAA State Championship. Three days after that State title game, Memphis University hired Penny Hardaway to become the new head coach of their collegiate program. So James followed the coach and joined Memphis University.
College Career
Initially, The NCAA declared James to play after he signed on with the Tigers. But in the summer of 2019, they took a deeper look at his relationship with Penny. The NCAA decided to render him illegible as a result of an $11,500 loan that Penny had given to James's family to help them move from Nashville to Memphis.
James played in the first handful of games of his college career in Memphis. There James put up 17 points, 9 rebounds, and 5 blocks in the first game after the news came down about the NCAA's decision. James eventually dropped the restraining order and accepted a 12-game suspension that included repayment of that $11,500 loan.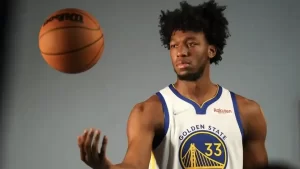 Breakthrough
Wiseman decided to drop out of high school and declare for the NBA Draft. Luckily, the powerhouse Golden State Warriors picked James as the number 2 pick in the 2020 NBA draft. They selected James Wiseman as the newest member of the Roaster.
James made his NBA debut at the end of 2020, putting in 19 points, 6 rebounds, and 2 steals. Then he scored a season-high 25 points in a win over the Minnesota Timberwolves in January 2021.
He also had an injury in April of that year but he successfully recovered from that. During the season Wiseman was injured but he led the Warriors team to win the NBA championship after defeating Boston Celtics.
Wiseman returned in the 2022 NBA Summer League, after recovering from an injury. He played against the San Antonio Spurs with his team and won the championship after putting in 11 points, two rebounds, and two blocks.
Career Highlights
2022 NBA champion
2019 Morgan Wootten National Player of the Year
2019 Gatorade National Player of the Year
2019 McDonald's All-American
2019 Tennessee Mr. Basketball
James Wiseman Net Worth
James Wiseman is one of the up-and-coming NBA Stars and earned a lot of popularity at a young age. He gained recognition after winning the Gold Medal in the 2017 FIBA U16 Americas Championship. He received numerous accolades including the McDonald's All-American and many more.
The breakthrough of his career began when he teamed up with a former NBA player as his mentor, Penny Hardaway. Wiseman mainly earns from his profession such as he signed a whopping $40 million contract with the Golden State Warriors for about 4 years.
His source of income also comes from brand endorsements, he became the newest brand ambassador for "HyperX Hero." As of 2023, James Wiseman's net worth is estimated to be $5 million.
You May Like: