Jessel Taank is an American fashion publicist and entrepreneur who has a net worth of $5 Million. She rose to fame after being announced as the cast member of the hit reality TV show "The Real Housewives of New York City.
Before her big breakthrough, Jessel already earned a lot of reputation in the fashion world by showcasing her impressive skills. She established her own business, a fashion PR company called "The Know".
Jessel worked with some high-end brands including Condé Nast, Victoria Beckham, and many others. Over the years, she is receiving more and more bigger offers from companies. Without any further, let's take a deep look at the total net worth of Jessel Taank and her biography.
What is Jessel Taank's Net Worth?
[table id=625 /]
Jessel Taank Net Worth Growth
[table id=627 /]
Early Life
Jessel Taank was born on October 23, 1979, in London, England. She is the daughter of Indian immigrants Kishor and Nicky Taank who were settled in the UK in the 1960s.
Jessel grew up with strict parents but found inspiration from her uncles Max and Nitin Vadukul. Her family members left their arranged relationships to pursue successful photography careers in Manhattan.
Taank obtained a degree in English and journalism from Kings College in London. After graduating, she quickly moved to New York City and followed in the footsteps of her uncles in pursuing her career in the fashion world.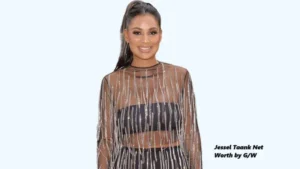 Career
Jessel's career began back in February 2008 when she joined a public relations agency "Karla Otto New York. About three years later she started working as a Public Relations at Michael Kors where she worked until November 2013.
Her next work was at LA's HL Group where she served as a Public Relations Director from April 2014 to June 2016. After that Jessel quickly found a new gig, working as a Director of Public Relations at Westfield in Los Angeles. She showcased her fashion skills from June 2016 to September 2019.
Jessel got an opportunity to work with some iconic brands including Victoria Beckham, Michael Kors, Westfield, Celine, and Stella McCartney. She guided the strategic direction of 33 retail properties in the fashion and beauty industry.
Breakthrough
Jessel was the Vice President of Fashion and Beauty at BWR Public Relations in Beverly Hills from September 2019 to October 2020. Following her success in the fashion world, Jessel tried her hand at business.
She was a full-time founding leader at The Right Now, a PR firm based in Los Angeles, from October 2020 to October 2022. Jessel launched a boutique agency called The Know that specializes in consulting newly developed brands. In July 2022, Taank introduced her firm "The Know" and led her brand to become one of the most successful boutiques in New York City.
The Real Housewives of New York City
Jessel Taank became famous by joining The Real Housewives of New York City cast. She became one of the 6 members for season 14 of the show and began appearing with other contestants in July 2023 on Bravo.
The RHONY shows the lives of celebrities living in New York City, including Sai De Silva, Ubah Hassan, Erin Dana Lichy, Jessel Taank, Brynn Whitfield, and Jenna Lyons. Jessel Taank accumulated a net worth of $5 Million from her work with big names including Karla Otto New York, Michael Kors, HL Group, Westfield, and many more.
Personal Life
Jessel Taank has been married to the president of the telecommunication firm Phone Daddy, Pavit Randhawa since 2014. The couple first met at a New York Bar through a mutual friend.
From there, they began dating and soon tied a knot in Mexico. In 2019, Jessel and Pavit welcomed their twin sons, Kai Singh Randhawa and Rio Singh Randhawa.
Career Highlights
The Real Housewives of New York City
Jessel Taank Net Worth
Jessel Taank is one of the most successful personalities in the fashion industry. Her popularity grew in October 2022 when she was announced to join the cast of the hit show RHONY.
Despite this, Jessel already accumulated millions of dollars from her work with numerous companies. Most of her earnings come from brand endorsements, fashion companies, and TV shows. As of 2023, Jessel Taank's net worth is estimated to be $5 Million.