Jesse James West is an American fitness YouTuber, influencer, and entrepreneur who has a net worth of $3 Million. He is best recognized for his collaborations with other athletes like Chris Heria, Liver King, and more.
Jesse is one of the rising celebrities on the internet and has gained a lot of followers at an early age. He is known for uploading fitness and diet-related content on his self-titled YouTube channel.
Apart from this, Jesse is also popular on other social media outlets including Instagram, Twitter, and TikTok. The man has established himself as one of the most successful young bodybuilders in the fitness industry. He has gained immense fame through uploading daily life vlogs.
What is Jesse James West's Net Worth?
[table id=161 /]
Early Life
Jesse James West was born January 25th, 2000, in Sparta, New Jersey, USA. He grew up along with his sister Chris West and cousins. His sister is often seen in his YouTube videos. Jesse was raised in a Christian household.
He hasn't disclosed any information about his parents or his family because he is quite private about his life. Jesse always wanted to become a bodybuilder and started hitting the gym while studying in high school.
After completing his early studies, Jesse went to attend Montclair State University to complete his graduation. During college, he participated in several sports including Lacrosse games. Later he took his passion for fitness more seriously and began pursuing it full-time.
Career
Jesse James began his fitness career at the age of 11, hitting the gym for the very first time. He always had a dream of becoming an athlete. However, his goal was not clear at the time because he wanted to become a professional Lacross player.
In college, he got a chance to play Lacrosse for the Montclair State University team. He became a member of a number of junior-level championships. All of his accomplishments in sports earned him success in college sports.
Upon his graduation, Jesse turned his interest from sports to fitness. Although he was doing workouts for a handful of years, he took his fitness career more seriously after college studies. He build an aesthetic physique and then began posting on social media which encouraged him to create a YouTube channel.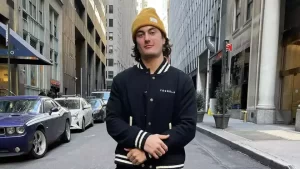 Breakthrough 
On May 16th, 2016, Jesse launched his YouTube career and began uploading workout videos and vlogs. In June of that year, his first video came out titled "Welcome to JesseJamesFitness | Chest and Triceps." He had a great response to his first video and then continued to upload more vlogs.
The turning point of Jesse's career came when he began focussing on workout and challenge videos. In September 2021 his channel had over 830k subscribers. West has managed to grab the attention of a larger audience on his channel, thanks to his unique ideas.
Jesse accumulated more subscribers when he flew to Miami to Collab with legendary Calesthenic athlete Chris Heria. The duo collaborated on a number of videos that are available on Jesse and Chris' channels. These videos and vlogs helped both of them to gain thousands of more subscribers.
Other Ventures
Jesse racked up over 2.8 million subscribers on his channel. He also has nearly 1 million followers on Instagram. His fan base increased when he teamed up with other YouTubers and influencers including Bradley Martin, Liver King, David Laid, Joe Fazer, Chris Heria, Wim Hof, and even Andrew Tate.
Outside of YouTube, Jesse sells training programs to his clients through his own fitness program named "jessejameswest.com."
Along with this, the fitness YouTuber launched his merch and fashion line "Alpha Groom & Dubs Company." He has done endorsement deals for brands like Transparent Labs and Rise athleisure wear among others. 
Personal Life
Jesse is in a happy relationship with social media star Claudia Walsh. The couple has been dating for a couple of years and shared numerous pictures together on social media. James also uploaded pranks, challenge videos, and vlogs featuring Claudia.
Real Estate
Jesse James West has a net worth of $3 million and he can afford luxurious properties. West is the proud owner of a lavish house located in one of the posh areas of Miami, Florida. Before moving there he was living in his hometown in New Jersey.
Career Highlights
Here are some of the most popular videos of Jesse:
Asking Girls What's More Attractive (2021)
Training W/ 'The Mountain' From Game Of Thrones (2021)
FAKE WEIGHTS PRANK ON LARRY WHEELS (2022)
I Survived 50 Hours W/ Liver King (2022)
Training W/ A Female Giant (2022)
ANDREW TATE CONTROLS MY LIFE FOR 24 HOURS (2022)
Training W/ 8x Mr. Olympia Ronnie Coleman (2022)
FAKE MUSCLE SUIT PRANK (2022)
Jesse James West Net Worth
Jesse James is one of the most recognized content creators on YouTube and has made a name for himself in the fitness world. His unique ideas helped him to accumulate millions of followers from all around the globe.
Jesse has a strong fan following on TikTok where he shares tips for his fans to get the best physique. He mainly makes money from his channel, brand endorsements, business ventures, as well as collaborations.
He charges a good sum of money from brands after promoting their products on his social media. His fan following and capital are regularly grown since he started his channel. As of 2023, Jesse James West's net worth is estimated to be $3 Million.
You May Like: