Dinah Jane is an American singer and actor who has a net worth of $3 Million. She is best recognized for being a member of the popular American girl group called "Fifth Harmony".
She helped release numerous tracks with Fifth Harmony for a handful of years and then left the group to pursue her solo music career. The group was founded back in 2012 when all four members from the group gave an audition for "The X Factor".
Since the group's formation, they performed live concerts as well as released numerous hit tracks. "Reflection" was their first album which came out in 2015 and peaked at number 5 in the United States. Additionally, Fifth Harmony's single "Worth It" went viral and received Platinum certification.
What is Dinah Jane's Net Worth?
[table id=358 /]
Early Life
Dinah Jane Milika Ilaisaane Hansen was born on June 22nd, 1997 in Santa Ana, California. Dinah was raised in a big family by parents Gordon and  Milika Hansen. She grew up with seven younger siblings including a brother Seth and a sister Regina Hansen.
Her family was always interested in music when Dinah was growing up so as a child, music was in her blood. She discovered her passion for singing and performing at the age of 4. By the age of 7, she got a chance to sing the national anthem, becoming her first public appearance.
From that point on she continued to perform at local events as well as in her church choir. In terms of education, she attended Orange County School of the Arts from where she graduated in 2015.
Career
In 2012 Jane went on to audition for the American version of "The X Factor" in its second season. She performed Beyoncé's "If I Were a Boy" in her audition. Later, she sang Mariah Carey's "Hero" solo and was selected for a girl group with four other members.
Jane became a part of the group named "Fifth Harmony" alongside other contestants including Ally Brooke, Normani Kordei, Lauren Jauregui, and Camila Cabello. The group gained a lot of fan base after finishing third in the competition.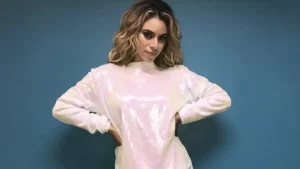 Breakthrough
The girl group Fifth Harmony's performance first impressed Simon Cowell who helped them to make a deal with Epic Records as well as Synco Music. In 2013 they dropped their debut EP "Better Together" which debuted at number six on the Billboard 200.
Fifth Harmony released their first studio album "Reflection" which became even more successful than their first project was. It contains hit tracks "Boss", "Worth It" and "Sledgehammer" and the album peaked at number five on the Billboard 200
Next year, their second album "7/27" came out, peaking at number four on the Billboard 200. Not to mention, the album boasted the group's top-charting single to date titled "Work from Hom". At the end of 2016, Camila Cabello left Fifth Harmony to pursue her solo career.
Before going on hiatus in 2018, the group released their third and last self-titled album, "Fifth Harmony" in August 2017. From there, all of the group members decided to pursue their solo careers to make a name for themselves. As a result, Dinah Jane accumulated a net worth of $3 Million.
Further Success
In early 2018 Dinah went on to embark on her solo music career In September of that year, she dropped her first solo single "Bottled Up". For this -track she collaborated with the like of Ty Dolla Sign and Marc E. Bassy.
Before releasing her first track, she signed a record contract with Hitco Entertainment. From there, the singer began recording her debut solo EP "Dinah Jane 1" which came out in April 2019. The project includes "Heard It All Before" as its lead single.
Other Ventures
Outside of music, Jane tried her hand at acting, auditioning for the lead role in the 2015 animated movie "Moana". However, she was not selected for the role and then decided to pursue her music career. In 2018, she was cast in the Netflix comedy film "The After Party".
Jane started getting offers for collaborations with other artists. At first, she was invited to appear in RedOne's 2017 hit single "Boom Boom" featuring French Montana and Daddy Yankee.
In October 2018, Jane performed her debut track "Bottled Up" on "The Tonight Show Starring Jimmy Fallon". Moreover, she also collaborated with A Boogie wit da Hoodie to release her single "SZNS" in 2021.
Following her success as a solo artist, Jane went on a headlining tour called "Dinah Jane World Tour". Her first tour started in April 2020 from Arizona and then she performed in several US locations as well as in different cities in Europe.
Personal Life
Dinah Jane comes from a Polynesian heritage and always remains humble and dedicated to her art. She is recognized for her philanthropic efforts and used her social media outlets to raise awareness about several social topics.
In terms of Jane's relationships, she was previously dating Siope Folau. Later, it was revealed that the singer is romantically linked with a person named "Nela Otukolo" with who she broke up in 2015.
Career Highlights
Fifth Harmony (Being a member of the group)
Bottled Up (First single, 2018)
Dinah Jane 1 (Solo EP, 2019)
2017-2018 BMI London Awards, Pop Award Singles, Award-Winning Singles _ Won
2018 Teen Choice Award, Choice Latin Song _ Nomination
Dinah Jane Net Worth
Dinah Jane is a well-known singer in American music who had her first public performance at the age of 7 years old. She came to the spotlight in 2012 when she auditioned for "The X Factor".
Jane gained a lot of popularity for being a member of the "Fifth Harmony" but her real success came when she began her solo career. In 2018 she took a hiatus from the girl band and continued to release her songs.
The American singer Dinah makes money from music, dropping hit songs, performing in live shows, and much more. She also earns from brand endorsements such as JCorp, Accessory Innovations, Wet Seal, Brown Trout, Sky High, Clean & Clear, and Barbie Doll, among others. As of 2023, Dinah Jane's net worth is estimated to be $3 Million.