Chrissy Chlapecka is an American TikTok star and social media personality who has a net worth of $600,000. She came to popularity after creating an account on TikTok. Chrissy began uploading content on her eponymous TikTok account called chrissychlapecka.
Chrissy went through a metamorphosis of her own, transforming from a college student struggling with identity into a pink-haired self-proclaimed "bimbo". She is currently dominating the TikTok platform. As a child, she grew up hyper-feminine and was often mocked by her classmates for being both outspoken and loud.
As a youngster, she gravitated toward musical theater, but her big break wouldn't come from performing on the stage. After realizing that she wasn't quite as interested in the theater as she once thought she was, Chrissy began her transformation into who she is today.
What is Chrissy Chlapecka's Net Worth?
[table id=336 /]
Early Life
Christine "Chrissy" Chlapecka was born on April 11th, 2000, in St. Charles, Illinois. While growing up she developed an interest in musical theater and began pursuing it as a career. Later, she found that she wasn't quite interested in theater so, Chrissy dropped out of college and began working three jobs just to make rent.
After dropping out of college, she got a job as a Starbucks barista where she was getting a good salary. Around that time, she was gaining popularity on social media as well. She quit her job when she began making money from social media.
Career 
Chrissy created her profile on "Webkinz" where her username was "Happy1114". From there she branches out onto many more popular platforms including Instagram and TikTok. In 2019, Chrissy joined TikTok and began posting content from her bedroom during the pandemic.
On TikTok, she is steadily building her audience to where it is today. Not long after her first post, Chrissy went viral for posting a reenactment uncomfortable moment that she had with a stranger at Walgreens. The following day, she saw that her video had received over 500,000 likes.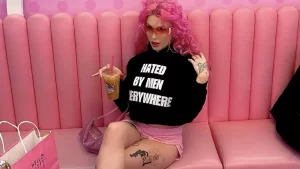 Breakthrough
Chrissy has accomplished the "Bimbofication" of TikTok. She officially introduced a Bimbo talk on the platform through a video. Her fan base then picked up this idea of Bimbolism and ran with it. She never referred to herself as a Bimbo until her followers began to do so.
Apart from that, Chrissy tried her hand at music by becoming a pop singer. She wanted to be a singer since she was a little girl. In February 2023, she dropped her debut single "I'm So Hot" which became on TikTok. The social media sensation, Chrissy Chlapecka has a net worth of $600,000.
Other Ventures
Chrissy also earned recognition for having a speaking voice with an uncanny resemblance to that of pop star Ariana Grande. She has leaned heavily into entertaining her fans with impersonations of the singer regularly.
Many of Chrissy's videos center around her identity as a member of the LGBTQ+ Community. She's admitted in the past, she didn't always have a place where she felt safe enough to be the most authentic version of herself.
Personal Life
Chrissy used both (she and they) when it comes to her pronouns. Her older brother Kevin is also queer and started using (he and they) pronouns with their family before Chrissy did. She never directly came out to her family.
She just openly began posting about her life online. It took time for her parents to understand but they have since come to accept their daughter for who she is.
In early 2020, Chrissy found herself still trapped in an abusive relationship in which she had lost any aspect of herself. But after getting her first tattoo, Chrissy decided to end this relationship.
Career Highlights
Having used bimbo to promote feminism
men think they have the audacity (TikTok Video)
I'm So Hot (Song, 2023)
The Brightest Pop Stars to Watch in 2023 by Rolling Stone
Chrissy Chlapecka Net Worth
Chrissy Chlapecka is one of the rising TikTok personalities on the internet. She garnered a massive fan following throughout her successful career as a content creator.
Her popularity grew when she began using the bimbo to endorse feminism. Chrissy has managed to make a name for herself by sharing her content through videos on TikTok.
She mainly earns from social media such as YouTube, brand endorsements, as well as other ventures. Her music career is also a big contributor to her wealth. As of 2023, Chrissy Chlapecka's net worth is estimated to be $600,000.
You May Like: