BabyTron is an American rapper and songwriter who has a net worth of $2 Million. He rose to fame after releasing his breakthrough single "Jesus Shuttleworth" in 2019. The track went viral, amassing over 1.6 million views on YouTube as of March 2023.
The rapper initially started his music career at the age of 17 and later established himself as one of the rising stars in the rap community. In June 2022 BabyTron was selected by XXL to be a member of their Freshman Class of 2022.
His punchlines and beat selection eventually caught the attention of "Empire, The Hip Hop Lab" with whom he signed a deal. BabyTron also collaborated with some big names including Lil Yachty, Cordae, Babyface Ray, and more.
What is BabyTron's Net Worth?
[table id=212 /]
Early Life
James Edward Johnson III aka BabyTron was born on June 6th, 2000, in Ypsilanti, Michigan, USA. Growing up he graduated from Lincoln High School in Ypsilanti and then began pursuing a music career. Baby always wanted to become a rapper and used to listen to artists from an early age.
When he was 17 years old he took his passion more seriously. He teamed up with his childhood friends StanWill and TrDee to form a rap trio called "ShittyBoyz" in 2017. During that time the boys were still studying in high school.
Career
BabyTron started recording music with the ShittyBoyz as well as his solo music and tapes. He began releasing his songs on SoundCloud which helped the rapper to gain some early traction.
He came to the spotlight with the release of his solo single "Jttleswoesus Shurth" in 2019. The song became an internet sensation with a combination of memes generated from the song. That same year BabyTron dropped his mixtape "Bin Reaper" in which the track "Jttleswoesus Shurth" was included. 
BabyTron released his follow-up mixtape "Bin Reaper 2″ in October 2021. The guest appearance came from the likes of Miles Bridges, ShittyBoyz, and of course Lil Yachty.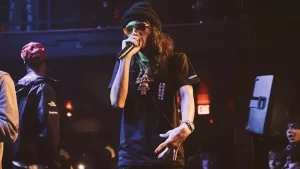 Breakthrough
The turning point of Baby's career came in 2022 when he released a series of hit tracks including "Prince of the Mitten" and "King of the Galaxy." In these tracks, he showed his skills of rapping on a multitude of widespread beats.
Eventually, Baby signed a record deal with Empire and The Hip Hop Lab and released his debut album "Megatron" in March 2022. Later that year his song "Emperor of the Universe" came out along with a music video.
In October BabyTron released his second album "Bin Reaper 3: Old Testament" which became his first entry on the chart, peaking at #69 on the Billboard 200. In the following year, the rapper began recording his album "Bin Reaper 3: New Testament" which was released in January 2023.
Lil Yachty, Babyface Ray, and Cordae were the featured artist for this project. The third album made its place at #100 on the Billboard 200. He followed that up by releasing his EP "Out On Bond" in February 2023.
Other Ventures
In 2021 the popular artist Lil Yachty was impressed by Baby after hearing his music. Yachty quickly approached Baby to appear as a featured artist on his project called "Michigan Boy Boat." 
Baby collaborated with musical artist TrDee to release his single "Blah Blah Blah" in August 2022. Around that time he was also working continuously with his group "ShittyBoyz." The trio dropped their second mixtape "Trifecta 2" in August of that year.
Personal Life
BabyTron found himself behind bars in February 2023 when he was caught by an officer. Police found marijuana, a firearm, and many other things in his car. Following that he was immediately sent to Dawson County Jail in Nebraska for Possession of a Controlled Substance. He reportedly paid ten percent of the $15,000 bond, and as a result, he was released from jail.
Career Highlights
Jesus Shuttleworth (Song, 2019)
MegaTron (Debut album, 2022)
Bin Reaper 3: New Testament (Third album, 2023)
Being named on the XXl freshman Class of 2022
King Of The Galaxy (Official Video, 2022)
BabyTron Net Worth
BabyTron is among the list of the up-and-coming rappers in the rap community. He earned success when he dropped his track "Jesus Shuttleworth" in 2019. The song allowed the rapper to make more unique music. Over the years he released numerous mixtapes and songs.
2022 was a big year for BabyTron in which he accumulated a lot of recognition and wealth. The main source of his revenue comes from music videos on his channel, live shows, and associations with other artists. As of 2023, BabyTron's net worth is estimated to be $2 million.
You May Like: