Jordia Wild is a Spanish YouTuber, podcaster, actor, writer, musician, and psychologist who has a net worth of $3 Million. He is best known for sharing unique content on his El Rincón de Giorgio YouTube channel.
Jordia has managed to amass over 11 million subscribers on his YouTube channel which he created in March 2013. Aside from this, he is also recognized for some other works such as publishing books as well as running his own podcast series.
What is Jordi Wild's Net Worth?
[table id=374 /]
Early Life
Jordi Carrillo de Albornoz Torres was born on August 28th, 1984 in Manresa, Barcelona. He was raised by Spanish parents, known as "Papa Giorgio" and "Mama Joana". Jordi has lived his entire life in the Iberian country.
During college, he used to participate in the student theater, this being his first contact with the public as an artist. After finishing school, he studied psychology at the University of Barcelona. Jordi graduated in that profession, however, he currently does not practice that career.
Career
Jordi created his YouTube channel, "El Rincón de Giorgio", in March 2013, the month in which he published his first video. During his career as a YouTuber, he has collaborated with other respectful Spanish-speaking YouTubers such as Luzuvlogs, Zorman, and AuronPlay.
His YouTube channel is over 10 years old and now has over 11 million subscribers. Despite this, in 2016 Jordi released a short movie "Wild: la Pelicula (Wild: the Movie)". In September 2017 he decided to take a break from YouTube because as he commented he felt tired and needed some time to rest.
Wild returned with a rap video called "YouTube Critical State" in collaboration with artist Dante in October of that year. In 2018, he wrote the script and became a cast of "VENDETTA: The Movie". Next, he was cast in the short movie "She was wearing a Blue Diadem" in October 2019.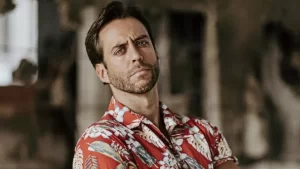 Breakthrough
At the beginning of 2020, Jordia began one of his most important projects shortly before the pandemic started. He launched a series "The Wild Project".
In this podcast, he has interviewed a large number of personalities. As a result, he has received a lot of positive feedback. In an interview with "Roxon" Jordi stated that he was inspired by famous personality Joe Rogan's podcast and felt very flattered since they named him the "Spanish Joe Rogan".
Additionally, his podcast became the fourth most listened Spanish podcast on Spotify in 2021. In January 2022, The Wild Project wound up winning the ESLAND Awards for Best Talk Show of The Year at Palau de la Música Catalana, Barcelona. Jordi Wild has a net worth of $3 million.
Other Ventures
Apart from films and podcasts, Jordi has expanded his businesses. He invested a lot of money in different real estate properties. Moreover, he tried his hand at launching his own fragrance line called "Olvidona" in 2022.
Jordi is an author and published his first book entitled "Sueños de Acero y Neón" in 2016. From that point on he continued to publish two more novels including "Jorgemyte, agente de la PEM", and "Así es la puta vida".
Apart from being a writer and successful YouTuber, Jordi is also a musician. He has had an impressive record of development and released several singles. Jordi teamed up with rapper Dante and dropped the hit single "YouTube: Critical State".
Personal Life
Jordi Wild and Natalipa started dating in 2014. The two first met when Natalipa was selected in a contest "Bride of the Channel)". They were in a relationship for many years but they ended up separating in 2019 when Natalipa found that Jordi is dating another girl.
Career Highlights
The Wild Project (Podcast series)
2022-23 ESLAND Awards, Talk Show of the Year _ Won
Jordi Wild Net Worth
Jordi Wild is one of the most recognized YouTubers in the Spanish entertainment industry. He came to the limelight when he started the podcast series known as "The Wild Project". It became a massive success and opened several doors for him.
Jordi garnered an amazing fan following on social media such as Instagram and YouTube. Not to mention, he mainly earns from YouTube ads and some other ventures. As of 2023, Jordi Wild's net worth of estimated to be $3 Million.
You May Like: