Yang Yang is a Chinese actor, model, and dancer who has a net worth of $15 Million. He earned mainstream success after appearing as Ye Xiu in the 2019 streaming series The King's Avatar. After that, Yang continued to star in numerous TV shows and films.
Yang has been working in the Chinese television industry since 2010 and his performance earned him numerous accolades. Despite just being an actor, Yang tried his hand at modeling and worked for a number of fashion brands.
What is Yang Yang's Net Worth?
[table id=550 /]
Early Life
Yang Yang was born on September 9th, 1991, in Shanghai, China to father Yang Jian, and mother Zhang Jiling. He is the only child of his parents and grew up in a well-settled family.
In terms of education, Yang enrolled at the Department of Dance in People's Liberation Army Arts College in China when he was 11 years old. Soon, he started taking dance lessons at the Central Academy of Drama. Yang has been in the dance since the age of 5.
Career
Yang Yang began his acting career by playing the main character Jia Baoyu in the 2007 film The Dream of Red Mansions directed by Li Shaohong. Later in 2011, he was seen in the film The Founding of a Party.
From that point on, he continued to make a name for himself in the film industry by starring in a handful of movies such as Ultimate Conquest and Flowers of Pinellia Ternata in 2013. In the following year, he decided to end his seven years of deal with Rosat Entertainment.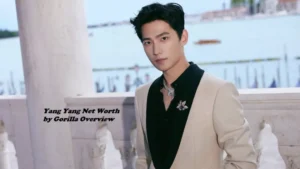 Breakthrough
Yang had a big break when he landed the role of Xu Yi in the 2015 Alec Su's directorial debut film The Left Ear. His outstanding performance in the film earned him positive reviews and the film became a massive hit at the box office.
Yang found himself at the top of "2015 Chinese Reality Show Star Ranking" after being featured in the reality show Divas Hit the Road. Next, he starred in the novel-based web drama The Lost Tomb which became the most-watched drama of 2015.
Following his success, he got the lead role as Ruo Bai in the sports drama called The Whirlwind Girl. His performances in 2015 films and TV shows led him to win several awards. In 2016, Yang had a starring role in an international hit romance drama Love O2O.
Further Success
2016 was a big year for Yang in which he had a starring role in the box-office hit romance film I Belonged to You. Thanks to his presence in the film, CBN Weekly named him as one of the "Top 10 Chinese celebrities with the most commercial value".
In 2017, Yang starred as Ye Hua in the romantic drama film Once Upon a Time alongside rising actress Liu Yifei. Later, he got a chance to work with Jackie Chan in the action film Vanguard in 2020. Yang Yang has managed to act in more than 51 projects including films, TV series, Theatre plays, Variety shows, and short movies.
Other Ventures
Outside of acting, Yang is also a singer and dancer. In 2011, he released his debut single Dandelion which became the OST of the drama Melody of Youth.
Since then, he continued to record songs for different Chinese dramas including The Left Ear, Divas Hit the Road in 2015, Love O2O in 2016, and the film Once Upon a Time in 2016.
In 2010, he was also featured in Lin Shen's music video titled Granting Me a Red Mansions Dream. In January 2016 he was featured in the Chinese postage stamp becoming the first artist to appear on. In Feb and July of 2017, his wax figure was displayed at Madame Tussauds Shanghai & Beijing.
Endorsement
Yang has established himself as one of the renowned models in his country. His modeling work caught the attention of French brand, Guerlain for LVMH Group with whom he signed an endorsement deal in March 2016.  He became the first Chinese model to promote the brand French label.
The Chinese actor Yang Yang has done endorsement work and has been featured in several publications including:
Femina
Harper's Bazaar
Grazia
L'officiel Hommes
Elle
GQ
Esquire
OK!
Cosmopolitan
Fantasy Westward Journey PC Version
Purjoy
Xilinmen / Sleemon
Moon Shadow House
Career Highlights
The Lost Tomb (TV series, 2015)
Love O2O (2016)
The King's Avatar (2019)
The Left Ear (Film, 2015)
Once Upon a Time (2017)
2015 China TV Drama Award, Most Influential Actor in the Media _ Won
2019 The Actors of China Award Ceremony, Best Actor _ Nomination
Being ranked on the Forbes China Celebrity 100 list in 2017, 2019, and 2020
Yang Yang Net Worth
After being personality hand-picked by director Li Shaohong, Yang debuted in 2007 as a lead in the drama The Dream of Red Mansions. He came to the spotlight in 2017 when he starred in the youth romance drama Love O2O. After the airing of Love O2O Yang's popularity increased tremendously.
He is one of the richest actors in his country among youngsters. Yang Yang's net worth and popularity are growing every year. According to some reports, he has been endorsing more than 21 brands as of now.
The main source of his income comes from appearing in commercials, television series, films, and sponsorship deals. As of 2023, Yang Yang's net worth is estimated to be $15 Million.
You May Like