Dilraba Dilmurat is a Chinese actress and model who has a net worth of $15 Million. She first came to the spotlight in 2013 when she made her TV debut in the hit series Anarhan. She had the titular character in the show which opened several doors for her.
Dilraba is also known for her work in numerous other hit projects including Pretty Li Huizhen, V Love, The Backlight of Love, and Eternal Love. The actress has managed to establish herself as one of the lead stars in the Chinese entertainment industry.
What is Dilraba Dilmurat's Net Worth?
[table id=489 /]
Early Life
Dilraba Dilmurat was born on June 3rd, 1992 in Ürümqi, Xinjiang, China. While growing up she learned three languages including Uyghur, Mandarin, and English. Dilraba discovered her passion for performing arts from an early age.
As a young girl, she wanted to take dance classes as well as play the piano, violin, and guitar. At the age of 9 Dilraba's dad brought her to Xinjiang Art Middle School in 2001. She attended Shanghai Theatre School where she obtained a degree in Bachelor of Arts.
Career
Upon her studies, Dilraba went on for an audition for a role in the Chinese historical film The Last Supper. Then in 2013, she had her first TV show appearance, portraying a lead role in the drama Anarhan. The series became a hit receiving the 30th Flying Apsaras Award nomination.
In the following year, she was offered to sign a contract with Jay Walk Studio before starring in the web series called V Love. Later that year, Dilraba earned a lit bit of fame for her portrayal of Fuqu in the fantasy series Swords of Legends. 
She won acclaim for her immense performance in the romantic comedy series Diamond Lover in 2015. Additionally, the actress won the seventh China TV Drama Award for her outstanding role. A year later, she got a major role in the sports drama H*t Girl for which she won ENAwards for Outstanding New Actress.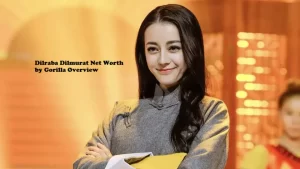 Breakthrough
Dilraba landed her first breakout role, playing Li Huizhen in the 2017 romantic comedy series Pretty Li Huizhen. Despite winning multiple awards, the series itself became a commercial success, amassing over seven billion views online.
She followed this up, by playing Bai Fengjiu in the fantasy romance Eternal Love. The drama not only grabbed the attention of the Chinese audience but also became so successful worldwide. Again, she was nominated at the Shanghai Television Festival for Best Supporting Actress.
Dilraba is also known for playing her first leading role as Tang Nannan in the hit romantic film titled Mr. Pride vs Miss Prejudice. The film was released in 2017 and earned her China Britain Film Festival award. Following her success, she was cast in The King's Woman and the film Namiya. Thanks to her success, Dilraba Dilmurat has a net worth of a whopping $15 million.
Further Success
In 2017 Dilraba was announced to be the newest cast member in the 5th season of the Variety show called Keep Running. Then in 2019 she starred in three variety shows such as Produce Camp, Go Fighting!, and Travel, Feel the World. 
Next year, Dilraba had a starring role of Liu Jiayin in the film 21 Karat followed by her appearance in the drama The Flame's Daughter with Vic Chou. She also appeared in the comedy-drama Sweet Dreams that year. The actress wound up earning the twelfth China Golden Eagle TV Art Festival for Golden Eagle Goddess.
In early 2020 Dilraba reprised her role as Fengjiu in the romance Eternal Love of Dream. She then portrayed the character of a fashion designer in the romance drama Love Advanced Customization. The actress gained further recognition in showbiz for her starring role in The Long Ballad in 2021. She followed this up, by appearing in a commercially successful series You Are My Glory. 
Other Ventures
Dilraba reportedly has more than 40 acting credits including television roles, films, short movies, and variety shows. Along with all this, she worked on numerous other projects such as being featured on the covers of popular fashion magazines like ELLE, TMagazine China, Wonderland, L'Officiel, and SoFigaro, among others.
In 2019 she got a chance to perform the song China Happy Events while appearing at the "CCTV New Year's Gala". That same year, she participated in the competition show called Produce Camp, becoming one of the mentors in the show.
Dilraba Dilmurat is one of the most popular actresses in her country which led her to become the first choice for brands. A lot of big companies wanted her to become their brand ambassador. Aside from endorsing brands in China, Dilraba has endorsed international brands including L'oreal, Adidas, Dolce & Gabbana, Oppo, and Mikimoto. 
Career Highlights
Being ranked on the "Celebrity 100" list by Forbes China (2017, 37th place) (2019, 16th place)
Having over 40 million followers on the app Douyin (Known as TikTok beyond China)
Ranked as the 2nd-most-popular celebrity on Douyin by Statista
Pretty Li Huizhen (TV series, 2017)
2015 7th China TV Drama Award, Best New Actress _ Won
2018 "Golden Eagle Goddess"
2019 Golden Phoenix Award, Newcomer Award _ Won
Dilraba Dilmurat Net Worth
Dilraba Dilmurat is the most recognized actress in her country. Her popularity grew in 2013 when she first appeared on the TV show Anarhan. Dilraba has been ranked one of the 10th highest-paid celebrities by Forbes China's list of 2018.
She accumulated a vast chunk of money from appearing in TV shows, films, modeling industry, as well as her contribution to the music world. As of 2023, Dilraba Dilmurat's net worth is estimated to be $15 Million, making her one of the richest actresses in China.
You May Like