Vybz Kartel is a Jamaican singer-songwriter, dancehall, and reggae artist who has a net worth of $3 Million. He is best known for being one of Jamaica's most influential musical artists.
Kartel gained popularity in the music industry after dropping his tracks like Clarks, Romping Shop, Summer Time, Dancehall Hero, and Fever. The singer found international success by collaborating with the likes of American artists including Rihanna, Missy Elliot, Jay-Z, Major Lazer, and Pitbull.
As a young man, Vybz Kartel was a promising student but dedicated more and more of his time to his musical aspirations. He began his music journey at the age of 16 when he teamed up with another famous artist Bounty Killer.
What is Vybz Kartel's Net Worth?
[table id=632 /]
Early Life
Adidja Azim Palmer was born on January 7th, 1976, at Victoria Jubilee Hospital in Kingston, Jamaica. He was raised in a Waterford district of Portmore with his four sisters and one brother. His father is Norris Palmer and his mother's name is Teresa Palmer.
Growing up, he idolized artists like Will Smith, Ninjaman, and KRS-One. Kartel began writing lyrics when he was just 11 years old. Two of his uncles were aspiring musicians who helped to encourage his musical ambitions from a young age.
Kartel's parents emphasized discipline and education, in fact, his older sister Maureen grew up to become a high school vice principal. He attended Calabar High School but after spending most of his time pursuing his musical interests, he was expelled by the age of 16.
Career
Kartel recorded his first song "Love Fat Woman" when he was just 17 years old in 1993. Following this, he formed his own group named "Vybz Kartel" along with  Mr. Lee and Escobar in 1996. The group didn't last long but he decided to keep the name.
In 1998, Kartel was performing at a show at Portmore where he caught the attention of a popular Dancehall singer Bounty Killer. Bounty headed up the musical collective called "The Alliance" and invited Vybz to join. He teamed up with the group and began recording collaborative songs.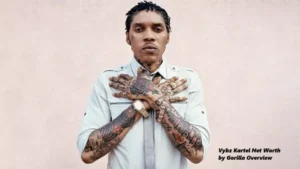 Breakthrough
By 2003, Vybz was selling more singles than other artists on the Reggae charts other than fellow Alliance member Elephant Man. He released his debut album Up 2 Di Time on October 28, 2003, with both Timeless and More Up 2 Di Time,  following in 2004. Vybz Kartel has a net worth of $3 Million.
Fued with Mavado
Vybz Kartel left "The Alliance" in 2006 and formed his collective called "Portmore Empire" and a label  Adidjahiem/Notnice Records. He quickly began trading insults with Bounty Killer and Mavado who soon became the Bounty's new protege.
Their beef spilled over into the streets with various murders and shootings. The police and other officials called on the artist to squash the beef.
In 2007 both Mavado and Vybz Kartel publically announced an end to the hostilities. By the summer of 2008, both artists were releasing new songs aimed at each other, and more violence between the artist's groups followed.
The next year, Jamaican Prime Minister Bruce Golding asked for a peace meeting and planned to have a peace concert in Barbados featuring both Mavado and Vybz Kartel. Their concert was canceled but Kartel dropped the song "Life We Live In" as a call for peace.
Other Ventures
The singer won an Award at the Caribbean Urban Music Awards in 2008 and that year he also expanded his entrepreneurship beyond music. He launched a line of liquor called "Street Vybz Rum" and a line of condoms – Daggerin condoms.
In 2009, Vybz won three EME Awards and earned success with his singles "Clarks", "Clarks 2 (Clarks Again)" and "Clarks 3 (Wear Weh Yuh Have)". Following the success, he introduced a line of shoes called Addi's in 2011 which spiked in Jamaica.
Additionally, Kartel came out with a line of skin-bleaching cake soap. He hosted his reality show "Teacha's Pet" which featured 20 women living in a house together vying for the artist's detention.
Charges and conviction
In September 2011, Vybz became the first artist to be banned from the Airwaves by the National Communications Network of Guyana. The same month he was arrested by police for possession of Marijuana, followed by two more charges including firearm and conspiracy to commit murder.
During his prison time, Vybz authored a book with his business associate Michael Dawson entitled "The Voice of the Jamaican Ghetto: Incarcerated but not Silenced" which was published in 2012.
While awaiting his trial for that murder, new charges were added in connection to the second murder. Vybz was charged with the murder of Clive "Lizard" Williams and for preventing the course of justice after his associate Vanessa "Gaza Slim" Saddler allegedly claimed that she was raw by Lizard, apparently to mislead the police into believing that he was still alive.
Vybz was found not guilty of the murder of Barrington Burton murder. But after a 65-day trial (the longest in Jamaican history) in March 2014 Kartel was found guilty of the murder of Clive "Lizard" Williams. He was sentenced to life in prison and is eligible for parole in 2049.
Personal Life
In 2006, Kartel married New York Bank Supervisor, Stacy Elliott but the marriage ended in divorce just two years later. His love life eventually came together, he is presently married to Tanisha Johnson and together they have three sons. Vybz's kids' names are Little Vybz, Little Addi (Akheel Palmer), and Addi Aiko.
Vybz Kartel Net Worth
Vybz Kartel is one of the greatest dancehall artists of the generation. He is best recognized for being a prolific and proficient lyricist. His popularity grew when he worked with some of the biggest hip-hop and R&B artists Rihanna, Jay-Z, and Major Lazer, among others.
Kartel makes money from releasing new music and from his investments. He is currently serving his 35-year prison sentence but still making money via releasing songs from jail. His wealth and fame are growing regularly. As of 2023, Vybz Kartel's net worth is estimated to be $3 Million.