Mavado is a Jamaican singer with a net worth of $4 Million. He rose to fame after releasing his 2015 singles "Ghetto Bible" and "My League". His music caught the attention of famous labels he signed, including Cash Money Records and We the Best Music Group.
Mavado collaborated with DJ Khaled, French Montana, Lil Kim, Iggy Azalea, and Nicki Minaj. His musical journey begin when used to sing in the church as a young boy. Later, the Jamaican Deejay, Bounty Killer mentored him when he was 15 years old.
What is Mavado's Net Worth?
[table id=304 /]
Early Life
Mavado or David Constantine Brooks was born on November 30th, 1981, in Kingston, Jamaica. He grew up in a small ghetto in the heart of the city called Cassava Piece.
Career
While growing up, music was always part of his life, his grandmother used to bring him to church to sing. Mavado grew up listening to artists like Wayne Wonder, Bounty Killer, and Tupac Sukar.
At the age of 15, he was encouraged to visit Junior Reid's recording studio where he got the opportunity to meet his idol, Bounty Killer. Bounty mentored the aspiring artist.  Before launching his musical career, Mavado worked as a barber to pay the bills.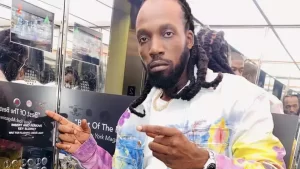 Breakthrough
Mavado released his debut single "Real McKoy" in 2005 which became an instant success. He followed this up with "Weh Dem a Do" which was charted on Billboard. From 2005 to 2006 he dropped several hit songs including "Dreaming" and "Ball Dem A Bal".
Mavado released his debut studio album "Gangsta for Life: The Symphony of David Brooks" on July 10, 2007. The album featured a whopping 25 tracks including "Top Shotta", "Not Miss", "Weh Dem a Do", and "Dying" ft Serani.
In 2008, he began recording his second studio album which came out in March 2009 titled "Mr. Brooks…A Better Tomorrow". This project features songs like "So Blessed", "So Special", "Overcome", and "Money Changer".
Other Ventures
In 2008, "Grand Theft Auto" featured two of Mavado's songs in the game including "Last Night" and "Real McKoy". Later his single was also used in one of the game's official trailers. That same year, Mavado was featured on G-Unit's track "Let It Go" and his track "On The Rock" featured Jay-Z.
In 2010, Mavado worked with Drake for the first time, appearing in the music video for "Find Your Love" as a range leader. In the following year, the singer formed his own label called "Mansion Records". It debuted with the single "Delilah".
The same year, Mavado announced that he had inked a deal with DJ Khaled's "We the Best Music Group". It began his relationship with artists like Ace Hood and Akon. Mavado earned a Grammy Award nomination after appearing on DJ Khaled's album "Major Key". He also dropped a Drake diss track "Enemy Line" in 2020.
Personal Life
In 2012, Mavado married his wife "Monique McKenzie" in a secret wedding in the States. They have since had two children Vuitton and Daisy. Mavado also has three of their children from two prior relationships named Danielle Dante and Gavyn.
Issues
Apart from success in the music industry, Mavado had a lot of troubles in the past. He was detained by Jamaican police. While in custody he claims he was thrown through a glass window and three of his fingers were sliced in the process.
From there, Mavado had to be stitched up at a local hospital. Soon after, he was arrested for illegal possession of a firearm and shooting with intent, but later cleared of all charges.
In 2011, Mavado got into a bit of trouble with the law after a driving incident. He was convicted of assault and malicious destruction of property and fined $100,000.
Career Highlights
Real McKoy (First single, 2005)
Weh Dem a Do (Song, 2007)
Gangsta for Life: The Symphony of David Brooks (Debut album, 2007)
Dying (Song, 2007)
Million Dollar Man (Song, 2013)
Progress (Song, 2016)
2008 UK MOBO Award, Best Reggae Act _ Won
Mavado Net Worth
Mavado grew up in a low-income neighborhood in Kingston, learning to sing in church. His musical idol was the legendary reggae and dancehall Deejay named Bounty Killer. After meeting with the general of the Alliance, Mavado was taken under his wing.
From there he grew from an underground DJ and singer to an internationally recognized artist. He mainly earns money from merchandising platforms, performing on live shows, and dropping his own music. As of 2023, Mavado's net worth is estimated to be $4 Million.
You May Like: