Victoria Monet is an American singer and songwriter who has a net worth of $1 Million. She is best known for writing songs for some high-profile artists including Ariana Grande, Kendrick Lamar, and many more.
Victoria began her music career at a young age, performing at church as well as in a city dance team. Soon, she caught the attention of famous producer Rodney Jerkins who asked her to write songs for him.
In 2014 Monet dropped her debut extended play "Nightmares & Lullabies: Act 1". From there she continued to release one hit project after another. Her debut album "Jaguar" came out in August 2020 which earned her success.
What is Victoria Monet's Net Worth?
[table id=384 /]
Early Life
Victoria Monét McCants was born on May 1st, 1989, in Atlanta, Georgia, to African American mom named L'Tanya Chestang-Cubit and a French dad. The family moved to Sacramento, California when Monet was still a child.
As a kid, she discovered her passion for music and began performing in the youth choir and on stage in holiday plays during elementary school. When Monte was seven years old she was writing her own tracks.
She had her first on-stage performance at the Catholic school. Growing up in Sacramento, she attended Sheldon High School and got a chance to show her skills at Sheldon's performing arts.
Career
Victoria Monet always had a passion for dancing as well as writing poetry which led her to write her music from an early age. Additionally, she was educating herself on the production world, knowing about music producers and local music studios.
She began her career by adding Rodney Jerkins on Myspace after learning about him. Monet grabbed the attention of producer Jerkins who asked her to fly to LA for an audition. Around this time Jerkins was on his way to form a girl group "Purple Reign" where Monet quickly became a member.
Soon, the band signed a deal with Motown but they left the group before dropping any track. After the group disbanded, Monet began working as a solo artist. In 2010, she helped write a song titled "I Hate That You Love Me" for the musical duo Diddy Dirty Money.
From that point forward, Monet began writing songs and performing demos to grab the attention of record labels. Craig Kallman a CEO of Atlantic Records heard one of her demos and signed her on the label. At this time, Monet was only making money from her songwriting abilities.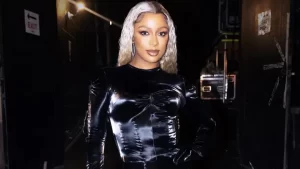 Breakthrough
Monet eventually released her debut EP "Nightmares & Lullabies: Act 1" in October 2014 under the Victoria Monét Music label. Her follow-up EP "Nightmares & Lullabies – Act 2" came out in June 2015 under Atlantic Records.
In February 2018, Victoria dropped her EP "Life After Love, Pt. 1" featuring tracks like "Freak". She followed this up by dropping the second part of this project titled "Life After Love, Pt. 2" in September of that year. It contains the song "New Love" which has over 1 million views on YouTube.
In 2019 Victoria began recording her debut album and released it's lead single "Ass Like That". Next year, she dropped her album's more tracks including "Moment", "Dive", and "Experience" ft Khalid.
Monet released her debut studio album "Jaguar" in August 2020. She followed this up by releasing "A Jaguar Christmas: The Orchestral Arrangements" in December 2020. Despite this, Monet released her single "Smoke" featuring Lucky Daye in March 2023. Victoria Monet has a net worth of $1 Million. 
Other Ventures
In 2016, Monet teamed up with her best friend Ariana Grande to record the track "Better Days" after the death of Christina Grimmie. That same year she was invited as an opening act by the girl band Fifth Harmony for the North American leg of the 7/27 Tour.
Later, she and Ariana performed "Better Days" on one of the tour dates. Later that year, Grande announced that Monet would be performing as an opening act on the North American leg of the Dangerous Woman Tour along with the band Little Mix. She and rapper Bia also supported Grande on the European leg of the tour. 
Monet earned her first entry on the chart as an artist when she dropped a collaborative single "Monopoly" with Ariana Grande. The song peaked at #70 on the Billboard Hot 100 and led Monet to appear on Billboard's Emerging Artists at #16.
Monet has written songs for numerous artists including "I Hate That You Love Me" for Diddy Dirty Money" and co-wrote "Be Alright", Let Me Love You" and "Thank U" for Grande. The famous artists T.I., B.o.B, and Kendrick Lamar asked her to write a song for whom she provided a song titled "Memories Back Then".
Personal Life
Victoria Monet has been in a relationship with fitness model John Gaines since 2020. The couple began dating earlier that year and then announced that they were expecting their 1st child together in December 2020. Monet gave birth to her daughter Hazel Monét Gaines in February 2021.
Career Highlights
Nightmares & Lullabies: Act 1 (EP 2014)
Jaguar (Debut album, 2020)
2020 Soul Train Music Award, Best New Artist _ Nomination
2020-2021, Three Grammy Award _ Nominations
2021 GLAAD Media Award, Outstanding Breakthrough Music Artist _ Nominations
Victoria Monet Net Worth
Victoria Monet is one of the most recognized singers in the music industry. Apart from singing, she gained massive fame for her skills as a songwriter.
Monet worked for the likes of Nas, Dirty Money, Ariana Grande, T.I., GOOD Music, Lupe Fiasco, Fifth Harmony, Chrisette Michele, Coco Jones, and Chris Brown. As of 2023, Victoria Monet's net worth is estimated to be $1 Million.
You May Like: