Valentina Sampaio is a Brazilian model and actress who has a net worth of $2 Million. She came to the spotlight after becoming the first transgender woman to appear in Sports Illustrated's Swimsuit Issue in 2020.
Valentina is also known for being Victoria's Secret's 1st openly transgender model in the summer of 2019. From that point on she started getting offers from some renowned brands and companies to sign contracts with them.
What is Valentina Sampaio's Net Worth?
[table id=442 /]
Early Life
Valentina Sampaio was born on December 10th, 1996, and was raised in the gorgeous coastal city of Aquiraz, Brazil. Her father is a fisherman while her mother was a teacher. Valentia says that she was very lucky to have friends and family who have supported her in her career.
She was only 8 years old when a psychologist identified her as transgender and 4 years later, she began calling herself Valentina. From there, she began to dream big and envision herself as a model.
In an attempt to bring her dreams to life, Valentina posed in front of any camera she could get in front of from a very young age. She spent many a night impersonating some of Brazil's biggest soap-opera stars.
Once Valentina was old enough to commute to the largest nearby city on her own Fortaleza, she began studying fashion with the hopes of becoming a stylist. Soon after she found herself involved in the local fashion industry and discovered a community.
Career
When Valentina began her modeling career in Brazil she was hired for an ad campaign for a clothing company in 2014. But when the brand realized she was transgender, she was fired out of fear that the company's conservative clients.
Despite the discouraging setback, Valentina pressed forward. In the months to follow she left her home for the first time to act in an independent film titled "Rio de Janeiro" which debuted at São Paulo Fashion Week.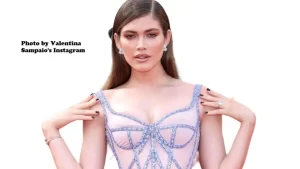 Breakthrough
Soon enough, Valentina decided to move to São Paulo full-time. Later she received her breakthrough moment when she was asked to model for the cover of French Vogue. Valentina became the first transgender woman to ever appear in that magazine.
Following her success, Valentina went on to rack up a whole bunch more because her increased decent profile led to further cover shoots. She modeled for the likes of Vogue Brazil and Vogue Germany.
In 2019, Valentina became the first transgender model to work with the famous Victoria's Secret. Now that she had officially found her way into North American pop culture relevancy, Valentina's career hit a great level. Thanks to all of this success Valentina Sampaio has a net worth of $2 Million.
Other Ventures
She caught the attention of New York City talent agency The Lions with whom she signed. In 2020, then 23 years old supermodel Valentina continued to break down barriers in the modeling world.
She became the first transgender woman to be profiled in the legendary Sports Illustrated Swimsuit Issue. That year, the Brazilian model was named one of the "Editions Rookies".
Then Valentina was invited to become one of the inaugural members of the Victoria's Secret VS Collective which replaced the brand's well-known cast of Angles. Ever since Valentina has become a celebrity in North America and has been made evident by her much-talked-about appearance at the Met Gala in 2021.
In 2022, Valentina was selected to become the first transgender of Armani Beauty products. Additionally, she signed endorsement deals with the likes of H&M, Philipp Plein, Dior, Pollini, Bio Rhythm Fitness Academy, L'Oréal, Marc Jacobs, Moschino, and Skunk. 
Career Highlights
Being covered of the French Vogue
Becoming the first transgender model to appear on Victoria's Secret
Modeling for the Sports Illustrated Swimsuit Issue
Valentina Sampaio's Net Worth
Valentina Sampaio is one of the most recognized supermodels in the American modeling industry. She began her career in her home country in Brazil and now earned massive success in North America.
The turning point of her career came when she went to the USA for better opportunities. From there she continued to sign with big modeling agencies and accumulated a vast chunk of money. As of 2023, Valentina Sampaio's net worth is estimated to be $2 Million.
You May Like