Tyla Yaweh is an American rapper and singer who has a net worth of $2 Million. He rose to fame after his singles Gemini and I Think I Luv Her went viral on Spotify, earning millions of streams on the platform.
In 2019 Tyla dropped his debut mixtape titled Heart Full of Rage which became successful and led the rapper to announce his Runaway Tour. He also teamed up with legendary artist Post Malone for his newest hit single Tommy Lee. 
He went from growing up on the rough streets of Orlando, Florida, to accomplishing his version of the American Dream and becoming a hip-hop sensation. Throughout his life, Tyla never gave up and hustled for everything he got, forcing his way into Post Malone's orbit and experiencing success.
What is Tyla Yaweh's Net Worth?
[table id=493 /]
Early Life
Tyler Jamal Brown was born on May 31st, 1995 in Orlando, Florida. As a kid, growing up on the streets of Florida, he discovered a passion for skateboarding and magic. Later, he dropped out of high school to pursue his music career.
Tyla started skateboarding at the age of five and played games like Tony Hawk Pro Skater and Underground. In terms of magic Tyla idol's was Criss Angel. By the age of 13, he took an interest in music when his sister joined a girl band.
He followed her around to practices and developed his own talent for music. Next, he began studying music and discovered that he was pretty good at singing. Tyla took to dancing and began performing with different teams against each other all night long.
Career
When Tyla was 15 years old he found himself in some bad habits such as he began selling drugs and was kicked out of the house by his mother. From that point forward, Tyla began started taking music more seriously and spent too much time in the studio to perfect his craft.
Tyla's first project was titled Dreams, Money, and Fairytales which he recorded in Florida. He dropped the single called Alone which went viral in Orlando. At the age of 19, he moved to California in 2015 for better opportunities.
Once in LA Tyla took the stage name that he is known by today and started booking gigs himself. Around that same time, Tyla's music caught the attention of Post Malone and his manager Dre London.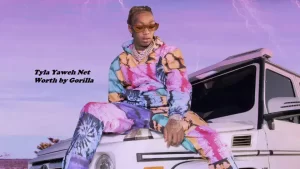 Breakthrough
In 2015, he opened for Malone back in his hometown of Orlando, and soon after he found himself signed to Post Malone's label London Entertainment. The first single he went on to release for them was Dr*gs and Pain in November 2017.
Tyla then released three more tracks Gemini, Wildlife, and Goals. All three songs achieved millions of streams across Spotify, YouTube, and SoundCloud. He then dropped his first album Heart Full of Rage in February 2019.
His debut project provided a mission statement to his fans with its unique blend of guitar riffs, trap beats, and thoughtful lyrics. Following that success he began performing on stages in different places such as SouthWest Rolling Loud and Made in America, as well as Australia. Tyla Yaweh's live performances and albums allowed him to earn a net worth of 2 million US dollars.
Other Ventures
Aside from releasing tracks as a solo, Tyla is known for his collaborations with big-time artists. In July 2019 he teamed up with French Montana to drop his hit single Salute which has over 6 million views on YouTube.
Tyla followed that up by releasing another big hit track Who Shot Johnny? in September of that year. In early 2020 he and famous rapper Wiz Khalifa released the song titled High Right Now which has now 20 million views on YouTube.
Career Highlights
Heart Full of Rage (Debut studio album, 2019)
Being featured on Post Malone's Tommy Lee (2020)
Heart Full of Rage (Single, 2020)
Stuntin' On You (2020)
All the Smoke ft. Gunna, Wiz Khalifa (Music video, 2021)
Tyla Yaweh Net Worth
Tyla Yaweh is on his way to becoming one of the highest-paid rappers in the rap community in his country. He earned mainstream success following his appearance on one of Post Malon's biggest hits titled Tommy Lee. 
Despite this, Tyla worked with the likes of Gunna, YG, Wiz Khalifa, DaBaby, Murray, Trippie Redd, and PnB Rock, among others. The rapper has been making money from his music career since he began his journey in 2017. As of 2023, Tyla Yaweh's net worth is estimated to be $2 Million.
You May Like