Logan Thirtyacre aka SML is an American YouTuber and social media star who has a net worth of $4 Million. He rose to fame after creating his SuperMarioLogan YouTube channel where he garnered over 9 million subscribers. On this main channel, he is popular for making Mario Plush videos.
Logan earned massive success in his career by launching multiple YouTube channels where he has millions of followers as of now. Despite this, the man made a name for himself on various other platforms including TikTok, Instagram, etc.
In 2016, he created a character Jeffy who dropped the music video for "Why" which has over 40 million views on YouTube. Logan gained further recognition when the popular show "Good Morning America" did a segment about SML.
What is SML's Net Worth?
[table id=286 /]
Early Life
Logan Austin Thirtyacre was born on November 17th, 1994, in Pensacola, Escambia County, Florida. He has an older brother Lance Thirtyacre and a younger half-sister named Haleigh. Logan's father Kelly Fay was a truck driver.
At the age of three years old, his parents were separated. His mother Jennifer found new love with Logan's stepdad Brian Grant, who introduced Logan to Mario and video games. At three years old, his brother Lance crushed Logan's skull with a baseball bat.
Career
In the seventh grade, everything would change in his life when his older brother told him about YouTube. Logan joined YouTube in December 2007, and his first video was titled "Super Mario Got Milk". The video was a parody of the 1996 Got Milk commercial that was aimed at getting kids to drink milk.
This channel became a place for Logan to review games, do commentary, and interview his Mario Dolls. At one point he was uploading several videos a day. Eventually, he added new characters to the show with his brother Lance's help.
After hitting 1000 subscribers on his channel, Logan bought a 12 set of Mario Plushies for $250 and an HD camera for $150. He hired his friends Luke and Zeke into the series as voiceover cast members. By 2010, the channel had hit 20,000 subs.
From that point on they kept creating different series using these characters. But the production quality and narratives kept improving with each video. They were getting older and thus interested in more adult humor.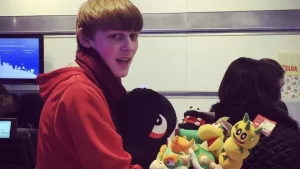 Breakthrough
The big break for the channel was the creation of Mama Luigi. However, Zeke who was the voice for Mama Luigi had to move to Colorado along with his brother and fellow cast member Luke. As a result, they stopped the character Mama Luigi.
Later, Logan met his friend Lovelle in his sophomore year of high school, who joined the squad to help him make videos. In 2013, the character Bowser Jr. was added to the series and became a popularizing figure. This character helped the channel to reach 100,000 subs.
Soon, Logan was accepted to the YouTube partner program. By 2015, the channel had 500k subs, but in his senior year of high school, he stopped making videos. After taking a short break from YouTube, he realized that he needed to get his life together.
Logan graduated with A's and B's and he hit 100 million views on his YouTube channel. In 2016, he added a new character named Jeffy who ended up becoming one of the main characters on the channel. Later that year the channel had received over 1 million subs. SML amassed a net worth of $4 million through his content.
Other Ventures
In December 2017, YouTube placed an age restriction on almost every single SuperMarioLogan video. So, Logan decided the only option was to create a more family-friendly version of the series. He began by posting a video called "Jeffy Plays Minecraft". As a result, his channel went demonization.
Logan moved his content to a new channel called "SuperLuigiLogan". In May 2018, SML appeared on Good Morning America, but for not-so-good reasons. He also created another channel called "SuperBowserLogan" which has over 3 million subscribers.
Personal Life
Growing up Logan loved painting and watching football. In the third grade, while swimming, he was bitten by a mosquito carrying West Nile Virus. When he was recovering from the disease, his mother bought him a Gamecube with Super Mario Brothers.
His sickness came back, but this time, no one had a clue what was wrong with him. Logan's family thought that he was faking his illness at one point. He wasn't allowed to do anything until he finished his food, because he was getting so skinny.
Logan had been in a relationship with fellow YouTuber Ladye Wanda "Chilly" Jimenez. The couple first met while studying in their sophomore year of high school in 2010, and they began dating from there.
Soon, they teamed up to create a collaborative YouTube channel "LoganandChilly" where they posted numerous videos. In 2018, Logan and Jimenez announced that they got engaged but it didn't last long and the two broke up later that year.
Career Highlights
Here are some of the most popular videos of SML:
SML Movie: Jeffy The Boxer! (2021)
SML Movie: Jeffy Plays Basketball! (2021)
SML Movie: 2 Tickets! (2021)
SML Movie: Jeffy The Doughnut King! (2021)
SML Movie: Cody The Movie Star! (2021)
SML Movie: Jeffy's Tattoo Problem! (2021)
SML Movie: SQUID GAME (2021)
SML Movie: Jeffy's 18th Birthday! (2022)
SML Net Worth
Logan Thirtyacre has accumulated a handsome amount of fortune over the course of his successful YouTube career. He began his career in 2007 and earned success at an early age.
Logan's unique idea led him to become one of the most popular content creators on the internet. Even though he had a lot of hardships during his career, he still found success.
Outside of making money from YouTube, Logan launched his merchandise called "smlmerch.com". Through this business, he offers clothing, toys, and plushies. As of 2023, SML's net worth is estimated to be $4 Million.
You May Like: