Ez Mil is a Filipino-American rapper and a hip hop artist who has a net worth of $1 Million. He went viral after releasing his breakthrough single "Panalo" in July 2020. That track earned him wider recognition in the music industry.
Mil came to the limelight with his performance on the Wish USA 107.5 bus, which garnered almost 100 million views. Soon, he signed a deal with Shady Records and continued to record more music.
This Las Vegas-based artist has been on the rise for the past couple of years. At the age of 25 Mil signed the biggest deal of his career as Shady House Records and Aftermath Entertainment's newest artist.
What is Ez Mil's Net Worth?
[table id=586 /]
Early Life
Ezekiel Miller was born on July 27th, 1998, in  Olongapo City in the Philippines. His parents were prominent musicians, his father Paul Sapiera was the lead vocalist of the popular 90s band RockStar known for their hit song "Parting Time".
Ez Mil's mother Hazel Miller was a veteran performing artist with a powerful voice. Thanks to his parents, he grew up with musical inspirations. At the age of five, he first discovered music. Then a few years later, he started learning guitar.
Career
He began listening to R&B from artists like Chris Brown and discovered hip hop thanks to Tupac Sukar. In high school, Mil finally mastered the guitar with help from the popular video game "Guitar Hero".
He showed a special talent for performing heavy metal songs on the sixth string. After graduating from high school, Ez moved to Baguio to study Architecture at Saint Louis University. However, he wound up dropping out shortly thereafter.
Mil then moved to the United States settling in Seattle with his mother and siblings who had already been based out there for a couple of years. Eventually, his family moved from Washington State to California where Ez recorded music in his bedroom often with the help of his sister.
Ez Mil started uploading some of his earliest creations to his "SLASHMOUTH" YouTube channel. Before long, his family relocated from Los Angeles to Las Vegas where Mil got a job working at a local Burger King. Around that time, he continued to record music to become a musician.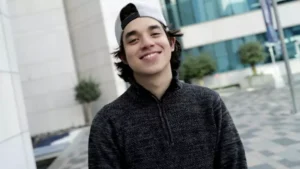 Breakthrough
The turning point of Mil's career came when he shifted his attention toward hip hop. In early 2020 this aspiring artist took part in the "24 Bars Mark Beats Challenge", a platform for up-and-coming artists created by producer Mark Beats.
Ez's freestyle became one of the most notable performances in the competition and garnered over 8 million views on YouTube. Following his popularity, he drove from Vegas to Los Angeles to team up with Eminem and Dr. Dre.
Further Success
Eminem made EZ's, signing official to his record label "Shady Records". Additionally, Eminem got the kid even more attention by featuring himself on Ez's next song. Just one week later, Ez Mil became the newest member of Shady Records, Aftermath Entertainment, and Interscope Records.
Ez Mil released his first single as part of a deal a song titled, "Realest" that bosted Eminem. After that single dropped, it made a massive impact. Later, Mil announced that his third studio album DU4LI7Y will be released as a deluxe version under his new partnership with Slim and Dre.
Career Highlights
Panalo (Song, 2020)
Realest (with Eminem, 2023)
DU4LI7Y (2022)
Ez Mil Net Worth
Ez Mil is one of the rising artists in the hip-hop community. He rose to stardom after collaborating with legendary artist, Eminem. He's not only signed with Shady Records but also with Aftermath Entertainment and Interscope.
With hip-hop royalty taking him under their wings, the incredibly talented kid's potential is limitless. Ez is on his way to becoming as synonymous as Eminem and Dre. As of 2023, Ez Mil's net worth is estimated to be $1 Million.
You May Like