Shygirl is an English rapper, singer-songwriter, and DJ who has a net worth of $3 Million. She is best known for becoming one of hip-hop's most promising boundary-pushing artists on the internet. She runs her own collective called "Nuxxe".
The rapper came to the spotlight following her collaborations with the likes of Sega Bodega, Arca, and Sophie. Her music eventually caught the attention of high-profile singer Rihanna. This singer has used a handful of  Shygirl's Nuxxe tracks for her fashion shows and Fenty Beauty commercials.
Shygirl began her music career in 2016 and then continued to record EPs including "Cruel Practice" and "Alias". In mid-2022 her debut studio album "Nymph" came out.
What is Shygirl's Net Worth?
[table id=245 /]
Early Life
Blane Muise aka Shygirl was born on May 4th, 1993 in South London to a Grenadian father and a Welsh mother. As a kid, she traveled to South Wales every summer. She also spent a lot of time with her aunt who lived in the county of Kent.
While spending time with her aunt she and her brother used to play in the woods. Meanwhile, music was always a part of Shygirl's life since her childhood. She is the oldest of three kids, and her parents were both very young when she was born.
Career
After finishing high school Shygirl stidied photography at the University of Briston. Soon afterward, she landed a full-time job as a bookkeeper at a modeling agency. Around that same time, Shygirl became a mainstay of the London nightclub scene.
Then she met a new friend, Irish-Scottish producer Salvador Navarrete aka Sega Bodega who helped her to pursue her music career. She began serving as a DJ at nightclubs in London alongside a female friend. But it wasn't until meeting her friend Sega Bodega that she considered making music.
Later, Shygirl and Bodega teamed up to record some vocals over top of a beat in a song titled "Want More". That track was released in 2016 and it went viral. When the audience began responding to the sound Shygirl decided to pursue a full-time career as an artist.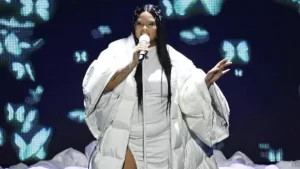 Breakthrough
Shygirl and Sega Bodega along with their friend Coucou Chloe founded their record label called "Nuxxe" which dropped "Want More" in 2016. Two years later Shygirl released her debut EP "Cruel Practice" and that same year she quit her day job at the modeling agency.
Her first EP received very positive reviews from outlets such as Pitchfork, Crack Magazine, and Tiny Mix Tapes. Shygirl followed that up by releasing her second EP "Alias" in November 2020. The project went on to be voted as one of the hottest EPs of the year by the Music publication MusicNGear.
Despite this, it was her 2019 single "Uckers" that went viral on TikTok. That track became Shygirl's breakthrough moment in the industry as users began sharing the song on the social media platform with videos.
Shygirl released her full-length studio album titled "Nymph" in September 2022. Following its release, the album Nymph was met with Universal Acclaim and climbed to the top of the UK Dance Album Charts. It also landed on the 64 spot on Billboard's Top Album Sales.
That success led Shygirl to announce the deluxe version of the album titled "Nymph_o", which set the release on April 14th, 2023. This updated version of the project includes a remix of "Heaven" alongside the American singer Tinashe. It also boasts collaborations with artists like Erika de Casier and Eartheater.
Other Ventures
Throughout her career, Shygirl continued to release many singles including the Slowthai collab "BDE". She also released songs with Arca, FKA Twigs, and a remix of "Sour Candy" for Lady Gaga, as well as Björk's track "Ovule".
Personal Life
Her grandfather is a former collaborator of the reggae group The Aces. It was Shygirl's grandfather who introduced her to popular music. Her grandfather gave her 'Now That's What I Call Music" CDs and "Ministry of Sound" compilations that wound up sending her into a trance. 
On the other hand, her parents exposed their daughter to contemporary artists such as Missy Elliot, Moloko, and Björk. Moreover, they encouraged her to find inspiration in art of all kinds to ensure she lived as full of life as possible. One of her favorite types of art in childhood was literature.
Career Highlights
Want More (Song, 2016)
Alias (Second EP, 2020)
Nymph (Debut album, 2022)
Heaven (Song, 2023)
2021-2022 AIM Awards, Best Independent Track _ Nomination
Shygirl Net Worth
Shygirl is one of the up-and-coming stars in the British music industry. She made a name for herself in both British and American industries, and her popularity is growing regularly. Shygirl accumulated a lot of wealth and fame throughout her career.
The rapper is just at the beginning of her career and still has a lot more to do in her life. Her source of income comes from collaborations with other artists, streaming platforms, as well as record labels. As of 2023, Shygirl's net worth is estimated to be $3 million.