Sexyy Red is an American rapper and hip-hop artist who has a net worth of $400,000. She is best known for her performances and music videos on her YouTube channel which amassed millions of views.
The rapper began her music career in 2018 by releasing her debut single Slide. However, her real breakthrough moment arrived in 2023 with the release of her track "Pound Town". That track went viral, amassing over a million streams on Spotify.
What is Sexyy Red's Net Worth?
[table id=458 /]
Early Life
Janae Wherry was born on April 15th, 1998 in St. Louis, Missouri. During Middle School is when her friends started calling her "Red" for the first time because that's when she began dying her hair that same color.
Around that time, Red never even considered rapping until she found herself cheated on by her longtime boyfriend. From there, she decided to write a diss track about it. She was always been a fan of artists like Project Pat, Juicy J, Three 6 Mafia, and Chief Keef.
The very first bars that Red ever wrote were just as hard-hitting as those male artists that influenced her. Once she played the song for her cheating boyfriend, a funny thing happened, and he loved it. More than just that, he thought the song was so good that he encouraged her to re-record it properly and release it.
Career
Janae came up with her full moniker of "Sexyy Red" with the help of a cameraman. She then began accepting nearly every offer to perform that came her way as she steadily built up a significant buzz around her city.
Red began releasing music professionally for the first time in 2018. Her debut single titled A Thousand Jugs was released that year and it was a reworking of Vanessa Carlton's 2002 hit track A Thousand Miles.
Over the next couple of years, Red continued to release new songs like Slide while still living in her mother's house. During these early times, she started booking studio time until she had a breakout year.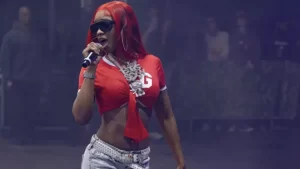 Breakthrough
In 2021 Red self-released her debut album "Ghetto Superstar" featuring tracks like Throwing it and Sexyy. This project was a big success for her and her career finally began to take off.
Following that, she saw that her social media following expanded to over 50k subs on YouTube as well as over 160k followers on Instagram. Then came 2023 which turned into the biggest year of Red's life.
That year the American artist Tay Keith produced her hit single Pound Town which dropped in January 2023. That track turned into a viral hit as Red received co-signs from the likes of Post Malone, Cardi B, and more.
Other Ventures
Since her breakthrough moment, Red became the latest definition of around the way girl the type of female rap artist like Glorilla or Ice Spice. Red's hype continued to build when she collaborated with her good friend Summer Walker for the track "Sense dat God gave you".
Red also earned success after teaming up with Sukihana on Born By the River which went viral. That song earned growing critical praise and it prompted an Instagram following from rapper Drake.
In May 2023 Red collaborated with producer Tay Keith for a sequel to the original hit titled "Pound Town 2" featuring Nicki Minaj. The single became Red's first official Billboard hit when it landed on the Hot 100 debuting at the 66th spot.
Furthermore, Pound Town 2 is been growing impressively on TikTok where it's been used more than 140k times since its release on the platform in early 2023. Upon her massive success, Red announced her newest album Hood Hottest Princess which includes Pound Town 2, Born by the River, as well as a new feature alongside JJuicy J Strictly for the Strippers …
Career Highlights
Ghetto Superstar (First album, 2021)
Pound Town (Song, 2023)
Born By the River
Pound Town 2
Hood Hottest Princess (Album, 2023)
Sexyy Red Net Worth
Sexyy Red is one of the rising rappers in the music scene who collaborated with high-profile artists like Cardi B and more. She gained huge popularity following the release of her breakthrough Pound Town.
As she finally arrived, music isn't the only thing on Red's mind. For the next few years, she plans on getting into television and selling merchandise.
In addition, she is on her way to launching her new makeup line into a bona fied hit in an attempt to earn more money. As of 2023, Sexyy Red's net worth is estimated to be $400,000.