Saygin Yalcin is a Dubai-based German entrepreneur and a businessperson who has a net worth of $5 Billion. He is best recognized for his companies "SellAnyCar.com" and "Sukar.com." He established himself as one of the most successful entrepreneurs in Dubai due to his incredible ideas.
Apart from running his own companies, Yalcin became a partner with Jabbar Internet Group and an online shopping club known as "Souq.com." His popularity grew in the UAE when he began appearing on television talk shows to share his story.
Saygin is a social media personality and has a YouTube channel which he created in November 2013. Thanks to his associations with Dubai-based YouTuber Mo Vlogs who helped him to gain a fan following on social media. Saygin often appears in his videos.
What is Saygin Yalcin's Net Worth?
[table id=155 /]
Early Life
Saygin Yalcin was born on May 14th, 1985, in Bremen, Germany. He is of Turkish and German descent. During high school, Saygin had dreams of becoming a professional football player. He got a chance to play in the German junior league A-Junioren Bundesliga.
At the age of 16 Saygin began his career as a DJ and later moved to New York to learn the English language. In NY he had plans to perform as a DJ in bigger events. However, he returned to Germany and began pursuing his studies at a business school.
After that, Saygin went to Mexico to complete his studies where he learned a little bit of Spanish. He earned his bachelor's degree in Business Administration from Germany's WHU-Otto Beisheim School of Management.
Career
At the age of 19, Saygin decided to become a businessperson and quit his dream of becoming a football player. He began working as a marketing and salesperson for BMW and then for L'Oreal and Capgemini in 2004.
While living in Germany he teamed up with two of his friends to form a company. He founded a fashion brand of handbags for ladies which was his first business but was not successful.
In 2010 at the age of 24 Saygin moved to the UAE for bigger opportunities. He came to Dubai with a backpack and had difficult times in the beginning. He used to say at the restaurant in Barcia where he began contacting business investors to build an empire.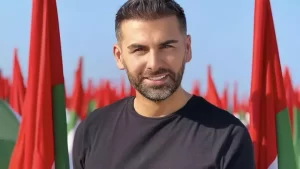 Breakthrough
Saygin eventually founded a company called, "Sukar.com" which became the first online private shopping club in the United Arab Emirates. About 7 months later, his company was making $1 million per month.
The turning point of his career began when he sold this company to "Souq.com" and launched "SellAnyCar.com." Saygin started working as the CEO of the company SellAnyCar.com which is the online marketplace for used cars.
Soon this company began generating millions of dollars every month. Currently, the company's worth is more than $500 million, becoming one of the most successful firms in the Middle East. In 2011 Yalcin became one of the "Hot 100 personalities" in the UAE.  
Other Ventures
In 2013 Saygin created his YouTube channel and began uploading lifestyle vlogs. His channel wound up getting over 1 million subscribers. He has nearly 1 million followers on Instagram and thousands of fans on Twitter as well. Yalcin serves as an academic lecturer at the Canadian University of Dubai.
He launched a program known as "Startup Hero" in 2018. On this show, he gave a chance to people who want to create their own enterprises to tell him about their business ideas. Yalcin is the author of a book titled "My children will be born rich. This is what I will teach them" which he published on June 9, 2022.
Car Collection
Bugatti Veyron
Lykan fenyr
Ferrari LaFerrari
Lamborghini Aventador S
Lamborghini Huracan
Lamborghini Huracan Performante Spyder
Rolls Royce Wraith
Mercedes-Maybach S650
Mercedes G63 AMG
Mercedes V-Class
Private Jet
Real Estate
Saygin is the owner of a luxury mansion located in one of the posh areas of Dubai. He spent his fortune on this house in 2019 and it features a swimming pool, several rooms, a modern kitchen, and much more. There is a sound system included in the house.
Apart from this, Saygin used to live in an apartment in Dubai's tallest building, Burj Khalifa. This apartment spans over 1,778 square feet and has a gym and swimming pool.
Career Highlights
SellAnyCar.com (Company)
2011s one of the Hot 100 personalities in UAE
2012 ITP Award, Personality of the Year _ Nominated
Being included in Fortune magazine's 40under40 list _ of "most influential young people in business"
In 2013 a popular newspaper called him "the region's online business mentor"
Being named of the "Top 10 Entrepreneurs in the Middle East" by Gulf Business
Saygin Yalcin Net Worth
Saygin Yalcin is one of the most rising and successful businesspeople in the world. He earned a lot of fortune and popularity in the past decade. He made a name for himself in the business world through his unique ideas.
Saygin mainly earns from his company "SellAnyCar.com" and "Carnab.com" which is the largest car-buying service. He also earns from being a partner of the online private shopping club the ME, Sukar.com, acquired by Souq.com. As of 2023, Saygin Yalcin's net worth is estimated to be $5 Billion.
You May Like: