Russell Horning is an American singer and a social media personality who has a net worth of $1 Million. He became famous after appearing in Katy Perry's "Swish Swish" music video. Russell is gained popularity all across the world as a Backpack Kid.
This young man kicked off one of the most popular dance crazes ever a few years ago when he showed his signature dance move "The Floss". Aside from that, he is got a few other talents, including the ability to rap.
Backpack Kid also teamed up with the likes of Ayo & Teo as well as got a shout-out from singer Rihanna. He made a name for himself as a social media sensation after creating a dance craze known as "Flossing".
What is Russell Horning's Net Worth?
[table id=343 /]
Early Life
Russell Horning aka The Backpack Kid was born December 19th, 2001, in Lawrenceville, Georgia. He grew up with his younger sister Jill Horning in Atlanta, Georgia. Other than this, there is no known about his childhood or his parents' names.
While attending high school Russell developed an interest in football and became part of the school's team. He played this particular sport for about two years. It appears he got a couple of friends in school and when he's not in class, he attends summer camp.
Career
In 2014, Russell Horning came up with his signature move while attending summer camp. Before blowing up, he tried his talents at rapping, taking the stage at his school. Around that time, he was inspired by fellow dancers turned superstars, Ayo & Teo.
Later, Russell decided to stick with dance and worked long and hard on his own dance moves until he found success. He uploaded his content to Instagram creating his account in September 2016 at the age of 15. He posted the video of himself performing "The Floss" which began to gain momentum.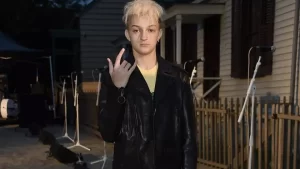 Breakthrough
It was Russell's breakthrough moment when he simply posted the flossing video. The next day, he gained over 5,000 followers in just one night. That video was reposted by popular singer, Rihanna which helped start Russell's career.
Following that, his Instagram account exploded even further, increasing to 200,000 followers. From there, Russell's popularity was growing exponentially all of a sudden he was teaming up with Ayo & Teo.
Another superstar Katy Perry found Russell when he amassed over half a million followers. She invited him to take the stage with her on Saturday Night Live in May 2017. After that performance, Backpack Kid was officially a mainstream hit.
Next, he appeared alongside Katy Perry in her music video for "Swish Swish". As Russell kept uploading dance moves to his social media profiles, he tagged his famous followers like Rihanna and Katy Perry to get more eyes on his content.
Eventually, "The Floss" became a dance phenomenon with all kinds of kids and even celebrities taking part, creating videos of their own. Folks like Brazilian football player Neymar, as well as French player Kylian Mbappé and even Millie Bobby Brown, got in on the fun. Russell Horning also known as Backpack Kid has a net worth of $1 Million.
Other Ventures
Even though his face was everywhere, Russell says that his newfound success didn't change his life all that much. He does travel a lot more celebrity-type circles than an average young boy. Russell got a chance to meet with the likes of Odell Beckham Jr., Kevin Hart, Wiz Khalifa, Nick Cannon, and Cardi B.
Over the past couple of years, he trying to rebrand himself as a rapper. On his 17th birthday, he released his first single "Drip on Boat" from his debut EP "SwagPack Kid" which dropped in December 2018.
Personal Life
Russell's dance move "The Floss" was used in the video game "Fortnight". He told that he was glad for this that the dance was in the game. However, Russell's family decided to follow sue the company. Eventually, the case was dismissed in March 2019 when the supreme court ruled that such a suit has no legal merit.
Apart from that, Russell grabbed the attention of big companies and signed a lucrative deal with a backpack company "Sprayground". On several occasions, he has visited underprivileged schools across the country to spread his positive energy.
Career Highlights
His signature dance move "flossing"
Featured in "Swish Swish" (Katy Perry's music video)
SwagPack Kid (First EP, 2018)
Russell Horning Net Worth
Russell Horning is one of the most recognized social media personalities on the internet. He gained overnight success with the help of his flossing dance move which he uploaded on social media.
Following that, he started getting offers to appear on popular shows which helped him further to gain more popularity. Russel became an internet sensation as a Backpack Kid.
He mainly earns from content creation on YouTube and other social media platforms. He created his YouTube channel in October 2015 and began uploading videos. As of 2023, Russell Horning's net worth is estimated to be $1 Million.
You May Like: