Pressa is a Canadian rapper, singer, and songwriter who has a net worth of $300,000. He rose to fame after the release of his breakthrough single "Novacane." The track went viral and was included in Pressa's mixtape titled "Press Machine."
The rapper gained further recognition when got shout-outs from the likes of The Weeknd and Tory Lanez. His music quickly grabbed my attention of Drake. Pressa appeared as an opening act for Drake's "Boy Meets World" tour in 2017 at the young age of only 21.
Not a whole lot of musicians can claim to be buddies with some of the biggest celebrities in their home country while still only in their early 20s, but Canadian rapper Pressa is one such artist.
What is Pressa's Net Worth?
[table id=234 /]
Early Life
Quinton Armani Gardner was born on May 10th, 1996, in Toronto, Ontario, Canada. He was raised by a Jamaican father and a Filipino mom. When Pressa was 5 weeks old his father Mark Anthony Gardner was sentenced to 15 years in prison on second-degree murder charges.
His mother was left alone to raise Pressa and his older brother while navigating the dangerous streets of the Jane and Finch area of Toronto. In order to pay the bill his mother needs to leave her house to get a job. That would leave her young sons to wander the streets in their Driftwood neighborhood.
Career
Pressa had been making music since he was in the fourth grade which is when he recorded himself rapping to 50 Cent songs. Eventually, he began writing his own lyrics but he wouldn't release any of it until 2016 when he began posting content online.
In 2017 Pressa teamed up with record producer Murda Beatz to record his hit single "Novacane." The track went viral and led Pressa to make a music video of the song which was uploaded on the "World Star Hip Hop" YouTube channel.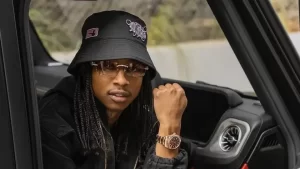 Breakthrough
His song "Novacane" found its way to the ears of Drake and he was subsequently invited by Drake to perform on his "Boy Meets World" Tour. He opened up for the project and gained a lot of popularity across the world.
In December 2017, Pressa dropped his new hit single "Canada Goose" featuring Tory Lanze. The music video for the song was released later that month under Pressa's own record label "Blue Feathers Records." The official music video received over 26 million views on YouTube.
By 2018 Pressa was ready to move on releasing his single with Lil Uzi Vert titled "420 in London." Later that year he was featured on the song "Up & Down" alongside Houdini. In 2019 he dropped his debut studio album "Prestige" in honor of his father's gang name.
The album debuted at the number 1 spot on iTunes Canada's Hip Hop Chart. In 2021, he collaborated with Coi Leray for his song "Attachments." He followed that up by dropping "Second Hand Smoke' in June 2021.
Other Ventures
In 2017 a Canadian documentary movie "6ix Rising" premiered in which Pressa was featured. The film was about Canadian hip-hop culture. In May 2019 Pressa was signing with Sony Music Canada in conjunction with his own Blue Feather Records.
Under the deal, he released the newest single "96 Freestyle." The rapper has been releasing songs on his self-titled YouTube channel since May 2020. Outside of music, Pressa launched a website to sell his merchandise.
Personal Life
In April 2021 rapper Pressa started dating fellow artist Coi Leray who is also one of the rising rappers in the American music industry. Leray is known for being the daughter of the hip-hop mogul and TV personality Benzino. They both recorded the song "Attachments."
Career Highlights
6ix Rising (Film, 2017)
Novacane (Song, 2017)
Canada Goose (Song, 2017)
Prestige (First album, 2019)
Attachments (Song, 2022)
2022 Juno Award, Rap Single of the Year _ Nomination
Pressa Net Worth
Press established himself as one of the rising up-and-coming rappers in the Canadian music industry. He came to the spotlight in 2017, thanks to his hit singles Novacane and Canada Goose which helped him gain recognition.
His source of income comes from music such as releasing new tracks, albums, and EPs, as well as live concerts. He accumulated a good sum from his YouTube channel and his clothing brand. As of 2023, Pressa's net worth is estimated to be $300,000.
You May Like: