Popcaan is a Jamaican singer and DJ who has a net worth of $4 Million. His successful music journey began when Popcaan joined the popular group "Gaza Music Empire" in 2008 which was created by singer Vybz Kartel.
Two years later, his breakout single "Clarks" came out. Popcaan's music eventually grabbed the attention of labels and he signed with "Mixpak Records" in 2013. Under the label, he dropped his debut album "Where We Come From".
From there he began collaborating with the likes of Drake, Pusha T, Gorrillaz, Kanye West, Snoop Lion, and many more. Popcaan was also credited by Fader magazine for making Dancehall music. Apart from that, he was determined to become a musician from a young age.
What is Popcaan's Net Worth?
[table id=305 /]
Early Life
Sutherland aka Popcaan was born on July 19th, 1988, in Saint Thomas Parish, Jamaica. He spent his earliest years in Portmore. He was raised primarily by his grandparents with much of his extended family around him.
Popcaan was just 2 years old when his mother separated from his father. He also has a sister named Annalecia Sutherland and an older half-brother. Popcaan developed an interest in music when he started going to church with his grandmother and singing gospel songs in the style of dancehall DJs.
His early musical influences are including Buju Banton, Sizzla, Super Cat, and even Jay-Z. At the age of 14, he arrived at Portmore to live with his mom. Around that time, he began listening to many local artists Gyptian, I Wayne, Frisco Kid, and Terror Fabulous.
Career
Upon finishing high school, Popcaan decided to join the Jamaican Defence Force at the age of 18. That was the time when many of his friends were involved in street life but he managed to stay out of serious trouble as a youth.
Popcaan decided to put all of his focus into his music when he lost one of his friends named "Bama". Another friend of his "Scumpy" gave him the nickname "Popcaan" because of his soccer skills. When Scumpy died, Popcaan decided to keep the moniker as a stage name.
In 2008, the famous Jamaican musician, Vybz Kartel heard Popcaan while he was performing on a local show. Vybz took him under his wing becoming both his producer and mentor. Popcaan immediately joined his "Portmore Empire music group" and performed with him on major shows like "Sting" and "Reggae Sumfest".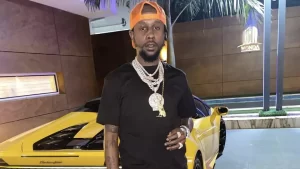 Breakthrough
In 2010, Popcaan was featured on one of Vybz's biggest hit singles titled "Clarks". The track was a hit so much so that it comes to a spike in sales for the shoe in Jamaica. The following year, Popcaan got the "Excellence in Music and Entertainment" for best new artist collaboration of the year for "Clarks".
In 2011, Kartel was locked up in, and Popcaan's "Ravin" and "Party Shot" became two of the year's biggest dancehall hits. The singer entered the Billboard R&B charts for the first time with his track "Only Man She Want".
Popcaan signed to the Brooklyn-based independent record label "Mixpak Records" for a multi-record deal in 2014. His debut studio album "Where We Come From" was executive produced by Dre Skull and was released in June 2014.
Its lead single "Everything Nice" was launched in October 2013. The album debuted at number 2 on Billboard's Reggae Album Charts. That same year, Popcaan was nominated for his first MOBO Awards.
In July 2018, Popcaan's second album "Forever" came out which features singles "Body So Good", "Firm and Strong", and "Wine for Me". Following the release he had a headlining Reggae Sumfest tour. The project became successful by debuting at number 2 on the Billboard Reggae Albums chart.
At the end of 2018, Popcaan made a deal with OVO Sound and Warner Records. Under the contract, he dropped his third album "Vanquish" in December 2019. Popcaan followed that up by releasing "Fixtape" as his fourth album in August 2020. Then his fifth album "Great Is He" was released in Jan 2023.
Other Ventures
In the early 2010s, Popcaan was beginning to receive attention and respect from some high-profile names in the Hip Hop world. In 2012, the rapper Busta Rhymes collaborated with him on the official remix of "Only Man She Want".
Later that year, Popcaan was featured on Pusha T's hit single "Blocka". In 2013, Kanye West sampled Popcaan's vocals on his album "Yeezus". Then Snoop Dogg invited Popcaan to appear in his song "Lighters Up". In 2018, he tried his hand at acting, appearing in the British thriller film "The Intent 2: The Come Up".
Personal Life
Popcaan has been in a relationship with "Toni-Ann Singh" who is a Miss World 2019 and a Miss World 2019.
Career Highlights
Clarks (Kartel' song, 2010)
Ravin (Song, 2011)
Only Man She Want (Song, 2012)
Where We Come From (Debut album, 2014)
Forever (Second album, 2018)
Great Is He (Fifth album, 2023)
2015-2016 MOBO Awards, Best Reggae Act category _ Won
Popcaan Net Worth
Popcaan is one of the well-known music artists in the Jamaican industry. He made a name for himself after collaborating with the legendary artist Vbyz Kartel. Popcaan accumulated a lot of fortune and popularity throughout his successful career.
His source of income comes from the music industry such as album sales, live shows, and collaborations with other artists, as well as YouTube. As of 2023, Popcaan's net worth is estimated to be $4 Million.
You May Like: