Paige Hurd is an American actress with a net worth of $2 Million. She rose to fame after playing a recurring role in the hit American sitcom Everybody Hates Chris. Hurd portrayed Tasha Clarkson in this series which ran from 2006 to 2009.
The actress made a name for herself in the entertainment industry through her immense performance in TV and films over the years. Hurd gained further recognition for her appearance as Lauren Baldwin in the drama series Power Book II: Ghost which began airing in 2020.
What is Paige Hurd's Net Worth?
[table id=450 /]
Early Life
Paige Audrey Marie Hurd was born on July 20th, 1992, in Honolulu, Hawaii, United States. She has Puerto Rican ancestry on her mom's side and is of African American descent on her dad's side. Hurd reportedly asked the late rapper DMX to be her godfather.
Career
Hurd started booking minor roles appearing in episodes of TV series including her first acting gig as Natasha in Felicity in 2000. Two years later she guest-starred in episodes of TV shows like Boomtown, George Lopez, and The Division a year later.
In 2003 Hurd made her film debut as DMX's daughter Vanessa in the action Cradle 2 the Grave. She followed that up playing Denise in the fantasy comedy movie The Cat in the Hat. 
From there she started getting some big roles in films and hit television series including the 2005 comedy Beauty Shop. That same year she appeared in TV Shows like The Suite Life of Zack & Cody and Medium. After appearing in the television series ER, she was cast in the film Ben 10: Race Against Time in 2006.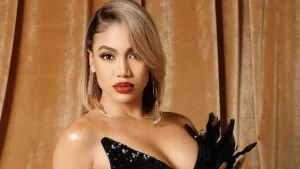 Breakthrough
Hurd had a big break when she landed the recurring role of Tasha in the semi-autobiographical sitcom Everybody Hates Chris. She starred in the series from 2006 to 2009 and earned massive popularity all across the country.
In addition to this role, Hurd was booked for another recurring character of Vanessa in the video games series City 17. From 2013 to 2020 she had the role of Samantha Grover in the action TV series Hawaii Five-0.
Hurd came to the spotlight once again in 2019 when she was named to play the main role of First Daughter Gayle Franklin in the drama Tyler Perry's The Oval. In the following year, she began portraying Lauren in the American TV series Power Book II: Ghost. 
Other Ventures
Aside from television roles, Hurd was also appearing in films during that period. In 2015 she starred in the film A Girl Like Grace and then in Grandma's House the next year. In ]2018, the actress was cast as Gina Brown in the slasher film Thriller.
Outside of acting, Hurd often appears in music videos for some high-profile artists. She was featured on Jasmine Villegas's single I Own This, Romeo Miller's music video Mistletoe, and Steph Jones's Beautiful.
Later she was invited by Justin Bieber to appear in his music video of Never Let You Go. Moreover, Hurd made featuring appearances in music videos for the likes of Romeo Miller, Trevante, G-Eazy, Nas, and many others.
Personal Life
Paige Hurd has been in a relationship with many celebrities throughout her career. She dated famous names like Pj Scott, Corde Broadus, Vercy Miller, Justin Combs, Steph Jones, Lil Twist, Cortez Bryant, and Romeo Miller.
In October 2013 Hurd and Maurice Harkless began dating. Maurice is a basketball player who plays for Orlando Magic.
Career Highlights
Everybody Hates Chris (Sitcom, 2006–2009)
The Oval (Soap opera, 2019-2021)
Power Book II: Ghost (TV Series, 2020-present)
Paige Hurd Net Worth
Paige Hurd is one of the rising actresses in showbiz. She earned success for her outstanding performance in the popular sitcom Everybody Hates Chris.
Hurd accumulated a lot of wealth from her appearance in three major projects that we mentioned earlier. She has been making money and appearing in dramas since the age of 8.
Hurd mainly earns from films, TV series, as well as brand endorsements. She has done commercial work for Nikon, Trojan, McDonald's, and many more. As of 2023, Paige Hurd's net worth is estimated to be $2 Million.
You May Like