Nicola Coughlan is an Irish actress who has a net worth of $2 Million. She rose to prominence after starring as Clare Devlin in the British teen sitcom, Derry Girls which ran from 2018 to 2022. Her appearance in the show earned her some big offers in showbiz.
Her popularity grew further when Nicola got a main role as Penelope Featherington in the American historical streaming series, Bridgerton in 2020. She continued to star on the show along with appearing in several other projects.
What is Nicola Coughlan's Net Worth?
[table id=563 /]
Early Life
Nicola Mary Coughlan was born on January 9th, 1987, in Galway, Ireland. She was raised in Oranmore, which is located in County Galway. Nicola grew up with four siblings including an older brother Kieran Coughlan and an older sister Clodagh Geraghty. 
At the age of 5, she attended a play that showcased one of her sisters and that's when she made up her mind to pursue a career as an actress. Nicola studied at Scoil Mhuire before enrolling at Calasanctius College.
After that, she went on to graduate from the National University of Ireland, Galway, obtaining a degree in  English and Classical Civilisation. At that time, she had already entered the entertainment industry, which led her to join the Oxford School of Drama and the Birmingham School of Acting.
Career
Nicola Coughlan made her acting debut at the age of 10 in the 1997 thriller film, My Brother's War. She returned to the industry a couple of years later in 2004 with her role as Katie in a comedy short film, The Phantom directed by Tom Collins.
However, she still did not manage to earn cash from her work which led her to return to her country in Ireland. Afterward, she had to suffer from depression due to financial issues. During that period, her family provided her with encouragement and support.
As a result, she started working part-time at an optician located in Galway. The turning point of her career came in 2013 when she earned her first credited role as Club Girl in the film Svengali.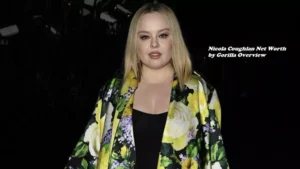 Breakthrough
Nicola had a big break after landing one of the main roles as Clare Devlin in the hit British TV series, Derry Girls. She began starring in this sitcom in 2018 and continued to play her role until 2022 when three seasons of the show ended.
She appeared alongside Saoirse-Monica Jackson, Louisa Harland, and Jamie-Lee O'Donnell, among others. The series premiered on Channel 4 in January 2018 before being rereleased on Netflix in December 2018. Thanks to Netflix, the sitcom became a massive success and led the cast to earn mainstream popularity.
Further Success
Besides appearing in Derry Girls, Nicola had roles in several other TV shows between 2018 to 2022. At first, she got a guest role as Hannah Dalton in the 2018 period drama Harlots.
Later that year, she portrayed Joyce Emily Donmar Warehouse's production of The Prime of Miss Jean Brodie, becoming her West End debut. Nicola also found herself being named "one of the Rising Stars of 2018" by a newspaper, Evening Standard. 
The actress came to the spotlight in 2019 after being announced to be cast in the hit Netflix series Bridgerton which began premiering at the end of 2020. Nicola earned a role as Penelope Featherington in this period drama series which would change her life forever.
Other Ventures
Aside from acting in TV shows, Coughlan is also a theater artist who began her career by portraying Kirsty in Scrawl Theatre Company's production of Chapel Street in 2013.
Next year, she was cast in Out of Joint Theatre Company's play Duck. From 2015 to 2017, Nicola was booked to play Jess in The Old Vic Orange Tree Theatre Traverse Theatre's production of Jess and Joe Forever.
Aside from theater plays, she established herself as a voice actor, providing vocals in numerous animated series including The Fairytaler, Summer of the Flying Saucer, Thor: Legend of the Magical Hammer, and many others.
Career Highlights
Derry Girls (Sitcom, 2018-2022)
Bridgerton (2022)
Barbie (American fantasy film, 2023)
2021 Irish Film and Television Award, Rising Star _ Won
Nicola Coughlan Net Worth
Nicola Coughlan is one of the most recognized actresses in the British and American film industries. She began her acting career at the age of 10 by playing an uncredited role.
During her twenties, she encountered financial instability which caused her to face difficulties. The biggest breakthrough moment of her career arrived in 2018 when she got a main role in Derry Girls.
Since then she starred in major production and accumulated a lot of wealth for herself. She earns through salaries from her appearances in TV series, films, theater plays, and providing vocals for animated films. As of 2023, Nicola Coughlan's net worth is estimated to be $2 Million.
You May Like