Montana Tucker is an American singer, dancer, actress, and model who has a net worth of $4 Million. She is a multitalented celebrity in Hollywood. She made a name for herself in the music industry for her work with the likes of Ariana Grande, Pitbull, Ciara, JLO, and many others.
Montana's music appeared on the soundtracks of Hollywood films like Bring It On: Fight to the Finish and Step Up 2: The Streets. She became a popular social media personality with over 3 million followers on Instagram alone.
She gained recognition on social media after teaming up with other celebrities like Lele Pons, Tristan Tales, and Matt Steffanina. Montana released her single  I'm Not Alone and empowered young people everywhere to be proud of their flaws.
What is Montana Tucker's Net Worth?
[table id=564 /]
Early Life
Montana Tucker was born on January 18th, 1993, in Boca Raton, Florida. She was raised by her mother Michelle Tucker alongside her sister. Montana is very close to her grandparents and often shares pictures with them on Instagram.
Career
Montana entered the modeling world when she was just 8 years old. She appeared in several commercials for brands like Ovaltine, Sketchers, Wendys, and BMW. She also expressed interest in song and dance idolizing the skills of music icons like Beyonce and Jenifer Lopez.
Soon enough, industry professionals advised her mother that Montana would have to move to New York or Los Angeles. However, her mother decided to open a dance studio in Florida known as "Pop Stars". In here, she would often have choreographers from LA and New York, come to teach young Montana.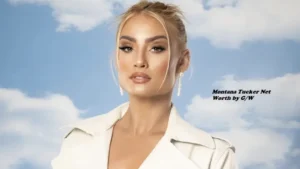 Breakthrough
When she was 13 years old, Montana was a backup dancer for Ashanti and Ashlee Simpson. Later, she worked with Chris Brown for his episode of MTV's reality, My Super Sweet 18. It was performed at Jay Z's legendary 40/40 Club in New York City.
At one point in time, Tucker also appeared on shows like Newlyweds The Nick & Jessica Show, and Zoe 101. Her success in dance continued with her winning the "World Hip Hop Championships" where she competed against Brazil, Japan, Canada, and China. Thanks to her success in multiple professions, Montana Tucker accumulated a net worth of $4 Million.
Further Success
By the age of 14, Montana's career as a singer kicked started as a young woman. She was given a chance to perform at the 2007 Super Bowl Pre-Show. This outstanding performance opened up opportunities for her to work with hip hop's high profiles including Pitbull, Ciara, and Lil Wayne.
In 2008, she won a contest via MySpace in which the prize was to be featured on the soundtrack for Step Up 2: The Streets. The music she released on the disc was a track titled Ain't No Stressin. Her appearance on the soundtrack opened up the door for her to collaborate with Flo Rida who at the time was at the peak of his career.
At the age of 15, Montana joined forces with the famous rappers for the track Turn It Up which was featured on the soundtrack for a short film she acted in called The Jump Off. Montana kept grinding and working her way up the ranks in the music scene.
Other Ventures
She landed gigs singing the National Anthem in popular sports arenas such as at the Hula Bowl, Miami Heat, and Florida Panthers games. She also amassed an impressive following via social media.
In July 2018, Montana released her song I'm Not Alone, an upbeat powerful track about bullying and overcoming one's disabilities. The release of the single coincided with the international day of Persons with Disabilities.
Montana Tucker is active on YouTube and Twitter but it's her Instagram profile that caught the attention of millions of people. She keeps up with her fan base often talking to them in live streams where she communicates with them on a personal level.
Endorsement
Montana is probably best known for her work in the modeling industry and worked for a number of advertising companies. Her social media following caught the attention of big brands and Tucker promoted a variety of brands including:
SugarBearHair
White Fox
REVOLVE
Harley-Davidson
Forever21
good hYOUman
H&M
Moschino
Bumble
DIOSA
Dolls Kill
FILA, ADINA'S JEWELS
BFYNE
GO GET GLITTER
Montana Tucker Net Worth
Montana Tucker is one of the most successful personalities who can sing, dance, and act. She has been working in the entertainment business since she was a little kid. She began her career by acting in commercials.
Later, she pursued her dance career by appearing as a backup dancer for some of the biggest names in the music. Montana got her first big break via social media like MySpace.
She is a born performer who also makes time for others with anti-bullying campaigns and spread mental health awareness. Tucker makes money from numerous sources including dancing, singing, acting, appearing in commercials, and brand endorsements among others. As of 2023, Montana Tucker's net worth is estimated to be $4 Million.
You May Like