Molly Ringwald is an American actress, singer, and dancer, who has a net worth of $11 Million. She is best recognized for her appearance in the NBC sitcom "The Facts of Life." In this show, she played the hit role of Molly and earned a lot of fame.
Ringwald was the definition of a beloved child star and dominated the film screens throughout much of the 1980s. At that time she was well known as a teen icon as well, mainly for appearing in successful John Hughes classic movies like 'Sixteen Candles,' 'The Breakfast Club,' and 'Pretty in Pink'.
In 1982 Ringwald made her motion picture debut in the film "Tempest." Her role as Miranda in the movie led her to receive a Golden Globe nomination. These days, you may have seen her in the hit Netflix series "Dahmer – Monster: The Jeffrey Dahmer Story" where she plays Dahmer's stepmother, Shari.
What is Molly Ringwald's Net Worth?
[table id=68 /]
Early Life
Molly Kathleen Ringwald was born on February 18th, 1968, in Roseville, California, to mother Adele Edith and Robert Scott "Bob" Ringwald. Her mother was a chef and her father was a blind jazz pianist of German descent.
Molly has two siblings Beth and Kelly, as well as an older brother, but he passed away before Molly was born. Molly started her professional acting career at the young age of five. That time she appeared as Dormouse in an onstage production of 'Alice in Wonderland.'
In the following year, she recorded a music album with her father and his group, the Fulton Street Jazz Band, titled "I Wanna Be Loved By You." In terms of school, she graduated from Lycée Français de Los Angeles, which is a bilingual school.
Despite her quick start in showbiz, Molly didn't particularly come from a popular family. However, she was thrust into the glamour of Hollywood almost instantly and began working regularly in film and TV before she was even a teenager.
Career
At the age of ten, Molly was selected to play Kete in the Los Angeles production of Annie. A year later she got a chance to appear in the television show Diff'rent Strokes. She was further chosen to be a part of the big cast of the series spin-off, "The Facts of Life."
Soon, Molly started getting bigger roles and many coming-of-age stories for which she became well known. In 1980 Ringwald first performed as a lead vocalist on two Disney albums, a patriotic one as well as a Christmas album.
Breakthrough
In 1982 Ringwald turned towards working in films, landing a supporting role in the movie "Tempest." For this role, Molly was nominated for a Golden Globe award. It was the 1984 comedy film "Sixteen Candles," that skyrocketed Molly to fame. In this film, she played the role of Samantha "Sam" Baker "a girl whose family forgets about her 16th birthday."
Molly filmed "Sixteen Candles," in the summer after she finished 9th grade and it was only the beginning for this teen icon. Her performance in the film was well-received and many said her acting was especially engaging.
After this, Molly was cast in the 1985 film "The Breakfast Club." This movie was a big success in which she played Claire Standish, a rich queen. Again she received good reviews for her outstanding performance.
She revealed that before they even started to film 'The Breakfast Club,' John Hugues wrote another film specifically for her, titled "Pretty in Pink." She starred in this movie while she was still in high school, and it came out in 1986.
All these three films (Sixteen Candles, The Breakfast Club, and Pretty in Pink) launched Molly into mega-stardom. In 1987 she was cast as Randy in the movie "The Pick-up Artist," alongside  Robert Downey, Jr. Next year she began starring in the coming-of-age drama film, "For Keeps."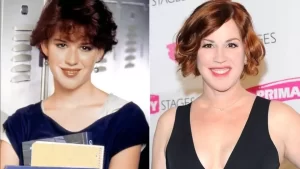 Further Success
Ringwald was working continuously on both big and small screen projects including the 1990 film "Betsy's Wedding." After filming the movie "Fresh Horses" Molly turned down female lead roles in the films "Pretty Woman and Ghost."
In the early 1990s, Molly moved to Paris where she starred in a handful of French movies. Soon she returned to the United States to work on American movies and TV projects. She appeared in a lead role in Stephen King's film "The Stang."
In 2002 Ringwald got involved in Broadway, playing Sally Bowles in the revival production of "Cabaret." In 2006 she appeared in Charity Hope Valentine in the national tour of the Broadway "Sweet Charity." Two years later, Molly played the mother title character in the ABC series "The Secret Life of the American Teenager," which ran for five seasons.
Later on, she started playing a mom again on CW's "Riverdale," a recurring role of the main character Archie Andrews' mother Mary. Over the last few years, Molly has appeared in other films as well as going back to her love of singing Jazz music.
In 2022 we saw her in the hit Netflix series "Dahmer – Monster: The Jeffrey Dahmer Story." In this popular series, Molly portrays the main character of Shari Dahmer. Furthermore, Dahmer seems to be only the beginning of Molly's collaborations with the series creator, Ryan Murphy.
Personal Life
Molly Ringwald started dating French novelist Valery Lameignère in the early 1990s. In July 1999 the couple got married at the Arcachon's seaside Bordeaux village. But their relationship didn't last long and in 2002 Molly filed for divorce.
Following her divorce, from Valery, Ringwald, and Greek-American writer Panio Gianopoulos began their relationship. The two welcomed their first daughter 'Mathilda Ereni Gianopoulos' in 2003. After living together for a bunch of years they married in 2007. Ringwald gave birth to twins, a son, and a daughter in July 2009.
Career Highlights
Sixteen Candles (Film, 1984)
The Breakfast Club (Film, 1985)
Pretty in Pink (Film, 1986)
The Stand (Miniseries, 1994)
The Secret Life of the American Teenager (TV series, 2008–2013)
Riverdale (TV series, 2017)
Young Artist Award _ Best Young Actress_ 1984 _ Won
Molly Ringwald Net Worth
Molly Ringwald is an American actress and singer from Roseville, California. She first came to the spotlight for playing Molly Parker in NBC's "The Facts of Life."
Her popularity grew all around the world with her performances in blockbuster movies like 'Sixteen Candles, 'The Breakfast Club, and 'Pretty in Pink. Outside of earning from movies and TV shows, Ringwald also earned from brand endorsements and other ventures.
She has done endorsement work for brands like "Raisins from California," and "Brawny paper towels." As of 2023, Molly Ringwald's net worth is estimated to be $11 Million.
You May Like: