Lukas Gage is an American actor and writer awho has a net worth of $2 Million. Lukas has made an impression on TV series such as "Euphoria", "The White Lotus", and "You". He is one of the Hollywood up-and-comers and gained a lot of notoriety for his outstanding performance in "Euphoria".
With his charming looks and on-screen roles, in reality, Lukas is funny and relatable. There's a lot to discover about this rising star in the entertainment industry such as his start making wart commercials and the random Zoom call that made him go viral.
What is Lukas Gage's Net Worth?
[table id=283 /]
Early Life
Lukas Gage Miller was born on May 28th, 1995, in San Diego, California, and was then brought up in Encinitas, California. He hasn't disclosed much information about his parents, but we do know his mother's name is Paulina.
As a child, Lukas went to film Camp every summer and acted in plays and commercials locally in San Diego. In terms of school, he attended San Dieguito Academy in Encinitas. Lukas then went on to attend the University of Oregon for a semester.
However, he left his studies, changing his mind and making to move to Los Angeles for his acting career. But that didn't mean he didn't have to live like a struggling actor like many others starting out.
Career
Some years ago Lukas's very apartment was shamed by a director during a video audition and the video ended up going viral. In 2020, he shared a video from a pandemic-era Zoom audition, in which director Tristram Shapeero spoke about the poor people who live in these small apartments.
Lukas's first acting job was in a wart removal commercial. It might have taken him a while to get any recognizable roles but he always knew he was destined to be an actor. Early in his career, Lukas appeared in a handful of minor roles on TV shows and short movies.
One of his first significant co-starring roles was in the web series "Tagged" which followed a group of teens. Another early role for the actor was on the first season of Netflix's "American Vandal" where Lukas played Brandon Galloway.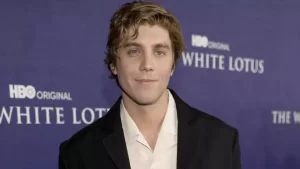 Breakthrough
When the Zoon clip incident happened in 2020, the director Tristram Shapeero was heard making fun of Lukas's apartment, unaware his mic was on. A young actor didn't get their role at that time but the rejection led him to accept it in the HBO miniseries "The White Lotus".
Lukas later shared that his co-star in The White Lotus actually encouraged him to share the Zoom audition fail. He was initially nervous to share the video and when he shared that, it paid off with the amount of support he got from other celebs.
Prior to this, Lukas was seen in the hit series "Euphoria" in 2019 in which he had the small but important role of Tyler Clarkson. He appeared in season one of "The White Lotus" in 2021 which they filmed in Maui and he played the role of Dillon.
Since The White Lotus aired, Lukas booked a bunch of other supporting characters and moved out of his famous Zoom apartment. One of his latest roles was on season 4 of the hit series "You" where he played the main role of Adam Pratt.
Other Ventures
Aside from acting, Lukas has also been credited as a writer. Alongside Euphoria producer Phoebe Fisher, Lukas co-wrote and will also star in a comedy film called "Down Low". He also plans to continue writing more projects in the near future.
At the beginning of his career, he had small roles on hit TV shows like "Veronica Mars" and "Supergirl". The actor also appeared in the Nightmare movie "Sleep No More", the thriller "Sickhouse", and the 2015 comedy film "Scouts Guide to the Zombie Apocalypse".
Lukas even appeared in an episode of the Hulu horror anthology series "Into the Dark" in the episode of Midnight Kiss, playing Logan. In 2020 and 2021 he had a recurring role and a guest role in "Love, Victor". He also guest starred on shows such as "I Didn't Do It", "Confess", and "Adam Ruins Everything".
Personal Life
Lukas is making headlines for his relationship with celebrity hairstylist Chris Appleton. In February 2023, Lukas and Chris broke the internet when they posted some pictures on social media. Then Appleton confirmed his relationship with Lukas on the Drew Barrymore's show.
Before confirming their relationship, the couple made their red carpet debut at Vanity Fair and TikTok's Pre-Oscar Young Hollywood event on March 8, 2023.
Career Highlights
American Vandal (TV series, 2017)
The White Lotus (Netflix series, 2021)
You (Series, 2023)
Euphoria (Series, 2019)
Lukas Gage Net Worth
Lukas Gage is one of the rising actors in the American entertainment industry. Thanks to his performance in The White Lotus which led the actor to appear in several big productions.
Gage is currently working on upcoming projects including the comedy series "The Other Two", season 5 of "Fargo", "The Dead Boy Detectives series" and the remake of "Road House".
He is accumulating a vast chunk of money from his roles in hit shows and films. Outside of acting, he also earns from other ventures such as his writing ability. As of 2023, Lukas Gage's net worth is estimated to be $2 Million.
You May Like: