London On Da Track is an American record producer and a former rapper who has a net worth of $3 Million. He became spotlighted when he collaborated with fellow Atlanta rapper, Young Thug.
He has established himself as one of the most influential figures in the hip-hop community. As a record producer, he worked on hit songs like Hookah and About the Money both of which became massive successes.
London On Da Track's music abilities caught the attention of big names and began getting offers to work with big names in the music scene. He has worked with the likes of Nicki Minaj, Birdman, Lil Wayne, Lil Baby, Drake, Post Malone, and many more.
What is London On Da Track's Net Worth?
[table id=529 /]
Early Life
London Tyler Homes was born on March 27th, 1991, in Memphis, Tennessee. However, he spent his childhood in Atlanta, Georgia. London likes to keep things private about her parents, and education.
He developed an interest at an early age and started going to church where he played piano along with guitar and drums. In his teenage years, London joined the rap group Dem Guyz by the age of 16.
Career
Later, his passion for music led him to write beats for local rappers. At first, he began sharing his beats for free to build strong connections in the music industry. London approached the American rap group Rich Kidz and produced his first single Pieon for them. The success of the track encouraged him to produce more songs for artists.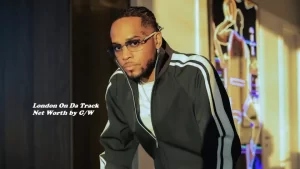 Breakthrough
The turning point of London's career arrived in 2011 when he started producing music for popular rapper Young Thug. They released their first collaborative single Curtains which earned them a great reputation.
Soon, London was offered to sign with Cash Money Records. In August 2014 the the CEO of the label was mentioned as the best producer in the music scene.
London had a big break after producing three hit singles for Young Thug including Lifestyle, About the Money, and Hookah. All of these tracks were released in 2014 and wound up reaching on top of the Billboard Hot 100.
Other Ventures
Aside from working with other artists, London on da Track released several tracks as a lead artist including No Flag (ft Nicki Minaj), Whatever You Oh, Throw Fits (ft G-Eazy), Up Now, and Something Real.
After signing with Cash Money London got a chance to work for Drake, Nicki Minaj, and Lil Wayne. Thanks to his collaboration, he gained immense popularity in music.
He became a well-known producer for trap anthems, soulful R&B lyrics, and pop sensations. In 2020, London was appointed as a composer for Ariana Grande's single Positions which went on to peak at #1 on the US Billboard Hot 100.
Personal Life
London On Da Track began his relationship with singer, Summer Walker. The couple first met in the summer of 2019 with the help of their mutual friend. In October 2019, Summer released her chart-topping album debut studio album, Over It in which London produced several tracks.
In March 2021 the couple welcomed their first child, a daughter. However, their rocky relationship ended later that year. Apart from this, London has three more children including a daughter and two sons from his previous relationship.
Career Highlights
Hookah (Song, 2014)
Something Real with Summer Walker & Chris Brown (2019)
Positions with Ariana Grande (2020)
London On Da Track Net Worth
London is the best composer in the business according to the CEO of Cash Money and Young Thug's favorite producer. He has been spotlighted in the music game since the release of his track Hookah in 2014.
His popularity grew when he began working with Young Thugs. Later, he worked with endless artists, continually pushing the limits of what's achievable in music production. As of 2023, London On Da Track's net worth is estimated to be $3 Million.
You May Like