Laurence Fox is an English actor and musician who has a net worth of $2.5 Million. He is best recognized for starring as DS James Hathaway in the British TV series Lewis from 2005 to 2015.
Despite having success in the industry in 2005, Laurence has been appearing in films since 2001. His first movie was The Hole. From there he continued to star in numerous major projects.
Aside from acting, Laurence tried his hand at music and released his studio album Holding Patterns in 2016. He is a multitalented personality who made a name for himself in the television, film, theater, and music industries.
What is Laurence Fox's Net Worth?
[table id=466 /]
Early Life
Laurence Paul Fox was born on May 26th, 1978 in Leeds, England, UK, to parents James Fox and Mary Elizabeth Piper. He was raised by a family of celebrities, his father James was an actor while his paternal grandfather was a talent agent and his grandma was an actress.
Laurence grew up with two older brothers Tom and Robin as well as a younger sister Lydia and little brother Jack Fox. Both of his younger siblings are actors in the British entertainment industry and his older brother Robin is a film producer.
When Laurence was thirteen years old he enrolled at Harrow School but was expelled from there before his A-levels. As a result, he was not able to attend college and his application was rejected.
Apart from that, Laurence always knew that he wanted to become an actor. He graduated from the Royal Academy of Dramatic Art back in July 2001. During his training at the acting school, he got numerous roles and appeared in theater productions.
Career
Laurence made his theatrical film debut as Geoff in the 2001 film The Hole. He followed that up by making his first TV show appearance as Cpl. Mick Sharp in Ultimate Force in 2002. That same year he was cast in the film Deathwatch.
In 2004 Laurence got the role of Airman Bernhardt Tellemann in the TV series Island at War. A year later he became cast as SS Major Kessler in the British Romanian war film The Last Drop.
He also starred as Capt. Tom Willis in the miniseries Colditz. His performance as Capt in the series grabbed the attention of actor Kevin Whately who quickly approached him for a meeting. In the following days, Laurence signed up for a new big project.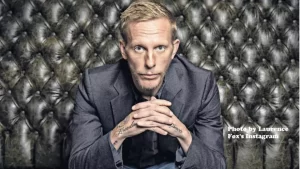 Breakthrough
Laurence landed the lead role of D.S. James Hathaway in the television detective drama series Lewis. He portrayed his character alongside Kevin Whately, Clare Holman, and Rebecca Front from 2006 to 2015.
In the meantime, he was appearing in films including Elizabeth: The Golden Age (2007), W.E. (2011), TV series Wired (2008), Fast Freddie, The Widow and Me (2011), and many more. In 2015 Laurence participated as a contestant in the reality show Bear Grylls: Mission Survive.
About two years later he was cast as Greg Mills in the CBC drama series Frankie Drake Mysteries. In 2019 he had a starring role of Lord Palmerston in the British historical drama series Victoria. Next year he played David in the mystery thriller series White Lines. Laurence Fox has a net worth of $2.5 million.
Other Ventures
Laurence Fox has been performing in theater productions since 2000. He made his first performance as The DG/Earl of Northumberland in Kit's Play by Howard Brenton.
From that point forward he continued to appear in further productions including The Wild Duck, Titus Andronicus, Ulysses, The Wild Goose Chase, and The Provoked Wife, among others.
In 2001 he portrayed Fred Beanstock in the play Hobson's Choice which was held at Jerwood Vanbrugh Theatre, London. From 2006 to 2007 he had a role in Treats at Garrick Theatre, Richmond Theatre, and Royal Court Theatre in London.
After releasing his first studio album Holding Patterns he dropped another one called A Grief Observed in 2019. Before this, Laurence released his single Gunfight and then So Be Damned in 2012 and 2013 respectively. He dropped a couple of more music projects such as Sorry for My Words, Headlong, and Rise Again. 
Laurence Fox is also known for his political activities in the United Kingdom. In October 2010, he established himself as the leader of the right-wing populist political party known as The Reclaim Party. He finished in 6th place with 47k votes (1.9 percent) after being stood in the 2021 London mayoral elections.
Personal Life
In 2006 Laurence and actress Billie Piper started dating after the two first met at the set of the drama play Treats. The couple got married in December 2007 and later had their first child, a son named Winston James Fox in October 2008.
Billie gave birth to her second son Eugene Pip Fox in April 2012. However, Laurence and Billie divorced in March 2016 after being married for almost nine years.
Laurence Fox Net Worth
Laurence Fox is one of the most recognized celebrities in the United Kingdom. He has been performing in theaters for over 2 decades. He gained a lot of popularity as an actor, artist, musician, and right-wing political activist in his country.
Laurence first came to the spotlight in 2006 when he got a role in the hit series Lewis. The show ran from 2006 to 2015 in which Laurence earned a vast chunk of money through salaries. As of 2023, Laurence Fox's net worth is estimated to be $2.5 Million.
You May Like