Kim Thayil is an American musician and guitarist with a net worth of $30 Million. Kim is best recognized for being the lead guitarist of the popular rock band called Soundgarden. He performed in the band alongside members Matt Cameron, Chris Cornell, Ben Shepherd, Hiro Yamamoto, Jason Everman, and Scott Sundquist.
Kim Thayil led this Seattle-based rock band to win the Grammy Award alongside numerous other accolades. He teamed up with singer Chris Cornell and bassist Hiro Yamamoto to form Soundgarden back in the 80s. Since then, they released numerous commercially hit projects.
Despite being the lead guitarist for the band, Kim began writing songs for them, most of which become successful including Hunted Down, Flower, Hands All Over, Superunknown, and Jesus Christ Pose. In 2010, Thayil was at the peak of his career, and Rolling Stone magazine ranked him on the list of 100th greatest guitarists of all time.
What is Kim Thayil's Net Worth?
[table id=553 /]
Early Life
Kim Anand Thayil was born on September 4th, 1960, in Seattle, Washington, to father Boniface Thayil and mother Shanti. His parents spent their early life in Kerala, India, and later moved to Seattle, the United States.
Kim's mother pursued her studies to become a concert pianist at the Royal Academy of Music in London. Kim's father had a chemical engineering degree which helped him to get the job offer from Chicago. As a result, he quickly moved to this new city with his family.
Kim began writing lyrics when he was just 12 years old. A couple of years later he created a punk rock band Pinheads and Bonzo in 1977. These bands began performing covers of Devo's popular songs as well as their original tracks.
Career
Thayil first met his future bandmate, Hiro Yamamoto while attending Rich East High School. In 1979 the duo completed the school's Active Learning Process and moved to Olympia, Washington. They planned to enroll at The Evergreen State College which didn't work for them.
Kim and Hiro settled in Seattle where Kim began working as DJ for KCMU. Around that time, he was also studying at the University of Washington, graduating with a degree in philosophy. In 1984, Kim and Hiro collaborated with Chris Cornell and formed their band called Soundgarden.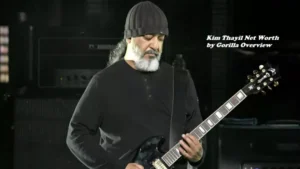 Breakthrough
Thayil and other members of the band Soundgarden began performing and signed with Sub Pop and released their debut EP Screaming Life in October 1997. The following year their second EP Fopp came out which grabbed the attention of SST Records.
After signing with SST Label, Soundgarden their Grammy nomination first full-length album Ultramega OK. Soon, the group became successful in the music industry when they signed with A&M Records, becoming the first ever band to sign with a major label.
In 1989, Thayil along with Soundgarden released their album Louder Than Love followed by their certified double Platinum album Badmotorfinger in 1991. Additionally, the album went Gold in the U.K. and Australia and was ranked number 45 on the 2006 list of the "100 Greatest Guitar Albums of All Time" by Guitar World magazine. Not to mention, Badmotorfinger caught the attention of Revolver magazine which ranked it on the list of The 69 Greatest Metal Albums of All Time in 2002.
Further Success
In 1994 the band Soundgarden earned mainstream success with their fourth album Superunknown reaching number 1 in the U.S. and other three countries' charts. Moreover, the album went certified double Platinum in Sweden, 3x Platinum in Canada, and 6x Platinum in the United States.
The Grammy-winning rock band Soundgarden found sensation with their singles including Spoonman, The Day I Tried to Live, Black Hole Sun, Fell on Black Days, and My Wave, all of which were included in their fourth album Superunknown. Their single Black Hole Sun peaked at number 1 on Billboard's Mainstream Rock chart as well as certified Gold in 3 nations.
Soundgarden fifth album Down on the Upside was released in 1996 and peaked at number 2 on the Billboard 200 chart. It earned Platinum status in 4 different nations and topped the Mainstream Rock chart with its hit singles Burden in My Hand and Blow Up the Outside World. As a result of his success, Kim Thayil accumulated a net worth of $30 million.
Other Ventures
The Soundgarden band broke up in 1997 and didn't release any project until they reunited in 2012. After a long hiatus, the band released their sixth and final album King Animal. That year, Kim got a chance to provide his vocal for a character in episodes titled Dethcamp of the animated series "Metalocalypse".
In May 2017, Thayil lost his friend and band member Chris Cornell who died by suicide shortly after Soundgarden's live show held in Michigan at the Fox Theatre in Detroit. Following the death of Chris the group disbanded but made a return for the 2019 concert called Tribute to Chris Cornell.
Collaborations
In 2018, Kim was invited by Wayne Kramer to play the guitar for his North American tour. Two years later, he teamed up with the Barret Martin Group for their song The Firebird. In 2021 Kim collaborated with his former bandmate Matt Cameron to play on the song Only Love Can Save Me Now by Pretty Reckless.
In 2021, Thayil and Cameron teamed up with the likes of Bubba Dupree, Jillian Raye, Jennifer Johnson, and Krist Novoselic, and formed the band 3rd Secret. Next year, they dropped their self-titled album.
Career Highlights
Ultramega OK (Album, 1998)
Badmotorfinger (Album, 1991)
Superunknown (1994)
Down on the Upside (1996)
King Animal (2012)
Being on the list of 100th Greatest Guitarist of All Time by Rolling Stone 2010
Being ranked #67 on the list of Greatest Guitarist of All Time by Spin Magazine 2012
2013 Revolver Music Award, Best Guitarist _ Nomination
Winning Two Grammy Awards  as a member of Soundgarden
Earning Nine Grammy nominations between 1990 and 2011
Kim Thayil Net Worth
Kim Thayil is one of the most popular guitarists in the world who gained recognition throughout the 1990s and 2000s. He came to the limelight after becoming the lead guitarist of the commercially successful American band Soundgarden.
Kim has managed to amass wealth and fame for himself in his impressive music career. He sold millions of records with his band Soundgarden. After disbanding the band, Kim started working with other artists and continued to build a name for himself. As of 2023, Kim Thayil's net worth is estimated to be $30 Million.
You May Like